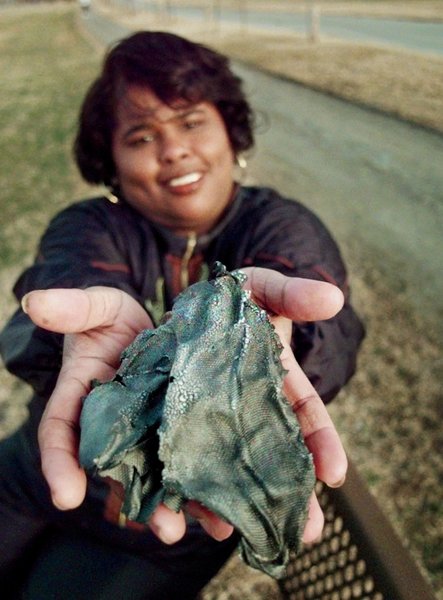 Every time something falls out of the sky, Lottie Williams' phone begins to ring.
The Tulsa woman is thought to be the only person ever hit by a piece of space debris – a matter of some interest these days, what with a 6 1/2-ton satellite spiraling earthward.
"I've talked to Fox," the harried Williams said. "I'm supposed to talk to ABC for 'Good Morning America.' I've talked to NPR, to KRMG. Somebody from Portugal called. Canada."
Williams was struck in the early morning hours of Jan. 22, 1997, by a lightweight piece of fiberglass and aluminum believed to be from a Delta II rocket that had traced a bright, fiery streak across the sky a half-hour earlier.
The 6-inch fragment hit Williams' shoulder as she and friends walked laps at O'Brien Park. Williams was not injured, and after a few days, the resulting media furor died down.
A few years later, the Soviet-era space station Mir began falling out of orbit. Russian scientists predicted - accurately, it turned out - that most of the debris would fall harmlessly into the Pacific Ocean, but that didn't prevent renewed interest in the one person to experience a close encounter with an unidentified falling object.
About the size of a bus, the NASA climate satellite that is expected to enter Earth's atmosphere in the next few days is smaller than Mir but more unpredictable because its descent is uncontrolled.
The best scientists can say is that debris in chunks as large as 300 pounds could be scattered over 500 miles anywhere between the latitudes of Edmonton, Alberta, Canada, and Cape Horn, South Africa.
"I didn't pay much attention to that until I started getting all of these calls," Williams said.
Fitting in interviews is not easy. Williams is retired from the Postal Service but spends her time caring for her parents, both of whom have Alzheimer's disease.
Williams hasn't kept her own little piece of history at her house in a long time. It broke two years ago, she said, and now "I keep it somewhere safe."
Several scientific organizations took samples of the fragment after it hit her, and at least one, the Center for Orbital and Reentry Debris Studies, said it was most likely from the Delta II.
"I'm certainly going to be looking for it," Williams said of the tumbling NASA satellite. "I don't think I'll be sleeping much.
"It's like I tell people - it didn't make any noise. All I heard was a rustling in a tree just before it hit me."
---
Randy Krehbiel 918-581-8365