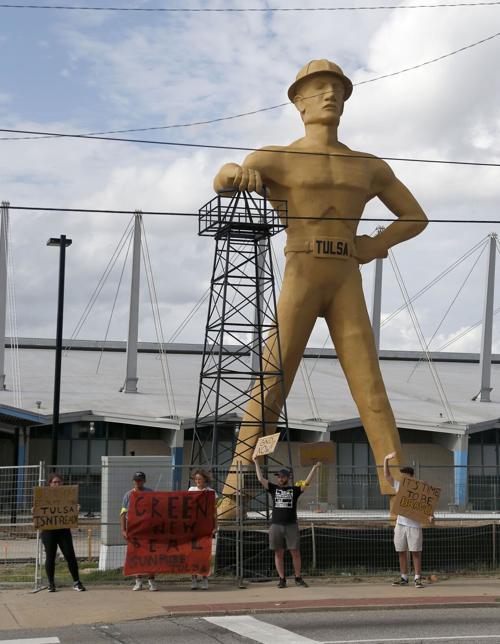 A group of young Tulsa-area residents raised their voices Thursday to demand action on the climate change crisis.
Members of Sunrise Tulsa, a local chapter of the Sunrise Movement, a national climate advocacy group, gathered on the corner of 21st Street and Pittsburg Avenue in front of the Golden Driller statue to raise awareness of the climate crisis and demand action from politicians.
Tulsa's group was joined Thursday by other chapters in cities across the country for the Sunrise Movement's National Day of Action.
Caiden Catcher of Broken Arrow started Sunrise Tulsa last August when he was in high school. He said he brought the group to the Golden Driller because of its symbolism for Tulsa's oil history.
"(The oil boom) originally helped a lot of lower-class people, but now that's changed," Catcher said. "Especially in the 21st century, we are struggling with the climate crisis, which is why we're out here today."
Catcher said the Sunrise Movement's goal with the Day of Action is to demand that President Joe Biden and other politicians have stronger climate response action.
Evelyn Johnson, a 16-year-old student at Metro Christian Academy, attended the protest with her brother, also a student at Metro,  to advocate for the passing of the Green New Deal, a proposed plan to transform U.S. infrastructure to combat climate change.
"It's important for young people to support movements that call for climate justice," Johnson said. "Climate change would radically change our futures. We're fighting for our futures and the lives of our future children."
Johnson said young people are never too young to make a difference.
"You can always make a change, even if you're 16," she said.
Nancy Moran, a registered nurse with the Tulsa Health Department and member of Tulsa Ready for 100, attended the event to support young Tulsans taking action against climate change.
She said it's important for Tulsa to take a look at climate justice because of Oklahoma's history as a fossil fuel state.
"Tulsa says, 'We want to be a leader in carbon sustainability and neutrality,'" Moran said. "It's time for the city to honor that commitment."