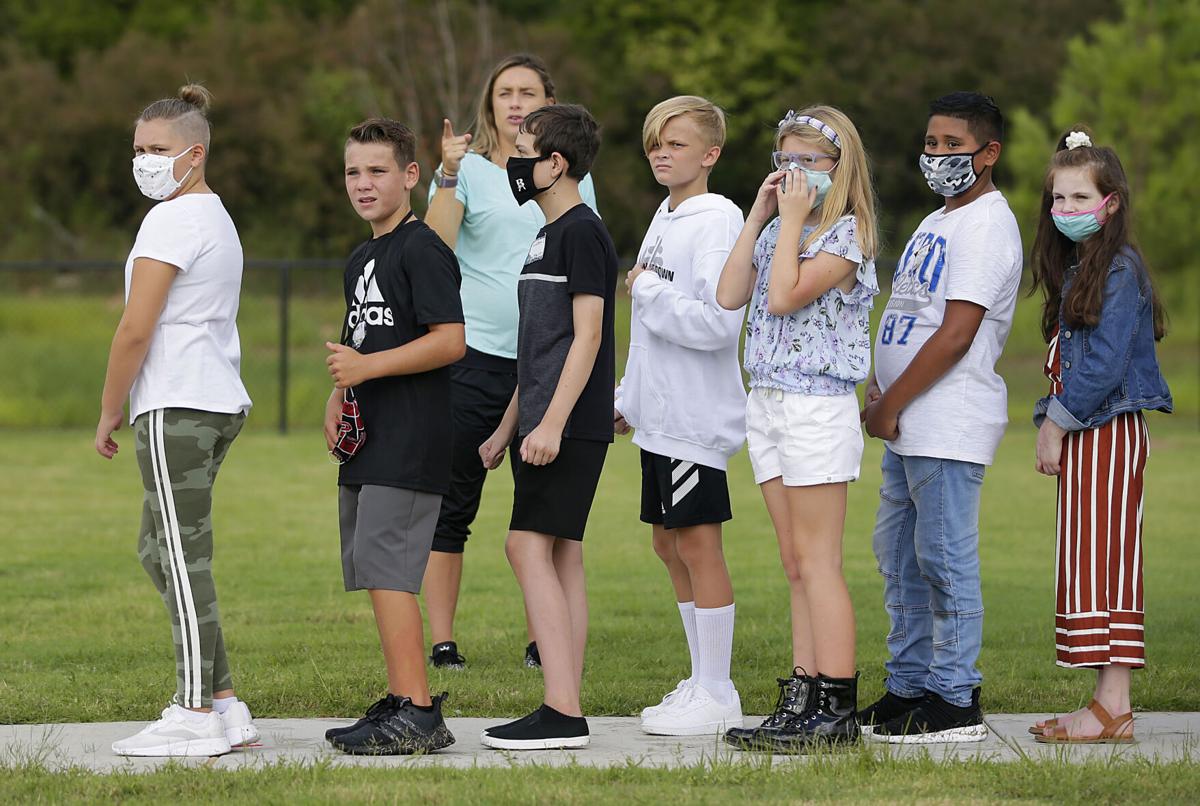 The city of Tulsa should consider lowering the minimum age for its mask mandate from 18 to 10, the executive director of the Tulsa Health Department said Wednesday.
Bruce Dart made his recommendation during a discussion with the Tulsa City Council.
"The reason why we are (identifying) age 10 is because for children 10 and older, they expel the same amount of viral load … as adults do," Dart said. "Children 9 and younger, they still shed the virus, but the loads are much smaller.
"The data is telling us that people exposed to children who are younger, they might get sick from that exposure, but their illness is so far not as serious as someone that has been exposed to someone expelling loads at the same rate as an adult."
The ordinance approved by councilors and signed by the mayor in mid-July set the minimum age at 18. The ordinance expires when Mayor G.T. Bynum's civil emergency order expires Nov. 30 or when the ordinance is repealed, modified or extended by the City Council, whichever comes first.
Bynum has said previously that he expects that the city's mask mandate will be extended beyond November. He said Wednesday that he supports Dart's recommendation.
"Given Dr. Dart's recommendation today, and his observation that children 10 years of age and older shed the virus at the same rate as an adult, I support adjusting our ordinance to a minimum age of 10," Bynum said. "I will work with my colleagues on the City Council to bring that amendment forward for their consideration."
For the age limit to be changed, the City Council would have to approve a modification to the ordinance and the mayor would have to sign it. The council has yet to set a date for the vote.
As of Wednesday morning, Tulsa County had recorded 15,469 COVID-19 cases and 149 people from Tulsa County had died of the disease, according to state data.
Dart told councilors that although the county has seen a drop in new cases in the last week, it has been accompanied by a decline in testing.
"I think people are just getting a little fatigued and tired of COVID so our number of tests are down, but our percent positivity rate continues to hang where we would not like to see it," Dart said.
The county's overall positivity rate continues to hover around 12%, while the number of cases in the 0-4 and 5-17 age groups is increasing, Dart said.
"For the second week in a row there were more cases in the 0 to 5 to 17 age group than the 65 and over age group," Dart said. "And now for the first time cumulatively we have got more cases in the 0 to 17 than we do in 65 and over."
For the week of Aug. 23-29, the 5-17 age group accounted for about 8.2% of new COVID-19 cases in the county, and by the week of Sept. 6-12 the percentage had grown to 12.5%, according to the Tulsa Health Department. And since Aug. 25, county schools have had to quarantine individuals or take other measures 155 times in response to the coronavirus.
Overall, more than 11% of the county's cases have involved people age 17 or younger, according to the Tulsa Health Department. That figure includes children 4 years old and younger, who account for 1.37% of cases; and people 5 to 17, who account for 9.71% of cases.
Individuals 65 and older account for 10.75% of the county's cases.
Dart said the highest number of new cases is coming from schools, followed by long-term care facilities and religious services.
Given the current trends and the upcoming flu season, Dart said, he believes it makes sense to be proactive and lower the age at which masks are required.
"I just think it would be a wise choice," he said.
Public school facilities within the Tulsa city limits are subject to the city's existing mask ordinance.
For Tulsa Public Schools, that hasn't been a big issue because all students are distance learning at least through the end of October.
TPS Superintendent Deborah Gist said Wednesday that she expects to have a decision on whether to proceed with distance learning by early October.
Gist said she supports lowering the age requirement for wearing masks.
"I would support a mask requirement for everyone in Tulsa," Gist said. "And I have seen and experienced that with practice that children of all ages can get used to wearing masks just like they get used to wearing shoes."
The city needs more people of all ages wearing masks, Gist said, "because we need our children back in school."
Union Public Schools spokesman Chris Payne said that district also would welcome the mask mandate. Sixty-five percent of the district's approximately 16,000 students are attending classes in person, and most of the district's schools are within the Tulsa city limits.
"Union would definitely support going younger," Payne said. "We are requiring masks of all of our students. … So far our kids have been doing a fantastic job of wearing masks."
---
Video: Bruce Dart on safety during football season
---
Kevin Canfield
918-581-8313
Twitter: @aWorldofKC
Concerned about COVID-19?
Sign up now to get the most recent coronavirus headlines and other important local and national news sent to your email inbox daily.