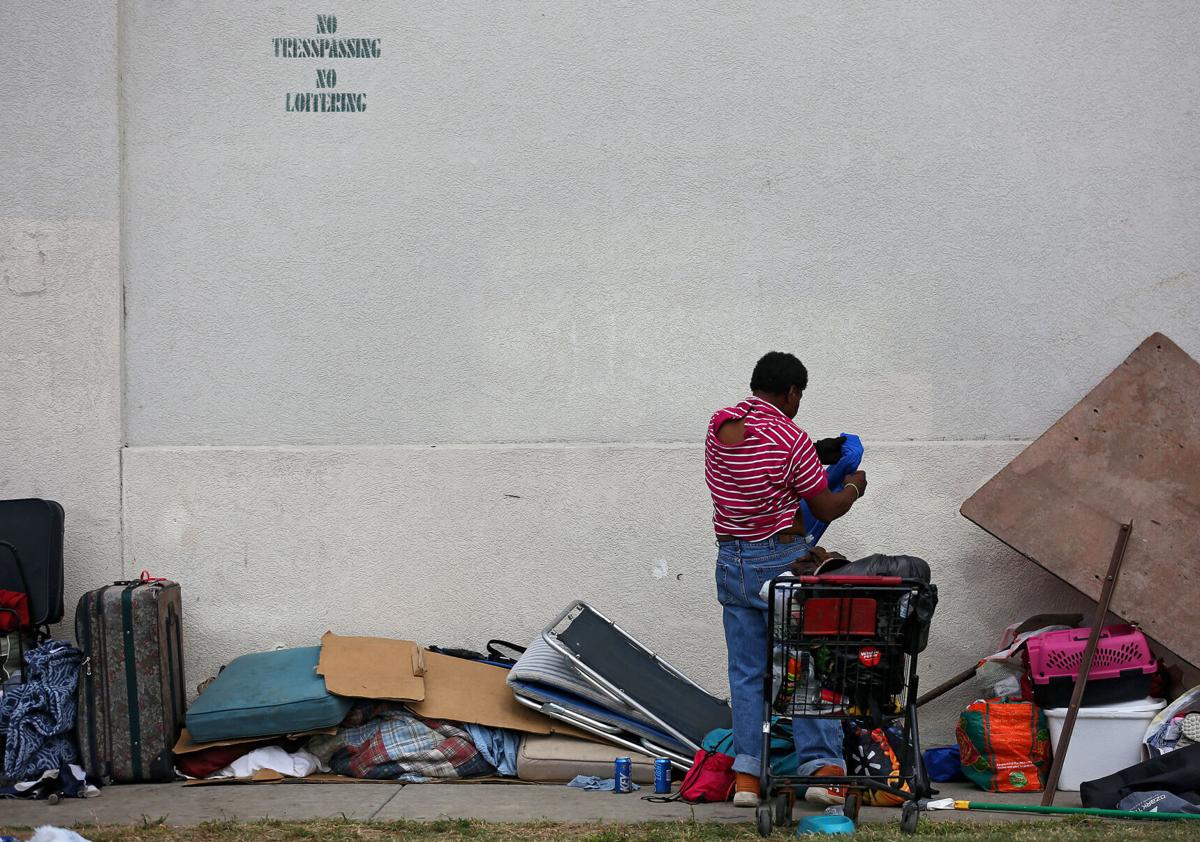 The city of Tulsa has officially opened a new shelter to serve people who are homeless, the city's housing director said Wednesday.
A soft opening was held Tuesday for the old Tulsa County Juvenile Justice Center on Gilcrease Museum Road near Charles Page Boulevard, which has been converted for use as temporary housing and a drop-in shelter, said Becky Gligo.
The facility, funded as part of the city's $1.5 million COVID-19 CARES Act relief funding effort, provides a spacious environment that will accommodate social distancing in line with current safety protocols.
The shelter will be able to accommodate up to 150 people, and occupants will have access to showers, medical care, food and laundry services, Gligo said.
"We've had outreach workers letting people know where that (the shelter) is (and) helping them get there," she said. "And then once everyone has a place to go, the city's Asset Management Department will be just doing a follow up cleanup down on the Archer corridor.
It is Archer Street, just north of downtown, where several homeless encampments prompted the city to call on the Tulsa Police Department to help clear the area.
TPD's Downtown Impact Team recently had begun notifying people camping along Archer that they would have to move or possibly face citations, although Gligo indicated that the homeless would not be criminally prosecuted if they failed to leave.
Archer Street is home to the Iron Gate soup kitchen and food pantry, The Salvation Army, the Day Center for the Homeless and the Family Center for Juvenile Justice.
Being in proximity to those sites allows people to quickly access services those entities provide, which is why adjacent encampments grew in the area, Gligo said.
"The city is working really collaboratively with A Way Home for Tulsa so that is not happening because we know citations just create more barriers for people experiencing homelessness," she said. "And so this is really about giving people a safe, dignified place to spend their day."
The city has already made at least 350 successful housing placements of homeless people since March, which is a greater total than in all of 2019, Gligo said.
And doing so in the middle of a pandemic was an initial concern because of how vulnerable the population is and that fact that existing shelters had to reduce their capacity to prevent coronavirus outbreaks. So far, the application of resources has allowed the city and shelters to avoid community spread within the homeless population.
Currently, infection rates among the city's homeless population remain "relatively low," Gligo said, adding that the overflow shelter will help keep it that way. "This has absolutely saved lives," she said.
Through a partnership with Morton Comprehensive Health Services, universal testing is provided to those who want it. If anyone living on the street or in a shelter contracts the virus, that person will be placed in a 68-room "quarantine hotel" operated by City Lights Foundation to recover if hospitalization is not necessary, Gligo said.
---
Featured video: Outreach to people experiencing homelessness amid the COVID-19 outbreak
---
Gallery: A look at the COVID-19 vaccine: How it's progressing, and when it can be expected
Is there time for any vaccine to complete the clinical trials?
Partly it depends on whether the coronavirus is spreading rapidly in communities where vaccines are being tested against placebo.
The two vaccines that are farthest along are made by Pfizer and Moderna. Both require two doses, given three or four weeks apart.
Recently, Pfizer said it is "on track" to seek regulatory review by late October. On July 27, Moderna announced it had started the pivotal phase 3 clinical trial.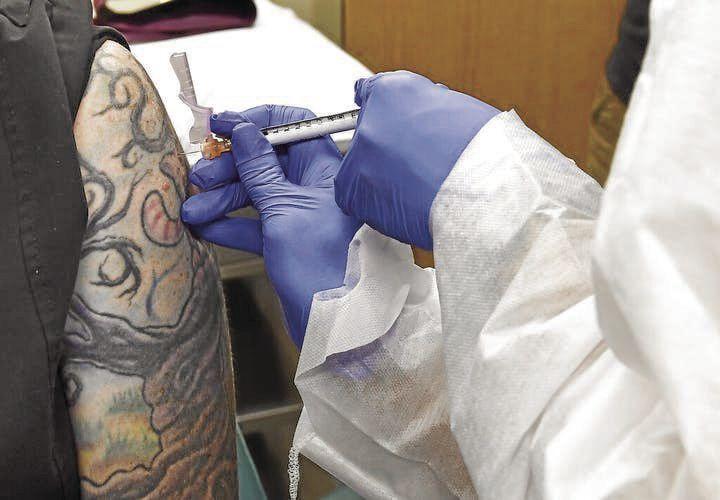 What's an Emergency Use Authorization?
The EUA program, established in 2004, gives the U.S. Food and Drug Administration the power to grant temporary, accelerated approval to a medical drug or device needed in a public health emergency. The EUA review process is less rigorous than a regular approval.
During the coronavirus pandemic, the FDA has granted EUAs to hundreds of tests and two treatments. But the only immunization ever approved for emergency use was against anthrax, in 2005.
The FDA has said the decision to grant an EUA to a COVID-19 vaccine before final testing is completed "would be made on a case-by-case basis" considering factors including "the totality of the available scientific evidence."
Philadelphia Health Commissioner Thomas Farley said he likely would not recommend the vaccine for everyone without final data.
How good would a vaccine have to be to get full approval?
A COVID-19 vaccine would need to prevent or decrease the severity of the disease by 50% or more, according to FDA guidelines. FDA Commissioner Stephen Hahn has repeatedly stressed that the agency won't cut corners.
Is this political?
The United States has had an estimated 6.1 million cases of COVID-19 and 186,000 deaths. The Trump administration, which has invested heavily in vaccine development, could use a preelection win.
Paul Offit, director of the vaccine education center at Children's Hospital of Philadelphia, who serves on the FDA's vaccine advisory board, worries that the FDA will cave to pressure. He pointed to two controversial EUAs of COVID-19 treatments — for the drug hydroxychloroquine and convalescent plasma — that FDA officials initially opposed because studies had not shown them to work.
"Those two EUAs were, to me, warning signs," Offit said.
Why is hesitancy a concern?
In this country, vaccine "hesitancy" — skepticism about vaccines that have been huge public health successes — is a growing problem, so there is concern that rushing a COVID-19 vaccine will add to distrust, said Jose Romero, who chairs the CDC's Advisory Committee on Immunization Practices (ACIP), a group that will help the government decide who gets priority access to new coronavirus vaccines.
In meetings between CDC staff and the Philadelphia Department of Public Health, public perceptions have come up. "If people don't have faith in this vaccine, it is going to make our job impossible," James Garrow, a department spokesman, told CDC employees.
Offit said that even if a vaccine now in development proves to be 75% effective — which public health officials would consider fantastic — many people would still be at risk of infection. That means people would still need to wear masks and comply with social distancing.
"That will be a hard sell," he said.
Who gets the vaccine first?
Two groups, ACIP and a newly formed panel from the National Academies of Sciences, Engineering and Medicine, are working on how to prioritize vaccines, because doses are expected to be limited at first. The academies committee released its draft recommendations earlier this week and ACIP's may come later this month. It is not clear who will make the final decision on who gets initial doses.
Both groups are suggesting prioritizing health-care workers because they are at high risk of exposure to the virus and of spreading it. The academies proposal includes nursing home employees, and first responders such as police and firefighters.
Both groups are likely to give special consideration to people at high risk of serious illness and death, including older people and those with chronic health conditions.
Can states start distributing vaccine in November?
Farley said it makes sense to prepare now even if a vaccine isn't ready right away. "Sooner or later we're going to have to distribute a vaccine," he said.
Nate Wardle, a spokesman for the Pennsylvania Health Department, said the state has a team that is always preparing for big vaccination efforts. "Our current planning includes multiple pathways to provide vaccine to the public and high-risk groups, including working with doctors' offices, pharmacies, and other locations where other vaccinations are readily available.
Philadelphia, along with four states, was asked in August to prepare a distribution plan that could be used as a model for other places by Oct. 1, Wardle said. Now, he said, it appears that the CDC has asked all states to come up with their own plans.
One big challenge will be vaccine storage. The Pfizer vaccine must be stored at minus-70 degrees Celsius, requiring special freezers usually found only at large hospitals. Moderna's vaccine needs minus-20 degrees. Another is making sure people get both doses, properly spaced.
Garrow, with the city health department, also cited the challenge of data. Both the Moderna and Pfizer vaccines require two doses, three or four weeks apart. The timing of each dose must be tracked, and patients must be reminded to get the second dose.
A big remaining question is whether a person can get doses in different hospitals, cities or states.
Concerned about COVID-19?
Sign up now to get the most recent coronavirus headlines and other important local and national news sent to your email inbox daily.