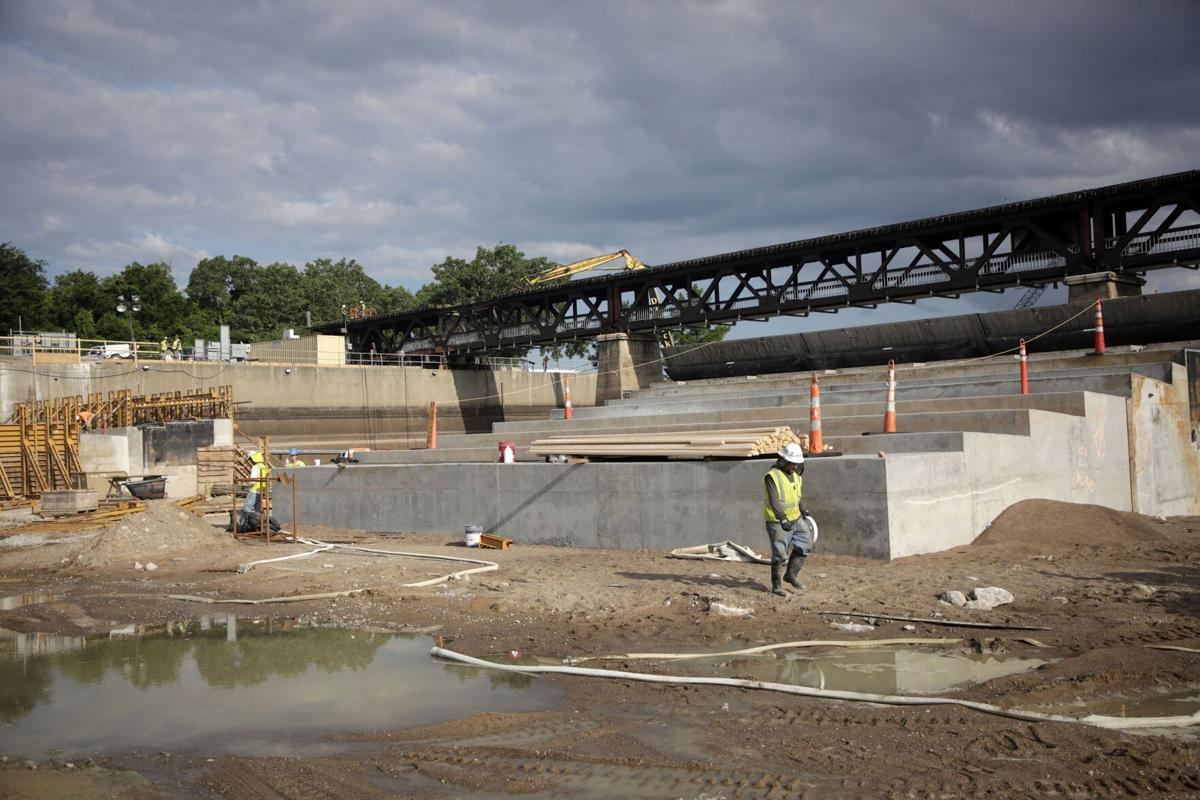 Tulsa is working to operate the new Zink Dam in such a way as to mitigate the ecological and environmental concerns of fishermen while addressing the needs of other stakeholders and outdoor enthusiasts, City Engineer Paul Zachary said Wednesday.
He and other local officials met with city councilors to discuss how the new dam will affect fish migration, spawning and other concerns raised by fishermen.
The reconstruction of the new Zink Dam is scheduled to be completed in June 2023.
"I think we can optimize how much time we can keep water in the river, how much time we can have (the dam gates) down," Zachary said. "And that is just a series of algorithms we're going to have to run through."
Josh Johnston, regional supervisor for the Oklahoma Department of Wildlife Conservation, told councilors he believes the best way to ensure fish flow and fish egg spawning is to keep the dam's gates down March 1 through June 1.
"We can't just say, 'We're going to let it down sometimes and not others' — build a barrier or make it work, and we have the dam to make this work," Johnson said.
Zachary said it would be impossible to keep all of the gates down for that length of time and not drain Zink Lake, but he added that the city is studying the water flow in the river to determine when the gates can be down.
The federal permit to construct the dam states that the city is to address fish passage during high flows, Zachary said. The challenge, he said, will be when mid to low flows are being released out of Keystone Dam west of Sand Springs.
The new Zink Dam will be more than 1,000 feet long and include 416 feet of full-height gates and 494 feet of crest gates, allowing the city to better control the flow of water.
"We need to be celebrating the fact that we're getting rid of a 40-year-old 7-foot-high dam that has served as a barrier" and where no fish could migrate, Zachary said.
He reminded councilors that the Army Corps of Engineers, not the city, determines how much water is released from Keystone Dam.
The new Zink Dam's primary purpose, as approved by voters and specified in federal permit applications, is to keep water in the river for a variety of recreational purposes, Zachary said.
"We need to optimize Zink Lake for all of its stakeholders, which include ecological and environmental concerns," Zachary said. "But our limiting factor is the releases out of Keystone Dam."
Speaking after Wednesday's meeting, Johnston said he believes there is a middle ground that could address all stakeholders' concerns.
"The middle ground would be if they wanted to put together algorithms and (schemata) to allow water to flow through with at least one gate all the way down to where eggs are not trapped throughout the year," Johnston said. "You don't have to lay all of them down."
The Oklahoma Department of Wildlife Conservation was one of many organizations that reviewed the federal permit application for the dam and signed off on it.
The city is expected to have its study of gate operations and water flow in the Arkansas River completed next year, at which time the data can be used to establish a plan for when the gates can be opened, Zachary said.
"The main thing is, what can we do to address the needs of all of the stakeholders?" he said. 
From 2020: Zink Lake project breaks ground