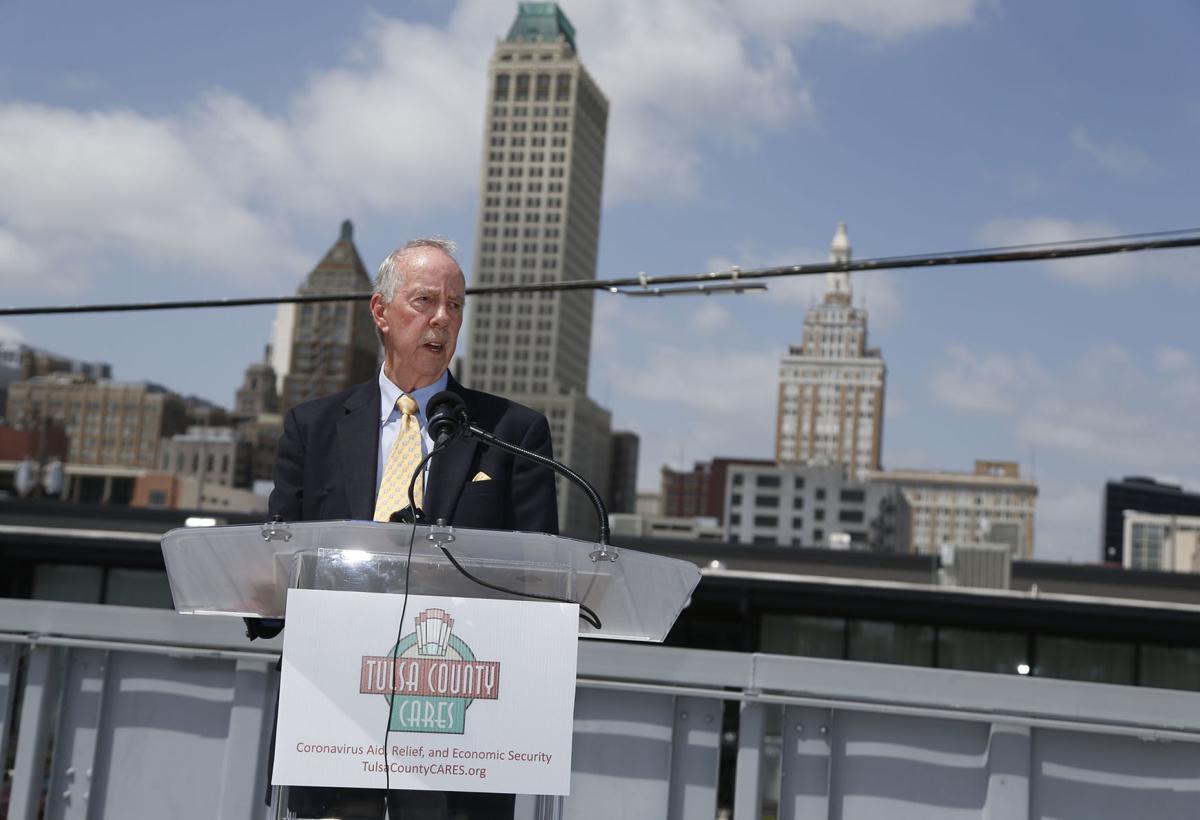 Three months after receiving nearly $114 million in federal coronavirus relief funds for distribution, Tulsa County has approved the expenditure of 51% of the money.
The county received $113.7 million from the $2.2 trillion Coronavirus Aid, Relief, and Economic Security — or CARES — Act in late April. As of Friday, the Board of County Commissioners had approved $57.8 million in allocations.
"I think we've pushed it out in a remarkable amount of time," said County Commission Chairman Ron Peters. "I'm pleased with the effort of everyone involved."
Thirty million dollars of the approved funding is going to the county's RESET program. The Resources to Empower Small Enterprises for Tomorrow program provides $25 million in forgivable loans to small businesses and $5 million in grants to nonprofits.
Peters said Tulsa Economic Development Corp., which is administering the RESET program, has already received 500 funding applications from small businesses. The county has approved 19 applications for about $1 million, with approximately 30 more applications totaling $3 million to be considered by the Board of County Commissioners on Monday.
"It's been a very good partnership," Peters said of TEDC'S involvement in the program. "Our intent was to get it out as fast as we could because we know people are hurting out there terribly bad.
"But at the same time we had to screen them to make sure they're qualified, or else at the end of the day the feds are going to come back to us and say you have to give this money back because people didn't qualify."
The CARES Act relief funds arrived in the county's bank account with little instruction from the U.S. Treasury regarding how the money could be spent or to whom it could be awarded, leading to a slight delay in distribution, Peters said.
"First it was, 'What would a reasonable expense be to a reasonable person to combat the impacts of COVID?'" he said.
The county eventually received more guidance from the federal government and, with assistance of the District Attorney's Office, determined what entities it could provide funding to and what criteria those organizations would have to meet to be eligible for assistance.
"It has to be COVID-related and has to have happened between March 1 and Dec 30, on an item that wasn't budgeted previously because no one knew this was coming, or if it was budgeted but it went over because of the virus," Peters said.
The first allocations went to the Tulsa County entities, including the jail and the Election Board, followed by more than a $1 million in funding for local municipalities.
"We had the nine cities in Tulsa County that had already spent a lot of their money and looked like to us like it might be a long time before some of them got reimbursed, so we spent $1 million reimbursing the nine cities, actually 10 cities counting the city of Tulsa … until they could apply to the state for their funding," Peters said.
The county's next priority was county-affiliated organizations such as the Tulsa Area Emergency Management Agency, Tulsa Housing Authority and Tulsa Health Department. THD is using the funding to cover personal costs related to testing and tracing, Peters said, and TAEMA has used much of its funding to purchase personal protective equipment.
"By having them buy everything in bulk, when people come to us and ask for money for personal protective equipment, we can say, 'Go to TAEMA and get your PPEs,'" Peters said. "It costs us about half of what it would cost us to just fund that directly."
Nonprofits eligible for funding under the RESET program are those providing services to people. But Peters said other types of nonprofits, such as museums, VFWs and historical societies, will also be considered for funding through the county's normal distribution program.
Applications for funding are reviewed each Thursday by a review committee made up of County Clerk Michael Willis, County Commission Chief Deputies Mike Craddock and Keri Fothergill, Director of Government Affairs Terry Simonson, and Peters. The BOCC votes on the review board's recommendations for funding each Monday.
"The No. 1 question we always ask ourselves first is, 'Is it COVID related? Or did someone just see a big pot of money out there and want to ask for it?'" Peters said.
The urgent need for funding has led some people to complain that the county has been too slow in distributing the funds or that the process is too cumbersome.
But Willis said the county has a responsibility to taxpayers to vet each application carefully.
"We are trying to strike the balance of addressing needs as quickly as we can because we know there are crises and emergency needs," Willis said. "But at the same time, because these are federal funds and because they are taxpayer dollars, we have to do our due diligence to ensure the dollars are going to where they are supposed to go."
Jeff Hall, Tulsa Housing Authority vice president of strategic planning, said that like any other organization, THA would have loved to have received its funding quicker. The Housing Authority's application for $15 million in rental assistance for those facing eviction was placed on hold because the county wanted documentation to ensure that the evictions were COVID-related.
After a meeting with THA, the city and local housing officials, the county agreed to provide THA with $750,000 in CARES Act funding to hire a third-party firm to administer the rental assistance program and submit applications for assistance to the county.
Commissioners also have approved the remainder of the THA's $15 million request and are expected to make an initial $3 million allocation for rental assistance on Monday.
"We're thankful," Hall said. "It looks like it is moving along just fine."
Peters noted that the CARES Act moratorium on evictions did not expire until Friday.
"But you can't really evict for 30 days; that takes you into August," he said. "So getting the money sooner wouldn't have really helped a whole lot."
Any CARES Act funding the county does not distribute by the end of the year has to be returned to the federal government.
Peters said he doesn't expect there to be much, if any, money left unspent.
"If you had asked me that three weeks ago, I would say we have to return some back," he said. "But the deeper we get into this thing, the more I see that there is a whole lot of need out there that the funds are needed for."
---
 County approved CARES Act funding
| | |
| --- | --- |
| Department Summary | Approved Amounts |
| Social Service |  $117,813.49 |
| Election Board |  $917,372.08 |
| TAEMA |  $2,629,994.72 |
| Bldg Ops |  $226,182.48 |
| HR |  $61,036.21 |
| IT |  $387,827.72 |
| Court Serivce |  $10,891.52 |
| County Clerks |  $3,758,655.85 |
| DA |  $1,620.00 |
| Expo |  $515,023.84 |
| River Parks |  $51,617.50 |
| Engineering |  $50,147.21 |
| Treasurer |  $135,111.43 |
| David L Moss |  $136,111.03 |
| City of Bixby |  $13,633.67 |
| City of Jenks |  $153,235.31 |
| City of Tulsa |  $572,992.67 |
| City of Sand Springs |  $84,183.15 |
| City of Glenpool |  $12,717.72 |
| City of Owasso |  $54,144.32 |
| City of Broken Arrow |  $51,894.05 |
| City of Collinsville |  $38,714.71 |
| City of Skiatook |  $18,274.79 |
| Law Library |  $2,722.36 |
| Alternative Courts |  $24,830.11 |
| Tulsa Housing Authority |  $15,014,343.75 |
| County Inspection |  $18,677.65 |
| Six PR |  $45,000.00 |
| Health Department |  $610,151.98 |
| Tulsa Regional Tourism |  $460,500.00 |
| Juvenile Justice Center |  $116,459.47 |
| Tulsa Economic Development Corp |  $30,000,000.00 |
| Keystone Fire District |  $25,461.36 |
| INCOG |  $48,688.00 |
| Berryhill Fire District |  $7,359.40 |
| Tulsa County Assessor |  $39,580.00 |
| Admin Services |  $19,110.50 |
| Tulsa Film,Music,Art, Culture |  $362,000.00 |
| Tulsa County Parks |  $23,982.53 |
| Tulsa Metro Chamber |  $950,000.00 |
| Public Defender |  $28,288.00 |
| BOCC |  $1,025.00 |
| Total Approved |  $57,797,375.58 |
---
COVID-19 basics everyone needs to know as the pandemic continues
Kevin Canfield
918-645-5452
kevin.canfield
@tulsaworld.com
Twitter: @aWorldofKC