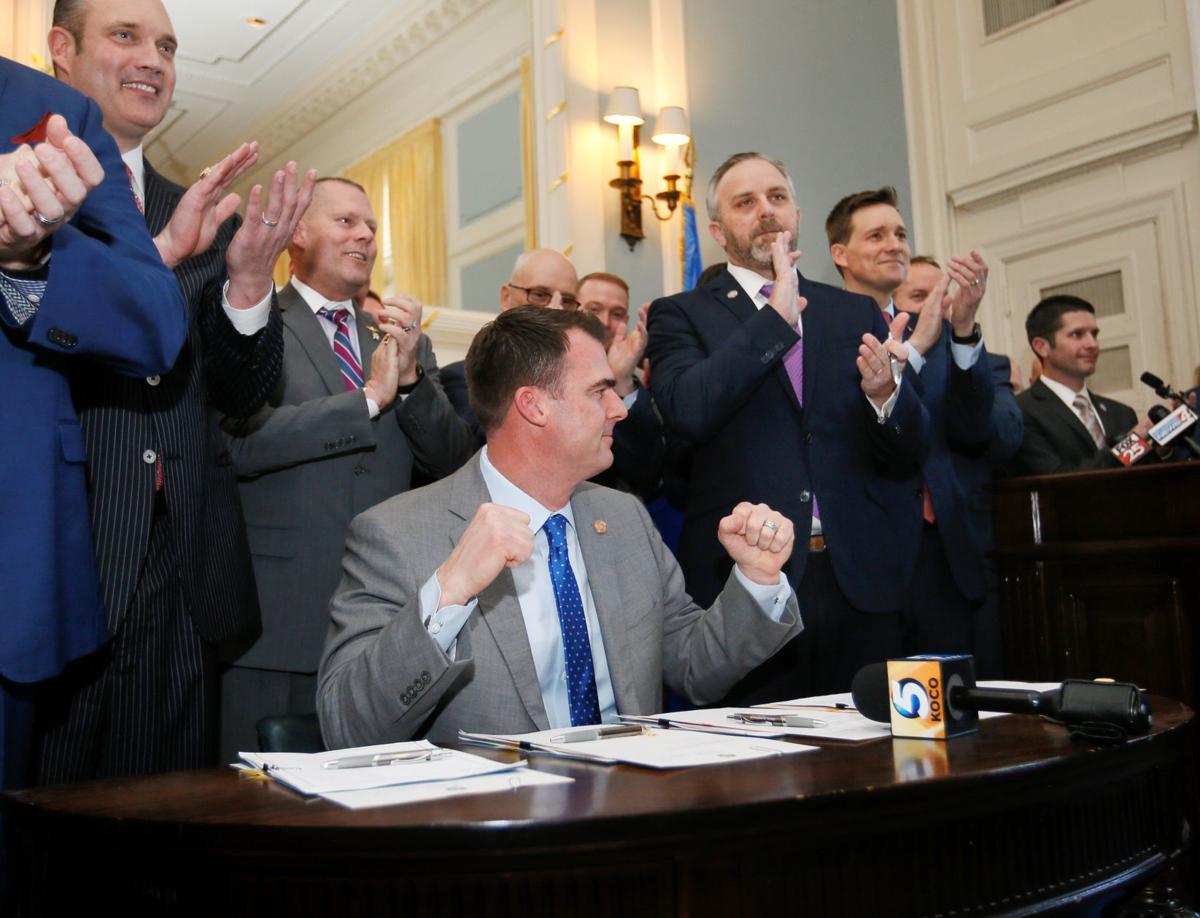 OKLAHOMA CITY — Gov. Kevin Stitt on Thursday said he expects to announce a budget agreement by early next week.
Stitt, serving his first term, is backing a $1,200 teacher pay raise, putting aside $200 million from growth revenue into savings and increases for state workers.
Education will be very happy with the budget, he said.
Senate Pro Tem Greg Treat, R-Oklahoma City, said he will reach out to the governor's office with a plan to put $200 million into public education for a teacher pay raise and to put a "substantial" amount into the classroom as well.
Previously, the House and governor had backed a $1,200 pay raise while the Senate favored more money to the classroom.
"If you look back at history, the Legislature will just spend every single dime that is available, and then we are in a tough situation when we do have a decline in revenue," Stitt said. "It is my four-year goal to have $2 billion in savings."
He is also confident his package of criminal justice proposals will come to fruition.
He wants to drop the state's incarceration rate from first in the nation to number 20 by the end of his first term.
Stitt was asked about tough questions his nominee for budget secretary, Mike Mazzei, received during a Senate Appropriations Committee confirmation hearing that adjourned Wednesday without taking a vote on the former Republican state senator from Tulsa.
"Unfortunately, this time of year there are sometimes disagreements or egos that might get involved and unfortunately yesterday there are some personality issues I think that got the better of some folks," Stitt said. "Unfortunately, it came out publicly in a confirmation hearing."
Some lawmakers accused Stitt's administration of attempting to withhold information from them after they gave him more power over some state agencies. Stitt said that assessment is incorrect, but said his budget people need to be in the room when lawmakers are talking to Cabinet secretaries about the budget.
"I want to have unfettered access to the agencies," said Senate Appropriations Chairman Roger Thompson, R-Okemah. "And while it is being said that we have that, we do not have that. I want to make sure we have no stumbling blocks to our members or our staff talking to any agency at any time about any subject."
Thompson said his first priority is not saving money, but that people of Oklahoma have their needs met.
Treat said Mazzei's confirmation was in jeopardy Wednesday of not having the votes to secure approval.
"We have not decided on that next step yet," Treat said.
Treat said he and Stitt had conversations on Wednesday to clear up some misunderstandings.