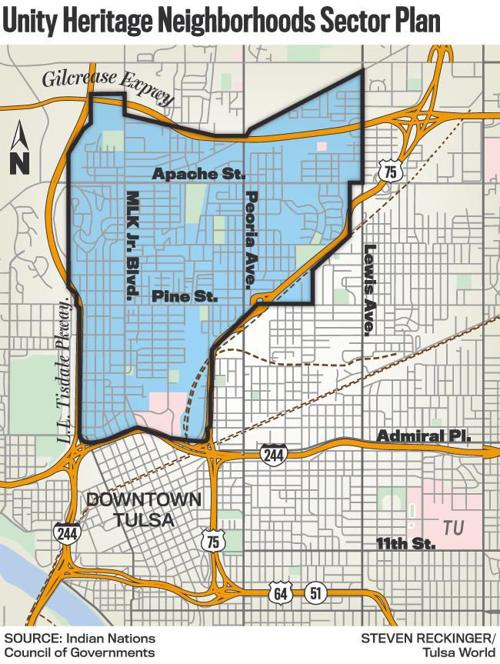 O.C. Walker knows some north Tulsa residents are concerned about what the Tulsa Development Authority has in store for their neighborhoods.
The City Council on Wednesday is scheduled to vote on a proposed amendment to an urban renewal plan that would, among other things, give TDA the authority under state law to issue tax-exempt bonds and initiate eminent domain proceedings on blighted properties targeted for redevelopment.
The meeting is set for 5 p.m. at City Council Chambers of City Hall, Second Street and Cincinnati Avenue.
"It's just not like we get a bucket of money, (and) we don't like your mother's house, so we're going to buy it," Walker, TDA's executive director, said Monday. "That's not the case."
Tulsa Development Authority has had the legal authority to acquire blighted properties and exercise eminent domain since 1959. The organization has used that power in the Kendall Whittier neighborhood and other parts of town, including north Tulsa, where it purchased properties to clear the way for an Albertson's grocery store at the corner of Pine and Peoria avenues.
But when the Greenwood/Unity Heritage Neighborhoods Sector Plan and the updated Kendall Whittier Sector Plan were approved in 2016, they did not include the statutory language required for TDA to exercise its full powers to implement urban renewal programs.
"The consultants that we hired, they were out of Chicago, and I think that was a new tool for them; and as a result, it wasn't incorporated in the overall document," Walker said. "We consider this a lesson learned."
Wednesday's council vote is intended to address that issue and ensure that all TDA sector plans are in compliance with state statutes.
City Councilor Vanessa Hall-Harper, whose district would be affected by the plan, said she is concerned because some of her constituents do not trust TDA.
"Obviously, my community is very leery of urban renewal," she said. "The average citizen is unaware of the long-term effects on neighborhoods that have been classified as 'blighted.' This must be addressed openly and honestly."
The City Council has already approved a sector plan with the proper statutory language for the Crutchfield neighborhood, Walker said; a Pearl neighborhood sector plan is in the works.
On Wednesday night, in addition to voting on the amendment for the Greenwood/Unity Heritage Neighborhoods Sector Plan, councilors will consider a Crosbie Heights sector plan.
The Development Authority is still working to amend the Kendall Whittier Sector Plan.
"If TDA can go through and acquire properties, and in the same time make way for redevelopment or infill to happen, a rising tide floats all boats," Walker said. "So I think that is just a win-win for all the citizens and the surrounding community."
The Unity Heritage/Greenwood Neighborhoods Sector Plan is bordered by Interstate 244 to the south, U.S. 75 to the east, Gilcrease Expressway to the north, and L.L. Tisdale Parkway to the west, excluding areas east of Yorktown Avenue. The plan area also includes a triangle of land east of U.S. 75, bounded by Pine Street, Utica Avenue and U.S. 75.
Walker said it is important for the public to understand that TDA exercises its power of eminent domain as a last resort, and that it cannot do so without a public hearing before the City Council and approval from a majority of city councilors.
"First, we offer property at a fair-market value," Walker said. "The property is always appraised, (and) say you are not satisfied with that, we give the option to find your own appraisal. Then we may come up with an average between the two."
The areas included in the new sector plans will be part of the city's recently initiated housing study, which will also look at properties within the Inner Dispersal Loop.
The hope, Walker said, is that those combined efforts will help to ensure surrounding neighborhoods share in downtown's revival.
"We really want to take that synergy that is currently downtown and move it and expand out of downtown to the surrounding neighborhoods," he said.
Kevin Canfield
918-645-5452
Twitter: @aWorldofKC