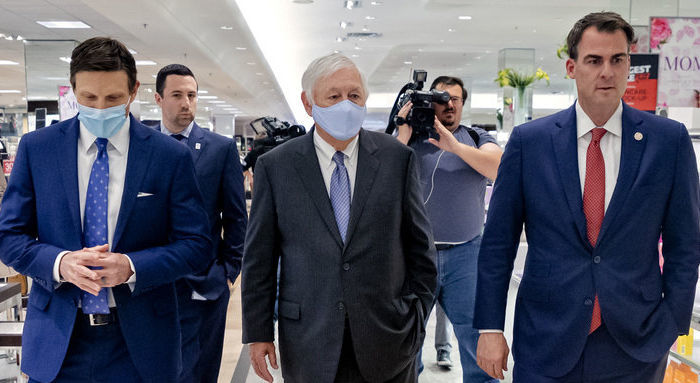 The Oklahoma State Medical Association has asked Gov. Kevin Stitt to put more effort into convincing people to wear masks in public.
"Too many people are still taking an 'it's not my problem' approach to the virus," Dr. George Monks, president of the OSMA, said in a statement released Thursday.
In an email, the association's Jennifer Dennis-Smith said doctors have been "disappointed" by the administration's attitude about masks. It wants Stitt and the state Health Department to strongly encourage mask-wearing in public, especially in view of the sharp rise in cases during recent weeks.
Stitt's office responded Friday by saying the governor and Health Commissioner Lance Frye "are continuing to evaluate the data in Oklahoma and will be announcing additional measures in the coming days that elevate critical public health guidance without rolling back the reopening of our economy."
"This is everyone's problem," Monks said in the written statement. "As we face this crucial tipping point, Oklahomans must decide if we're going to move forward in the safest way possible or are we going to declare that the lives of those who have died from this disease are just not as important as our vanity."
"On behalf of Oklahoma's physicians, I urge Gov. Stitt and the Oklahoma State Department of Health to enhance their call of robust safety guidelines for Oklahoma businesses and public spaces that require employees and customers to wear masks around others," Monks said. "Furthermore, we recommend all admitted hospital and pre-operative surgical patients be screened for coronavirus."
Stitt has tended to portray mask-wearing as a personal choice related to accepting the risk of contracting COVID-19, but health experts say masks' primary benefit is to prevent wearers from spreading the disease to others.
The governor's office has not yet responded with a statement.
---
Randy Krehbiel
918-581-8365
randy.krehbiel
@tulsaworld.com
Twitter: @rkrehbiel