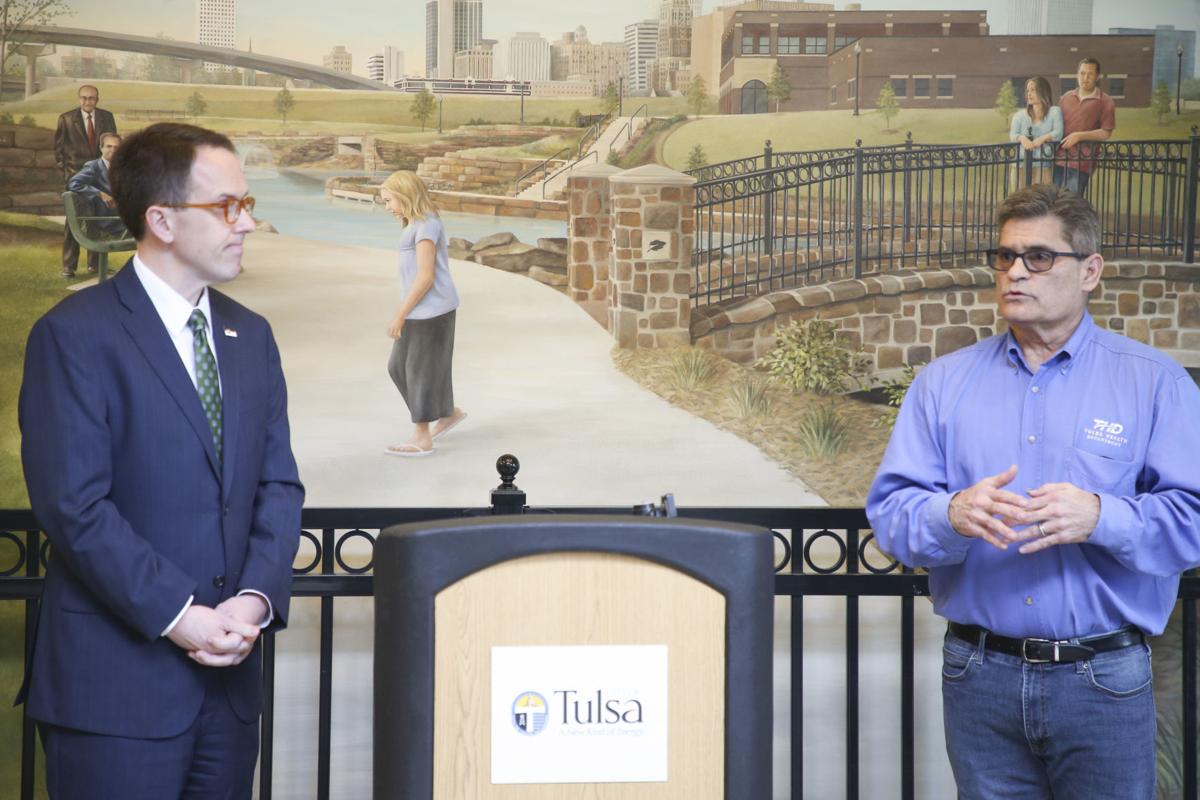 Mayor G.T. Bynum has been widely praised for providing a calm, decisive voice of reason during these tumultuous times.
But he would be the first to tell you that when it comes to managing Tulsa's response to the COVID-19 crisis, he prefers listening to talking. Especially when it's a former president of the United States on the other end of the line.
For the last few weeks, Bynum has participated in Bloomberg Philanthropies' Coronavirus Local Response Sessions. The video conferences bring together mayors from across the country every Thursday to hear from experts whose work it is to understand and combat the COVID-19 pandemic.
"They have experts from John Hopkins (University) on to give their latest public health analysis on it," Bynum said. "It is moderated by Harvard (University), so Harvard will bring in professors to talk about different management aspects of it.
"I read the stuff that John Hopkins puts out all the time, but to have the people who are actually the leads on that, who are writing these articles and pulling that data together, to have them presenting to you is pretty useful."
The hour-and-a-half sessions also give mayors the opportunity to share how they are managing the pandemic in their cities.
"It is valuable to hear what other cities across the country are doing … especially cities that are further into the event than we are," Bynum said. "You can kind of get a glimpse of what your future could be if you went down one path versus another."
Every once in a while, there is a surprise guest. Two weeks ago, it was former President George W. Bush, and last week it was former President Barack Obama.
"Bush really focused on the importance of being able to give people hope about the future," Bynum said. "Reminding people of what this looks like — not just what we're dealing with right now — but what the future can hold when we get through this."
Obama spoke about the importance of speaking the truth and not spinning things, Bynum said.
"One thing that he said that really struck me was, if you have good experts and you're not afraid to look dumb by asking them questions and then following their guidance and their advice, you're going to get through this just fine," Bynum said. "That was, I think, great advice, but also was reassuring since that is very much the kind of dynamic I have established with Dr. (Bruce) Dart and the team at the (Tulsa) Health Department."
Bynum had issued executive orders in response to the COVID-19 outbreak before the Coronavirus Local Response Sessions began, and he continues to rely heavily on the Centers for Disease Control and Prevention, Dart and Oklahoma City Mayor David Holt for information and guidance.
But he plans to keep participating in the Bloomberg Philanthropies video conferences. Thursday's topic is cross-sector collaboration.
"Being able to hear what other cities, in this case with this call, allows it to not just be me talking with OKC, but you can hear from cities all around the country and what they have dealt with and ideas that they have deployed," Bynum said. "That really helps, for me, thinking through our long-term strategies on not just getting through the pandemic but the recovery phase after that as well. It's very helpful."
---
Gallery: Over 2 million cases reported: How is the world handling the coronavirus pandemic?
---
Kevin Canfield
918-645-5452
Twitter: @aWorldofKC