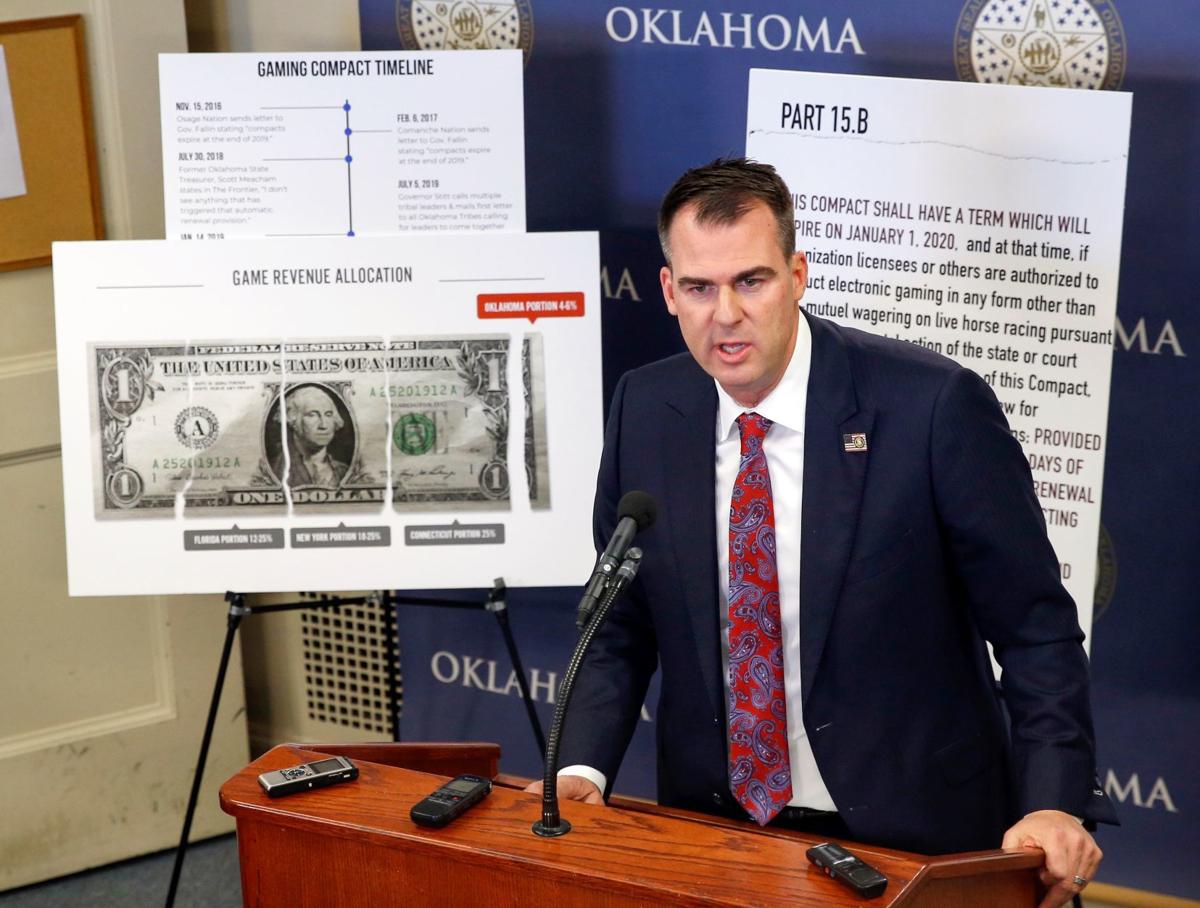 Gov. Kevin Stitt and four Republican legislators on Thursday morning visited the headquarters of one of the tribes that signed a gaming compact with him this spring.
According to a statement from the tribe, the various parties discussed gaming, but the exact nature of those discussions at the Otoe-Missouria compound near Red Rock was unclear.
The presence of the four GOP legislators from the area could be significant because Republican legislative leadership is in court to invalidate compacts Stitt has signed with several smaller tribes, including the Otoe-Missouria.
"It is critical we all work together — state, local and tribal leaders — to build a brighter future for Oklahoma," Stitt said in a press release issued through an Oklahoma City public relations firm representing the tribe. "These new tribal compacts … will mean economic development for all of Oklahoma."
Otoe-Missouria Chairman John Shotton said the compacts will allow the tribe to increase gaming revenue, which in turn will allow it to further expand nongaming ventures.
He said the tribe is one of the largest employers in Kay and Noble counties.
Those attending the meeting besides Stitt were Secretary of State Michael Rogers, Perry City Manager Larry Pannell, state Sens. Chuck Hall, R-Perry, and Bill Coleman, R-Ponca City, and state Reps. John Pfeiffer, R-Orlando, and Ken Luttrell, R-Ponca City.
Luttrell is a Cherokee Nation citizen.
The Otoe-Missouria compact and a similar one with the Comanche Nation became operational June 29 after the U.S. Department of the Interior declined to oppose them.
Stitt has since signed compacts with the Kialegee Tribal Town and the Keetowah Band of Cherokee Indians, neither of which has gambling operations but both of which hope to.
The four compacts would allow forms of gambling now barred by state law and promise state support for new casinos built outside the tribes' traditional jurisdictions.
A consortium of most of the state's gaming tribes, including the largest operators, oppose the deals, as do Speaker of the House Charles McCall, R-Atoka, and Senate President Pro Tem Greg Treat, R-Edmond.
Treat and McCall's lawsuit challenges Stitt's authority to act without legislative approval and is pending before the Oklahoma Supreme Court.
Several tribes sued in federal court on Dec. 31, challenging Stitt's claim that their existing compacts expired on that date. That case is also pending.
---
Randy Krehbiel 918-581-8365
Twitter: @rkrehbiel
Be the first to know
Get local news delivered to your inbox!