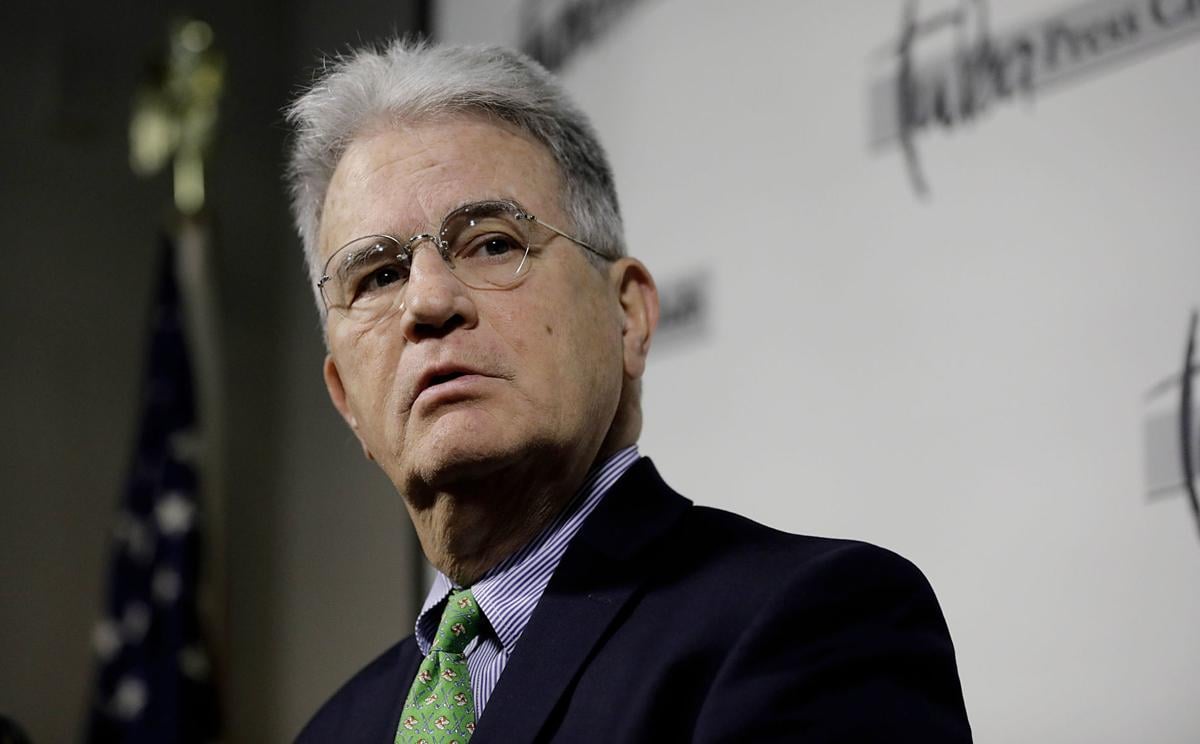 Update (11 a.m. Monday): Gov. Kevin Stitt ordered American and Oklahoma flags on state property to be lowered to half-staff Monday, March 30 to honor former U.S. Sen. Tom Coburn.
---
The story below published in the March 29 Tulsa World:
Former U.S. Sen. Tom Coburn, whose election to Congress in 1994 signaled a tipping point in Oklahoma politics, died late Friday after a long fight with cancer.
"Tom Coburn was very conservative, but he was also a populist. He was loved by all sides," said John Hart, Coburn's long-time aide and writing partner.
Coburn was certainly admired by many average Oklahomans, who elected him to the U.S. House of Representatives three times and the U.S. Senate twice.
At a 2010 town hall meeting in Bixby, with the tea party movement taking hold and many in the state agitated by the election of Barack Obama and passage of the Affordable Care Act, a woman told Coburn her family kept a picture of him on its refrigerator and prayed for him each night.
In a crowd of 850, only Coburn seemed taken aback.
For all his popularity, Coburn also got under the skin of a good many people, including other GOPers. Chamber of commerce Republicans often grumbled because he would not support pet projects and he often clashed with party leadership. While in the House, and even afterward, he was particularly critical of former Speaker Newt Gingrich.
"He was unafraid to challenge anyone, but he always did it with dignity," said Hart.
Journalist Margaret Carlson, hardly known as a conservative ideologue, once called Coburn "the most ego-free, funny and sensible person you could meet."
Thomas Allen Coburn was born March 14, 1948, in Casper, Wyoming, but grew up in Muskogee, where his father, O.W. Coburn, owned an optical manufacturing company. He spent his final years in Tulsa.
Tom Coburn earned a bachelor's degree in accounting from Oklahoma State University and went into the family business; but he left in his mid-30s to attend medical school after being diagnosed with melanoma.
Coburn survived that and a later bout with colon cancer before contracting prostate cancer in 2013. It was that disease that eventually overcame him.
Returning to Muskogee after medical school, Coburn entered politics in 1994 as a Republican candidate in the Second Congressional District, which at that time included only northeastern Oklahoma.
The district had not elected a Republican in 70 years and registered Democrats outnumbered Republicans 3-1. But the electorate was fundamentally conservative, regardless of party, and when liberal incumbent Mike Synar lost to 71-year-old retired teacher Virgil Cooper in the Democratic primary, Coburn stormed to victory in the general election.
It was a big year for Oklahoma Republicans, with Jim Inhofe winning the U.S. Senate seat vacated by Democratic lion David Boren and J.C. Watts and Frank Lucas taking rural U.S. House seats long held by Democrats. But the flipping of the 2nd District was the loudest signal of all that times had changed.
Coburn served three terms, as promised, and left his former colleagues fuming with the publication of "Breach of Trust," a book he wrote with Hart. The book was critical of Republican leadership and Washington in general, and many speculated that it ended whatever future Coburn might have had in politics.
But Coburn was back just four years later as a late entry for the U.S. Senate seat being given up by Don Nickles. Coburn beat party favorite Kirk Humphreys in the Republican primary and won the general election over Democrat Brad Carson, who had succeeded Coburn as 2nd District congressman.
Coburn's staunch opposition to just about any attempt to increase federal spending earned him the nickname "Dr. No." He was reelected in 2010 and announced his retirement from the Senate in 2014, with two years left on his second term.
He was succeeded by James Lankford.
"Oklahoma has lost a tremendous leader, and I lost a great friend today," Lankford said in a written statement. "Dr. Coburn was an inspiration to many in our state and our nation. He was unwavering in his conservative values, but he had deep and meaningful friendships with people from all political and personal backgrounds. He was truly respected by people on both sides of the aisle."
Inhofe, who did not always see eye-to-eye with Coburn, said: "There was no one like Dr. Tom Coburn — in the Senate or in Oklahoma. He was respected by everyone for a lot of things — as a medical doctor, an intellectual, a fearless advocate against government waste, a sought after adviser. But more than that, he was a brother in Christ. ... He will be missed by Oklahoma and the nation."
Gov. Kevin Stitt said, "We lost a giant today — an Oklahoma legend. Our state and our nation are better because of the lessons in fiscal responsibility we've learned from Dr. Coburn and I pray especially in these trying times ahead of us that we can find ways to ensure his legacy lives on."
First District Congressman Kevin Hern said Coburn was "a great leader and a great man. More than that, he was a dear friend and mentor to me long before I ever dreamed of entering politics."
The list of former Coburn aides and proteges who, like Hern, remain in politics and government is a long one, and includes the top leader of the Oklahoma Senate, President Pro Tem Greg Treat, R-Oklahoma City.
"One of the greatest honors of my life was to have known and worked for Dr. Tom Coburn," Treat said in a written statement. "He was a mentor to me and lived out a great example of how to serve with conviction, honor and compassion. ... He was unshakable in his convictions, regardless of the extreme political or public pressures, and was successful in pulling America back to its core values and principles."
"Besides family, no one has had a more profound impact on my life than Tom Coburn," Treat said. "His impact on our nation was real and his legacy lives on through all of those who were blessed to know and learn from him."
Coburn is survived by wife Carolyn and daughters Callie, Katie and Sarah and their families.
A memorial service is planned but details have not been set.
---
Gallery: Tom Coburn's political career over the years
Randy Krehbiel
918-581-8365
@tulsaworld.com
Twitter:
@rkrehbiel