U.S. Sen. Tom Coburn said this week that he sometimes "feels as if I've been pushing boulders up an ice floe for 10 years."
The boulders are still there, and so is the ice floe, but come Jan. 3, Coburn will not be.
After 10 years in the Senate and 20 years in public life, the 66-year-old Muskogee Republican is retiring with two years left on his second term. On Wednesday night, he held what is expected to be his final town hall meeting.
He entered the VanTrease Performing Arts Center at Tulsa Community College's Southeast Campus to a standing ovation and answered questions for an hour and a quarter. Before he took the last one, a woman said, "I wish they'd clone you 535 times in Washington."
Coburn assured her that he was not interested.
A few minutes later, having said his final goodbyes, he was given a second, more rousing ovation.
Never a conventional congressman, Coburn measured success in dollars not spent and programs not created. Earlier this week, he told the Tulsa World he thinks he made some progress.
"We've identified a lot of problems," Coburn said. "I'm not sure we've solved any of them, (but) we're starting to see some stuff come through. … We're starting to see some change.
"The boulders are getting smaller, but it's still a steep climb."
Coburn made it clear that he was not in Congress to get public works projects for the state, to secure grants or low-interest loans for local governments, or to spend any money he did not deem absolutely essential to the nation's interests.
Instead of politicking for highways or tax breaks, he put the General Accountability Office, the Congressional Research Service and the inspectors general of innumerable agencies to work on reports and studies on government operations.
"Information is power in Washington," Coburn said. "The basic problem I see is that most members of Congress don't dig the information out.
"I love the GAO. I love the Congressional Research Service and the IGs. They're dedicated professionals who want to see the government work efficiently and properly.
"A lot of the stuff I've had them do over the years is getting to become common knowledge among other members of Congress, so we're starting to see things change.
"When I first came to the Senate," said Coburn, "people said, 'He's crazy.' But I didn't do things just to do them."
As popular as Coburn is, he does not leave behind the sort of tangible legacy many long-time members of Congress do. No federal installation. No signature legislation. Indeed, he is likely to be more remembered for what he blocked than for what he put through.
Might he, he was asked, leave an intangible legacy?
"I don't think that's for me to decide," Coburn said. "That's for history to decide. Some may write, 'He didn't do anything for the state.' The way I look at it is the ones responsible for looking out for the state are the state legislators.
"When your No. 1 goal is to look good at home, it runs contrary to doing what's best for the country as a whole."
Last winter it was disclosed that Coburn, who is a physician, was undergoing treatment for cancer. On Tuesday, Coburn said, "I actually feel good. I feel well. I'm not cured.
"It's a good journey to be on," he said, "It refocuses you."
Some think Coburn has mellowed some in recent years, but he said he hasn't really changed.
"I don't think so," he said. "I think I'm a little more tolerant of divergent viewpoints, but I still hold more bills than the rest of the Senate combined. I still say 'no' more often, based on the principles I came (to Congress) with."
---
Notable moments in Coburn's career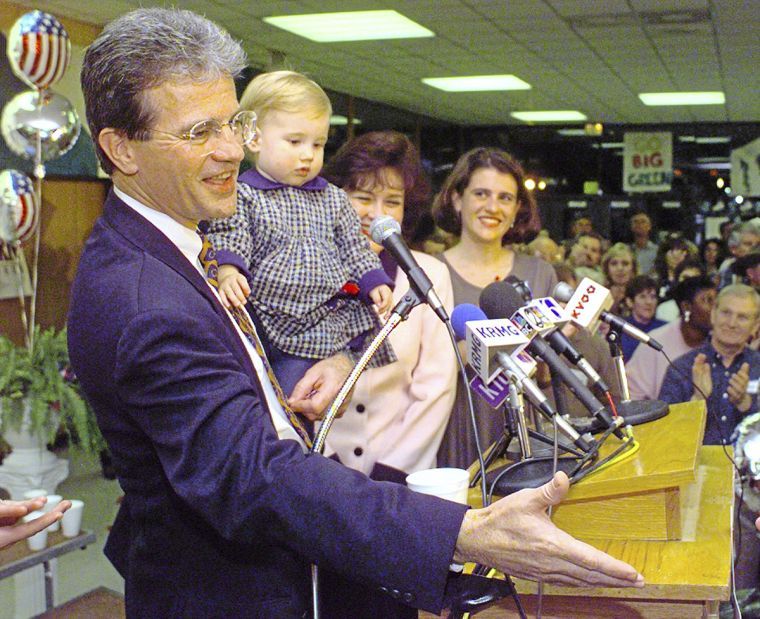 Tom Coburn stands with family members during the 1996 election. STEPHEN PINGRY/Tulsa World file 
On Aug. 23, 1994, Coburn won the 2nd Congressional District Republican primary over two other candidates with about two-thirds of the vote. Five weeks later, unknown Virgil Cooper defeated incumbent Mike Synar in the Democratic runoff. Coburn won the general election by less than 8,000 votes out of 160,000 cast.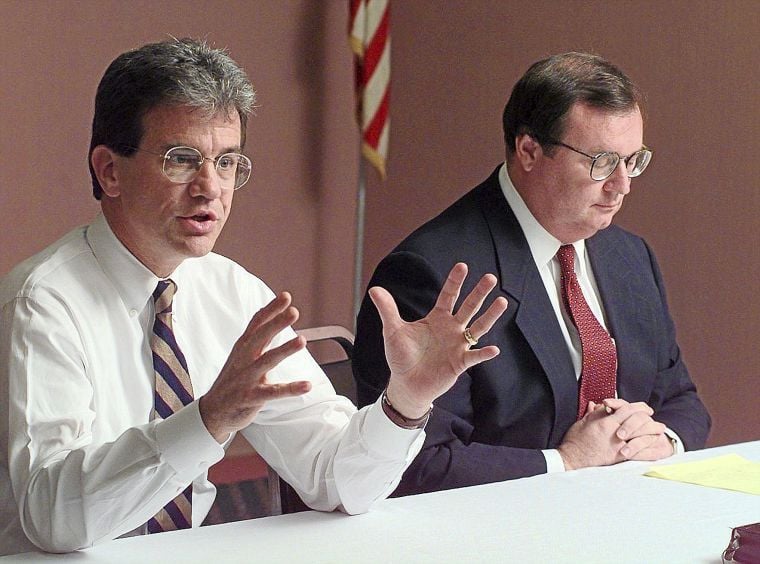 Rep. Tom Coburn speaks during a debate as challenger Glen Johnson prepares in 1996 in Muskogee. TOM GILBERT/Tulsa World file 
In 1997, Coburn and 1st District Rep. Steve Largent were among a group of about 20 Republicans who tried to force out Speaker Newt Gingrich. Coburn first became disenchanted with Gingrich over some ethics violations, then disagreed with him on spending issues.
The deal fell apart when one of the ringleaders, Texas Rep. Dick Armey, found out he was not the choice to replace Gingrich.
Exactly when Coburn acquired the sobriquet is not certain. A 1999 USA Today story by Kathy Kiely refers to him as "the Dr. No of Congress" and says liberals and conservatives alike had grown weary of him. "I don't think I'm disliked as I'm kind of a pain in the rear," Coburn told her.
After leaving the House in 2001, Coburn began writing a book about his experience in Congress. Published in 2003, it was unflattering to other members of Congress and made him even more of a pariah.
Sen. Tom Coburn, along with his wife, Carolyn, participates in the mock swearing in ceremony with Vice President Dick Cheney at the U.S. Capitol in 2005. AP file
Dissatisfied with the Republican candidates to succeed retiring Sen. Don Nickles, Coburn made a late entry into the GOP primary and pasted three opponents, including establishment favorite Kirk Humphreys and Corporation Commissioner Bob Anthony. He then defeated Democrat Brad Carson, Coburn's successor as 2nd District congressman, and independent Sheila Bilyeau in the general election.
Senate Minority Leader Mitch McConnell (left) stands with Sen. Tom Coburn after giving him a rifle on stage at the Conservative Political Action Committee annual conference in March in National Harbor, Md. AP file
On Jan. 16, Coburn announced he would leave the Senate at the end of the current session, with two years remaining on his term.
A month earlier, it was learned that the 66-year-old Coburn was undergoing treatment for a recurrence of cancer, but he refused to cite his health as a reason for retiring.
"This decision isn't about my health, my prognosis or even my hopes and desires," he said.
"As a citizen, I am now convinced that I can best serve my own children and grandchildren by shifting my focus elsewhere."
Randy Krehbiel 918-581-8365
Be the first to know
Get local news delivered to your inbox!