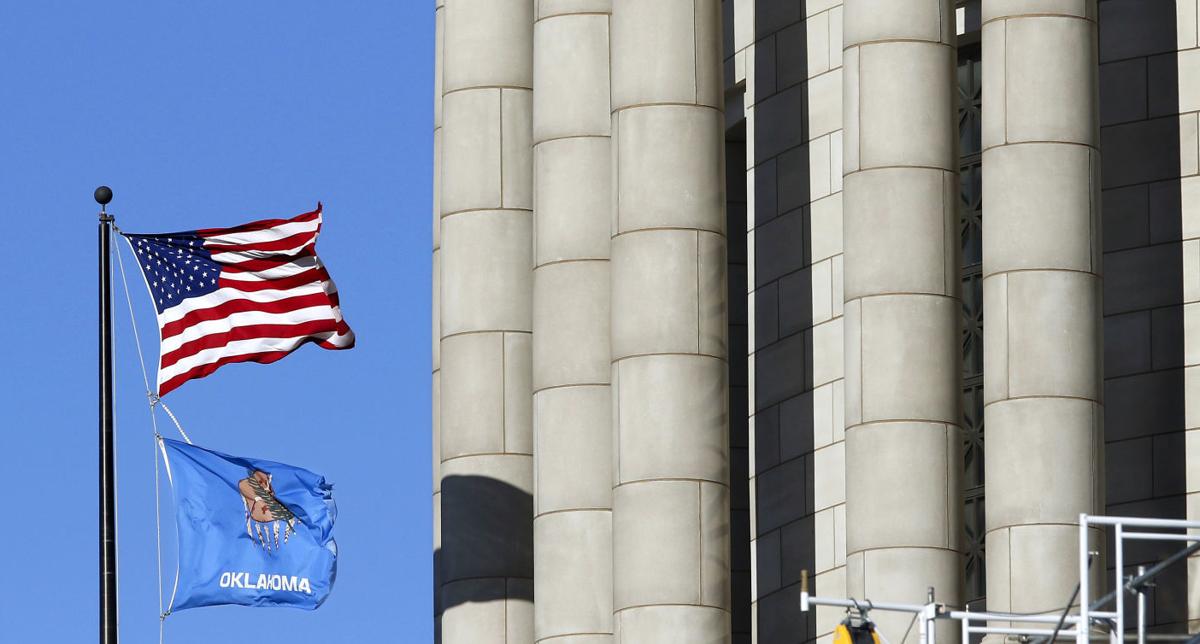 OKLAHOMA CITY — Gov. Kevin Stitt and legislative leaders on Wednesday announced a budget that includes raises for teachers, correctional officers and state employees.
It also includes $200 million in savings for economic downturns and $19 million for a Quick Action Closing Fund for economic development.
Overall, it represents an approximately $8.2 billion appropriation for fiscal year 2020, up from about $7.6 billion, Stitt said.
Stitt said the largest accomplishments in the budget are the $200 million in savings, no new taxes and a 5 percent investment in core services.
"For the first time in state history, we are setting back an additional savings account of $200 million without the law forcing it," he said. "This is going to allow us at the end of this year to have $1 billion in our savings account."
The $200 million is on top of what the state has in its Rainy Day account, which has a balance of $541.6 million with another expected deposit after general revenue fund collections for fiscal year 2019 have been reconciled.
On average, teachers will receive a $1,220 teacher pay raise for districts that are on the funding formula, or 97 percent of teachers.
Last year, teachers received on average a $6,100 pay raise.
"For the first time in state history, we are going to end up being No. 1 in teacher pay in our region," Stitt said.
Stitt urged leaders of districts off of the funding formula to give teachers a pay raise. It affects about 1,300 teachers, Stitt said.
Overall, common education will see an increase of $157.7 million. Districts will receive $74.3 million to hire teachers, counselors, social workers or to be used for other needs.
CareerTech is to receive $8 million to increase pay for teachers and employees.
Higher education will get $28 million for research and salary increases.
The budget includes $62.8 million for graduate medical education programs to support physician training for rural hospitals.
Oklahoma's correctional officers are slated to receive a $2 an hour raise.
The beginning hourly rate for a correctional officer is $13.74 an hour, said Matt Elliott, a Department of Corrections spokesman.
The budget includes $37.7 million for a state employee pay raise of up to $1,400.
Last year, employees received on average $1,600, Stitt said.
The plan calls for using $20 million for prosecutors' offices.
"And we are going to be fully funding our district attorneys so they don't have to rely on fines, fees and court costs anymore," Stitt said. "This is going to take away any kind of perverse incentive that could contribute to debtors' prison."
It also includes $10 million for Smart on Crime programs through the Oklahoma Department of Mental Health and Substance Abuse Services; $1.5 million for Women in Recovery, a prison diversion program; and $1.7 million for the increasing demand for mental health services.
The plan calls for two trooper academies, one funded by the Oklahoma Turnpike Authority and one with the funds from the sale of the state airplane, which recently sold for $1.2 million.
The budget calls for $1.7 million to create the Legislative Office of Fiscal Transparency, a key agenda item for Senate Republicans. It also includes $700,000 for more auditors in the State Auditor and Inspector's office.
The budget includes $575 million for the road and bridge program, Stitt said.
Lawmakers are hoping to end the session before the 5 p.m. May 31 deadline.
Be the first to know
Get local news delivered to your inbox!