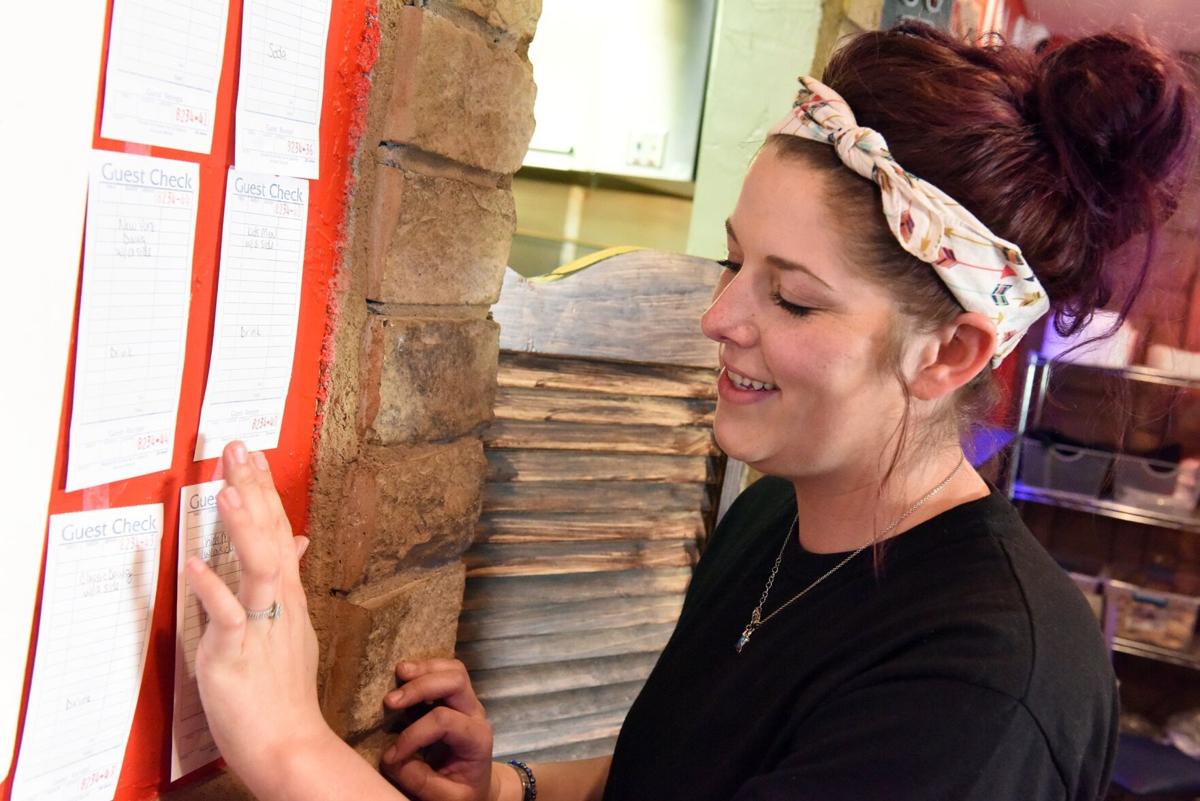 MIAMI, Okla — It started with one coat rack sitting outside a restaurant, but that one humanitarian gesture soon put an Ottawa County community in the spotlight for its work to feed and clothe the homeless during frigid weather conditions at the height of a global pandemic.
Just as two major ice storms were hitting the area, homeless individuals in Miami were seeking shelter and food.
Homeless people were staying at a Miami church and at hotels, said Jennifer White, owner of the Dawg House, a gourmet hot dog café.
About a week before the ice storms hit in February, a friend of White's asked her if she would set up a coat rack at the diner for those needing a coat.
"Later she called me and explained the concept behind the 'Giving Wall,'" White said.
White began hanging on one of the restaurant's walls receipts for prepaid meals. Diners were able to come in and get warm and sit down to a warm meal at no charge.
"One thing led to another," White said. "The next thing we knew it was up to three restaurants in Miami and other restaurants in neighboring towns were also involved."
In addition to The Dawg House, Zack's Café and Montana Mike's Steakhouse also set up a "Giving Wall."
Ottawa County residents and lots of folks in neighboring counties bought meals for the "Giving Wall," she said. But it was a post on a social networking site which spread like wildfire not only across the country but across the world that brought in not only monetary contributions but messages of hope.
"People stepped up and gave," White said.
By the end of that first day, White said she had a wall full of meal receipts.
Since February, The Dawg House has provided around 1,000 meals through the "Giving Wall."
"One generous donation to our Giving Wall came from Melbourne, Australia — with a message 'Australia is thinking of you,'" White said. "We had several messages from across the country — one from New York, North Carolina, Ohio, Wisconsin — all over the country."
"We also got a postcard from Lexington, Kentucky and a donation from Florida," said Miami Mayor Bless Parker.
The "Giving Wall" brought awareness to the homeless problem in Miami, he said.
"Our community stepped up immediately," Parker said.
Parker, who took over the mayor's position in July, said after talking with police, city leaders think the homeless population is between 50 and 60.
The Dawg House and Zak's Café are owned by two homegrown girls," Parker said.
They were raised seeing people step up and help the less fortunate and they followed their example, he said.
"They were all about stepping up and helping." Parker said.
Miami residents still talk about when the BF Goodrich company left the community more than 30 years ago, leaving the city skyrocketing unemployment rates of more than 24 percent.
"Most residents talk about getting back to where we were before the plant closed down," Parker said. "I don't want us to continue to talk about when the plant closed down, I want us to move forward."
These restaurants showed a community how to move forward, he said.
"One thing led to another. The next thing we knew it was up to three restaurants in Miami and other restaurants in neighboring towns were also involved."

-- Jennifer White, owner of the Dawg House in Miami