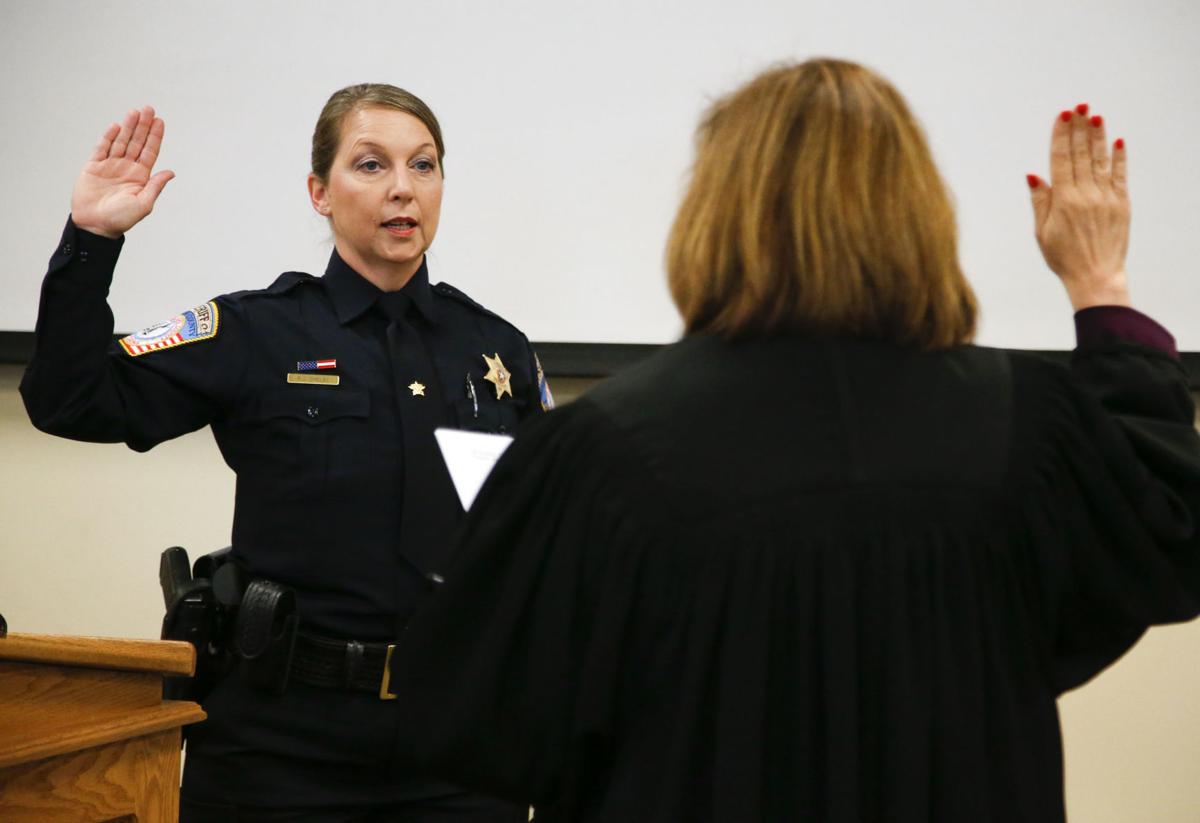 Betty Shelby, a former Tulsa police officer, and her husband, Dave, will teach a National Rifle Association course in May.
Shelby, who was acquitted in May 2017 of first-degree manslaughter in the fatal shooting of Terence Crutcher in September 2016, is listed as an "NRA Instructor" on a Facebook posting for the event. She has been a deputy with the Rogers County Sheriff's Office since leaving the Tulsa Police Department in August 2017.
Scott Wood, Shelby's attorney, said the event is the most rudimentary class for firearms available. The class would be a prerequisite for concealed carry or tactical courses, though he said he doesn't think the Shelbys intend to expand to those topics.
"If you didn't know 'come here' from 'sic 'em' and wanted to learn how to shoot a gun, this would be the first class you take," Wood said. "You're going over the nomenclature of the firearm, ammunition, how to take the gun apart, how to put it together, how it operates. You do fire a few rounds at the end of the class, I think."
Wood said neither Shelby nor her husband could comment on the class in part because of pending civil litigation regarding the Crutcher shooting. ISWB LLC is listed as the event's host. The business is registered to Wood's wife, Stacy, and shares an address with the couple's law office, according to online state records. Wood said his wife is listed as the agent because she handles the Shelbys' corporate matters.
Tickets for the event cost $85, and participants should bring at least 100 rounds of ammunition. The class is 8 a.m to 5 p.m. May 11 at the U.S. Shooting Academy at 6500 E. 66th St. North.
Although Wood said the Shelbys had taught at least one other class in 2019, leader of We The People Oklahoma Marq Lewis said he's concerned with Shelby having a role in any level of firearms training. Lewis said he understands the class is a private venture but said the lingering issues of Shelby's actions have to be recognized.
"To many people, the sight of Betty Shelby with a gun is terrifying," Lewis said. "When you go to that (Facebook) page and see that picture of her with a firearm, it just brings back the memory of what happened to Terence Crutcher that night he was killed."
When asked why Shelby has associated herself with firearms in the aftermath of Crutcher's death, Wood said he believes it's something for Shelby to do with her husband and a hobby of sorts related to her law enforcement career.
Stetson Payne 918-732-8135
Twitter: @stetson__payne