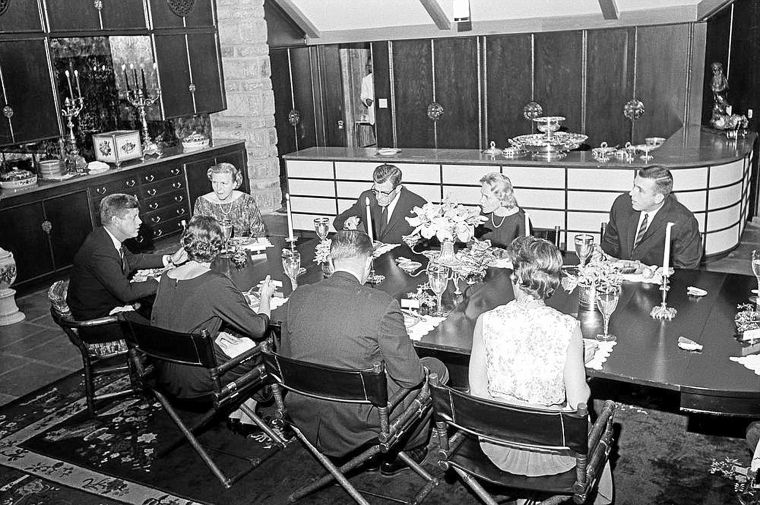 POTEAU — Work has begun to preserve the former home of Robert S. Kerr, who entertained President John F. Kennedy at the home and who flexed his political muscle for more than a decade at the U.S. Capitol.
A new nonprofit called Friends of the Kerr Mansion Inc. was formed to devise a plan to save the Poteau-area residence of Kerr, a former state governor elected three times to the U.S. Senate.
The facility, which for years has operated as a conference center and museum, has been closed to the public since July.
"We think it is extremely important to preserve his legacy because the home not only has a museum, but it can also serve as an education center for what he cared about: government, politics, conservation, oil and gas, agriculture," Kenneth Corn, chair of the Friends board, said Tuesday in a telephone interview. "Senator Kerr's legacy is so much greater than what people know."
Friends is expected to hold educational and fundraising events to help reopen the home, and it is seeking grants from foundations to restore and update the property.
Once dubbed the "Uncrowned King" of the U.S. Senate, Kerr was the first native Oklahoman to serve as governor.
"The home is a tremendous asset to LeFlore County, and it is probably the only home in Oklahoma that has played host to five U.S. presidents," Jim Horne, vice-chair of the Friends board, said in a statement. "The property stands a testament to his life and can be used to help ensure his legacy continues through education, political, culture and conservation by being a place to gather leaders in those fields."
Presidents Kennedy, Lyndon Johnson, Gerald Ford, Jimmy Carter and George H.W. Bush stayed at the Kerr mansion, Corn said. Kerr persuaded Kennedy to come there in 1961 to dedicate Oklahoma 103, which ran through the Ouachita Mountains between Heavener and Broken Bow.
Kennedy stayed overnight at the mansion and took in a Black Angus cattle demonstration, with more than 200 "newsmen" on hand to watch, according to the full-page Tulsa World coverage.
At 6-foot-4, 240 pounds, Kerr was described as "robust in mind, body, and spirit," according to his biography on www.senate.gov. Never bashful about his considerable talents, Kerr brought to the Senate a caustic wit, a capacity for hard work and a resolute belief in the unity of his personal goals and those of his constituents, the biography stated.
Completed in 1961 at a cost of about $650,000, the mansion is longer than a football field and originally contained seven bedrooms, 14 bathrooms and six fireplaces.
In 1978, the Kerr Foundation donated his home and about 40 acres to the state, with intent that the property be used by the Regents for Higher Education. Under the operation of Carl Albert Junior College, it was developed into a hotel and conference center that was dedicated in 1981, according to reports.
About $635,000 in private and state funds were used to remodel the center in 1998.
"There is a lot of history about Kerr that people don't realize or have forgotten," Corn said.
Rhett Morgan 918-581-8395