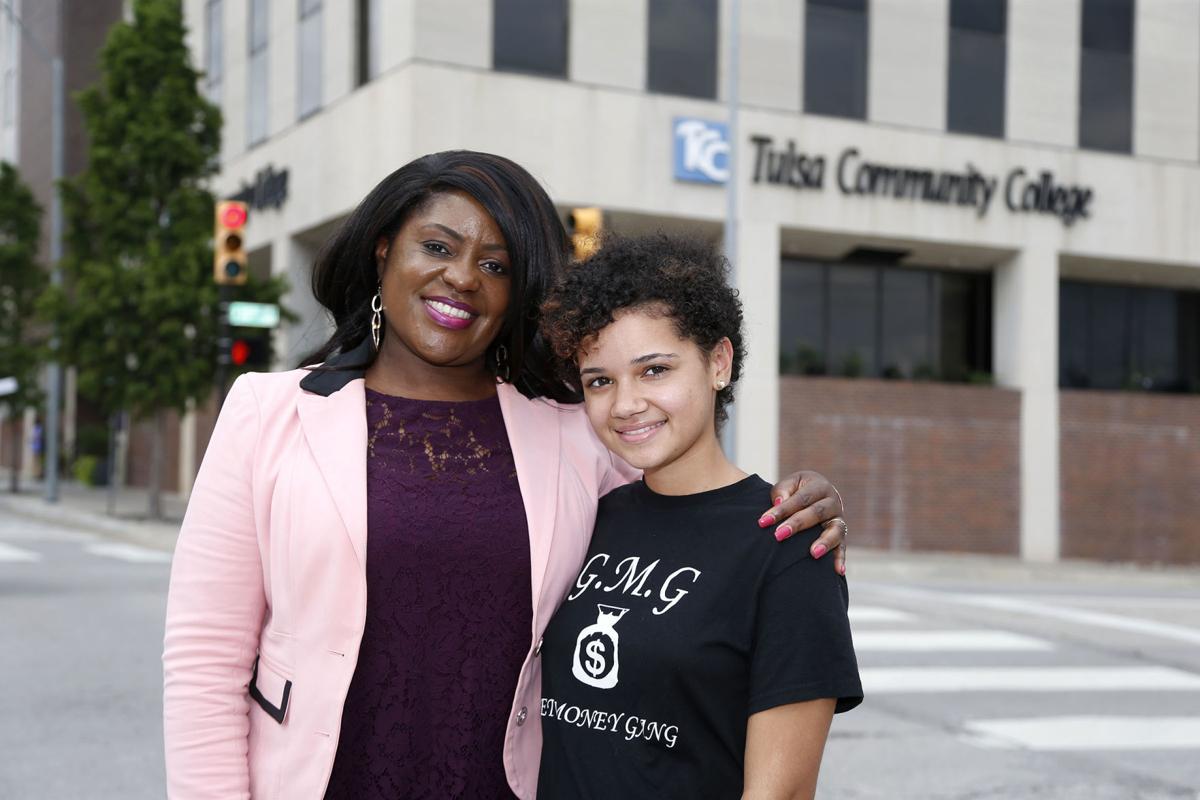 McLain High School's valedictorian wants to work with expectant mothers as a medical sonographer, and a scholarship in remembrance of Terence Crutcher is helping launch her toward that career.
Sade Dale is entering that two-year program Monday at Tulsa Community College with her books taken care of courtesy of the Crutcher Family Scholarship Fund. This year's other beneficiary of the fund is Malachi White, a graduate of Edison High School going to LSU Shreveport to play basketball.
The scholarships will be presented Sept. 28 during the second annual Terence Crutcher Foundation Memorial Gala at the Oklahoma Jazz Hall of Fame, 111 E. First St.
"We're looking for recipients who are trying to better their lives through education, just like my brother was," said Tiffany Crutcher, the twin sister of Terence Crutcher, an unarmed black man who was fatally shot by then-Tulsa Police Officer Betty Shelby in a controversial encounter nearly two years ago.
Tiffany Crutcher explained her brother's memorial foundation sought high school seniors in Tulsa who have overcome adversity to help remove barriers for them to higher education. She said Dale's situation reminds her "so much" of her brother because he found solace from his struggles through education and music at TCC.
Dale's father was deported back to Nigeria when she was 8 years old, leaving her and three younger siblings under the watch of only their mother.
"So after he left everything went downhill," Dale said. "My mom was on drugs real bad."
Her mother called the Oklahoma Department of Human Services because she couldn't care for her young children. Dale was in a shelter for a few months before she was placed with her foster parent, whom she calls "Grandma."
Dale found great success at McLain High School, graduating as valedictorian in May.
"It was hard on me," Dale said. "But I'm focused and very determined. I just didn't want no bad grades."
This summer her aunt mentioned medical sonography to her. The 18-year-old researched it and discovered an untapped passion.
"I thought about this; I just want to do the ultrasounds and tell people what they're having — a boy or girl," Dale said.
There were five applicants in the scholarship fund's first year. Crutcher said she hopes to expand the scholarship offerings as the foundation grows.
She says she knows her brother is peering down from heaven, happy to see a foundation in his name giving back to the community through higher learning.
"There's no greater feeling to know that we're continuing the work of the foundation through our pain and our struggles and all the adversity," Crutcher said. "It feels so good to be able to turn a negative into a positive."
Corey Jones
918-581-8359
Twitter: @JonesingToWrite