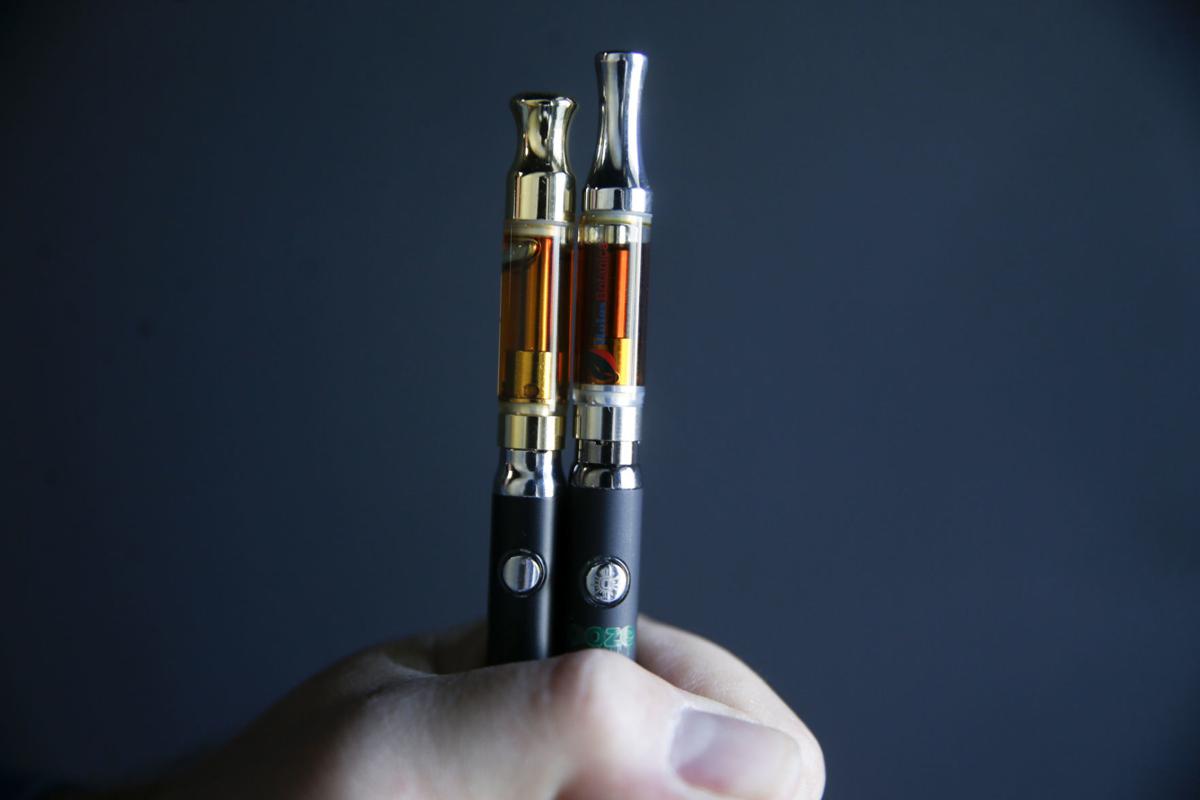 The Food and Drug Administration on Friday recommended consumers stop using vape products with THC amid an ongoing investigation into the cause of vaping-related illnesses nationwide, at least one of which involved an underage Tulsa County resident.
Those involved in the business and legal enforcement aspects of Oklahoma's medical cannabis industry have, in the meantime, stressed the importance of only using cannabis products that have undergone reliable testing.
"Personally, I look at labs as one of the first lines of defense for the medicine those patients are consuming," said Kyle Felling, who runs F.A.S.T. Laboratories, a medical cannabis testing facility with offices in Oklahoma and Arkansas. "As a lab, we figure out how much medicine is in there, but we also help the patient be assured about what's not in there, things like pesticides, heavy metals and E. coli."
The Centers for Disease Control and Prevention as of Saturday reported receiving more than 1,000 cases across 48 states and one U.S. territory of lung injuries associated with the use of e-cigarette or vaping products. Of those, 18 deaths have been confirmed in 15 states.
According to the Oklahoma State Department of Health, there had been four probable or confirmed cases of lung injury in Oklahoma as of last week, one of which involved a Tulsa County resident younger than 18. Two of the three other cases were reported in Oklahoma County, while the third is in the northeast region of the state.
Two of the three other patients are between 18 and 34 years old. The other is at least 35 years old.
The FDA and CDC warned Friday against the use of any THC vape products, as well as any vape product obtained off the street or from "other illicit or social sources." NPR reported that Anne Schuchat, principal deputy director of the CDC, told reporters Thursday the agency was "looking at a very concerning outbreak" and said, "The data we're getting does not suggest this has peaked."
Scott Schaeffer, managing director for the Oklahoma Center for Poison and Drug Information, told the Tulsa World recently that he believed stigma associated with the situation could keep people from seeking medical attention more promptly.
He said the "cluster of cases" in the news indicates to the agency that vaping, despite being promoted as an alternative to smoking, is not a "completely safe" method of consumption.
"Although there seems to be this indication it might be related to some THC type products, especially ones that are purchased on the street, not all of the people who have developed severe symptoms have vaped those types of products," Schaeffer said.
Oklahoma Commissioner of Health Gary Cox last week recommended those who use vaping products discontinue doing so pending further inquiry after news broke of someone in Tulsa County being affected.
OSDH Communications Director Tony Sellars said while no one is currently hospitalized in Oklahoma for a vaping-related injury, 78 percent of the 578 people who gave the CDC information reported using products with THC. Thirty-seven percent of those who said they used THC vaping products told the CDC they did so exclusively, Sellars said.
House Bill 2612 took legal effect in late August, setting up an extensive regulatory framework that included a requirement for testing cannabis products in Oklahoma. But authorities have warned that THC vape products sold elsewhere are not subject to the level of oversight as those sold at dispensaries.
Felling, from F.A.S.T. Laboratories, said his facility has processed more than 9,300 samples for Oklahoma businesses since the beginning of the year, leading to more than 16,000 tests so far for solvents, THC and CBD potency, heavy metals and pesticides. He recommended patients seeking cannabis products purchase them only from licensed dispensaries who are able to readily produce documentation of the test results they received.
Felling said it can be costly for businesses to submit test samples but said it is essential in order for shops to remain compliant in the eyes of the OMMA. He said his laboratory is licensed with the Oklahoma Bureau of Narcotics and Dangerous Drugs because the Oklahoma Medical Marijuana Authority hasn't yet began approving its own laboratory licenses.
The OMMA is projected to begin issuing laboratory licenses by next year, which Felling said will eventually come with a requirement for accreditation from an organization such as the American Association for Laboratory Accreditation.
"It helps weed out good labs from bad ones," Felling said of the accreditation standard. "It at least makes certain that you have certain processes in place that gives some sort of validity to the results you produce."
A previous CDC news release indicates authorities identified vitamin E acetate in several samples after the FDA began testing products. However, the CDC said then that "no one substance, including vitamin E acetate, has been identified in all of the samples tested."
The Oklahoma Medical Marijuana Authority's newest emergency rules indicate products should undergo testing for E. coli and salmonella, as well as for metals, pesticides, mycotoxins and solvents such as acetone and propane. Vitamin E acetate, also known as tocopheryl acetate, is not among the chemicals listed in the testing rules.
However, the rules say growers and processors must check for contaminants and filth to include "any biological or chemical agent, foreign matter or other substances" that could compromise safety.
Lawrence Pasternack, one of the leaders of the Oklahoma Cannabis Liberty Alliance patient advocacy group, said he believed the problem is likely from "something deep in the supply chain" such as an "adulterated carrier or additive." He also said the containers used in street products could present their own safety risks and warned against people putting additives in products after buying them.
"While this is an event whose cause is outside of the (legal) cannabis supply chain itself, it is nevertheless a good reminder that the products we consume should be tested," Pasternack said. "So long as the government continues to drag its feet on cannabis reform, they are letting ideology override science and public health."