The City Council on Wednesday heard from dozens of Tulsans who are vehemently opposed to two development plans proposed by the Tulsa Development Authority. It was Councilor Ben Kimbro, however, who best summed up the emotions of the hundreds of people who attended the meeting.
"I am profoundly disappointed in this calamity caused at the hands of TDA," Kimbro said.
Then, in his inimitable style, he added: "In fact, if I ever needed guidance on p------ off a bunch of people, you all would be the first people I would call."
Kimbro made his remarks after listening for 90 minutes as speaker after speaker railed against the two development plans — the Crosbie Heights Sector Plan and the Greenwood/Unity Heritage Neighborhoods Sector Plan — and what they claimed was TDA's failure to communicate the details of the proposals.
The speakers' main concern: language in the development plans that empower TDA to acquire blighted property — by purchasing it or through eminent domain — for private development and other revitalization efforts.
The council, at Kimbro's behest, voted to table the development plans, but not before he made clear that things would have to change before TDA would ever get council approval for anything again.
"It is my want and desire — it is my insistence — that TDA is going to shape up its ship — that you radically reform how you do business and how you engage the community," he said.
Many speakers said they had no idea the plans were even in the works and questioned TDA's motives in using eminent domain to acquire properties.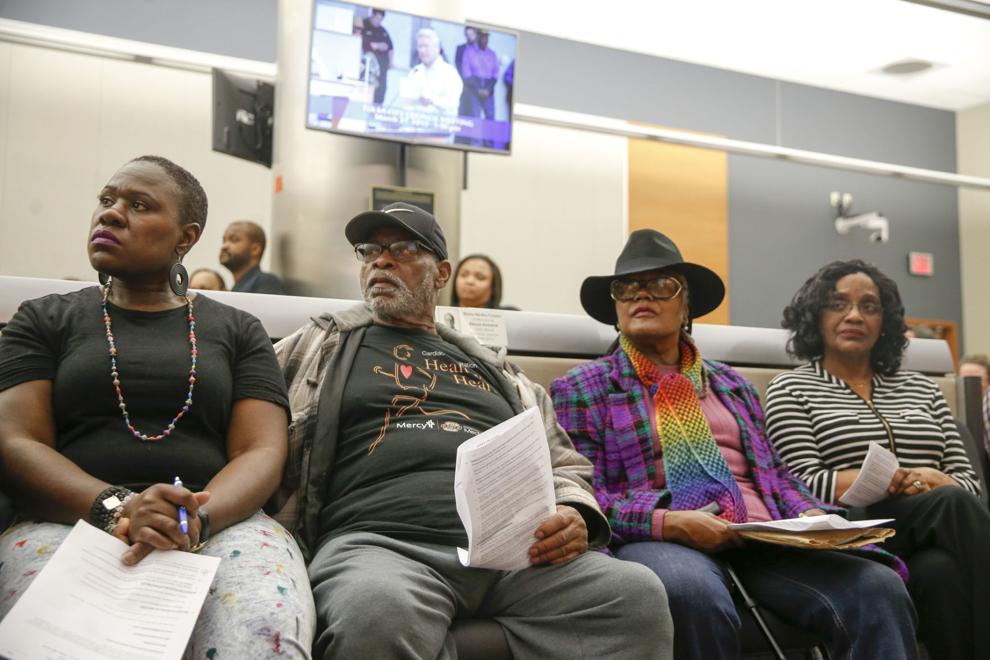 Brenda Nails-Alford told councilors her ancestors lost their property in the 1921 Tulsa race massacre and again during later urban renewal efforts in north Tulsa.
The family has been in its current home for 94 years, she said.
"As a third-generation to uphold it, I am very, very upset that you want to take it," she said. "It is the one thing that you left us, and we will not give it up."
Tulsa Development Authority has had the legal authority to acquire blighted properties and exercise eminent domain since 1959. The organization has used that power in the Kendall-Whittier neighborhood and other parts of town, including north Tulsa, where it purchased properties to clear the way for an Albertson's grocery store at the corner of Pine Street and Peoria Avenue.
But when the Greenwood/Unity Heritage Neighborhoods Sector Plan was approved in 2016, it did not include the statutory language required for TDA to exercise its full powers to implement urban renewal programs.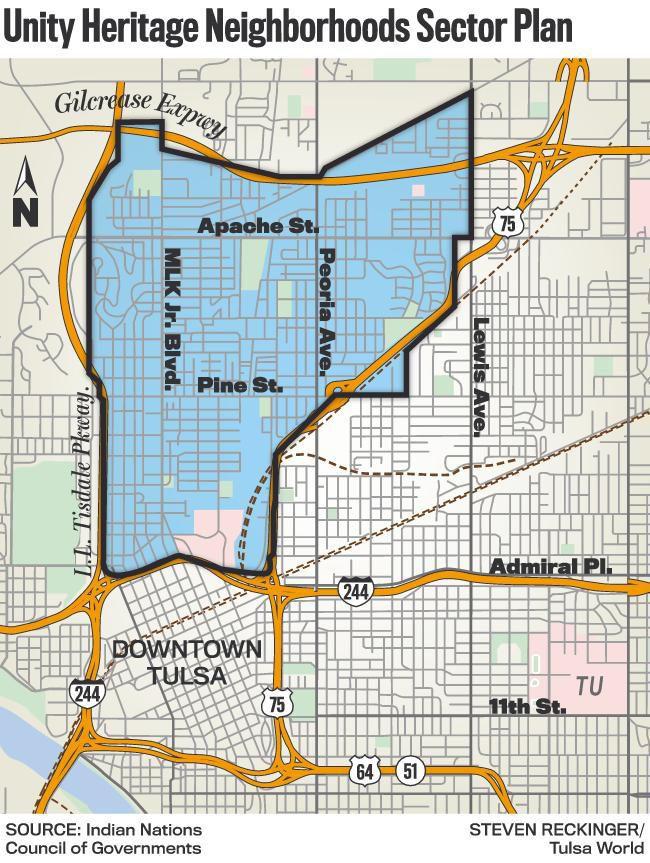 Councilors were asked Wednesday to approve an amended version of the plan, along with a separate Crosbie Heights plan, that included the statutory language.
O.C. Walker, executive director of Tulsa Development Authority, said the organization has no plans to acquire any land in the boundary of the Greenwood/Unity sector plan.
He also attempted to clarify that the blight study that accompanied the plan is an inventory of all properties within the sector plan boundary and that not all of the properties are blighted.
"It doesn't mean that every property in here is blighted or vacant or that TDA is even wanting to acquire them," Walker said.
But he also made the case for TDA's acquiring dilapidated properties, saying eminent domain is always a tool of last resort.
"Some of those properties, again, need to be dealt with, and if we don't have a mechanism in place, we're (only) going to get more than what we have," Walker said.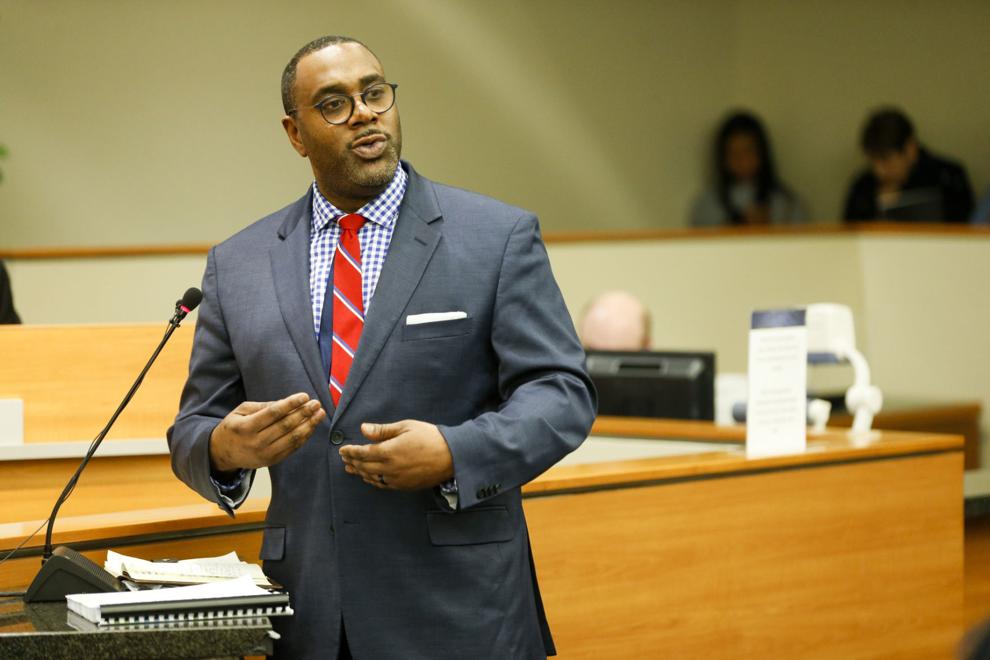 Walker, who grew up in north Tulsa, acknowledged the community's mistrust of TDA and called for town hall meetings to discuss the sector plans.
"It is one thing to come here tonight and hear about it for the first time, but let's spend a little time together; let's get to know each other," he said.
No date has been set for such town hall meetings, nor did the City Council give any indication of when it would take up the sector plans again.
Mayor G.T. Bynum was out of town and unable to attend Wednesday's meeting, but he told the Tulsa World it is clear that more due diligence is needed before the sector plans can proceed.
"We are committed to ensuring that a blight declaration is not brought forward for the council's reconsideration — and that the sector plan is not actionable by TDA — until strong public engagement is completed to develop a strategic, just approach to development and redevelopment, and clear support from the community is present," Bynum said.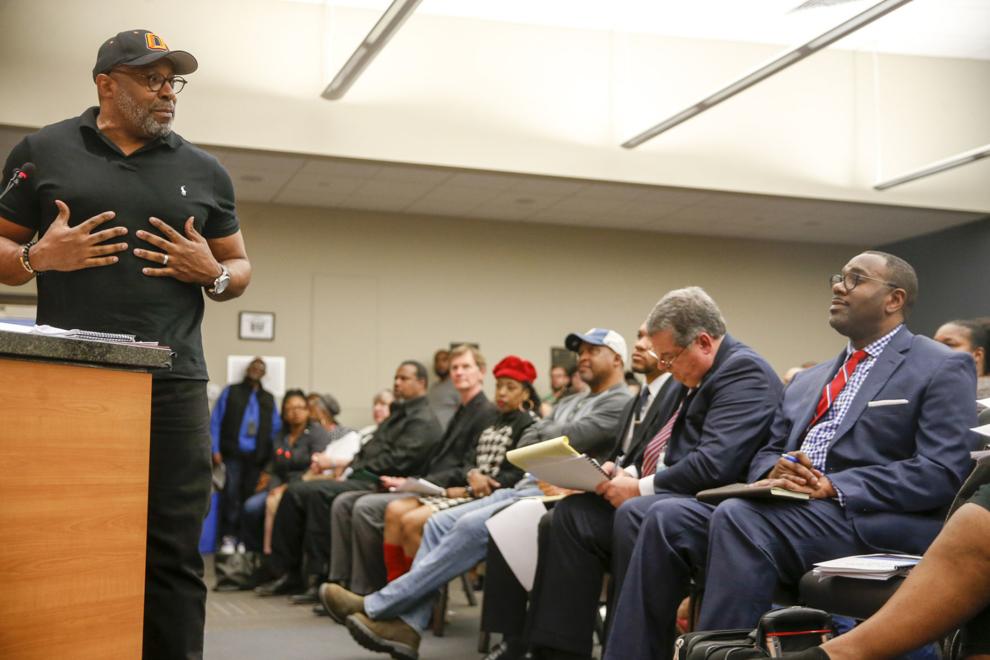 Councilor Vanessa Hall-Harper, whose district includes the area covered in the Greenwood/Unity Heritage Neighborhoods Sector Plan, echoed Kimbro's concerns and said she does not trust the TDA.
"I've said that publicly," she said.
Wednesday night, she was not alone.
Equal Rights Amendment: Councilors voted 7-0 to approve a resolution supporting ratification of the federal Equal Rights Amendment and urging the state Legislature to ratify it by the close of its session. The resolution notes that women constitute 50.3 percent of Tulsa's population and that passage of the constitutional amendment "would help correct systemic sex discrimination."
The Equal Rights Amendment was passed by the U.S. Congress in 1972 and has been ratified by 37 states. Thirty-eight states must approve the document for it to become part of the Constitution.
Kevin Canfield
918-645-5452
Twitter: @aWorldofKC