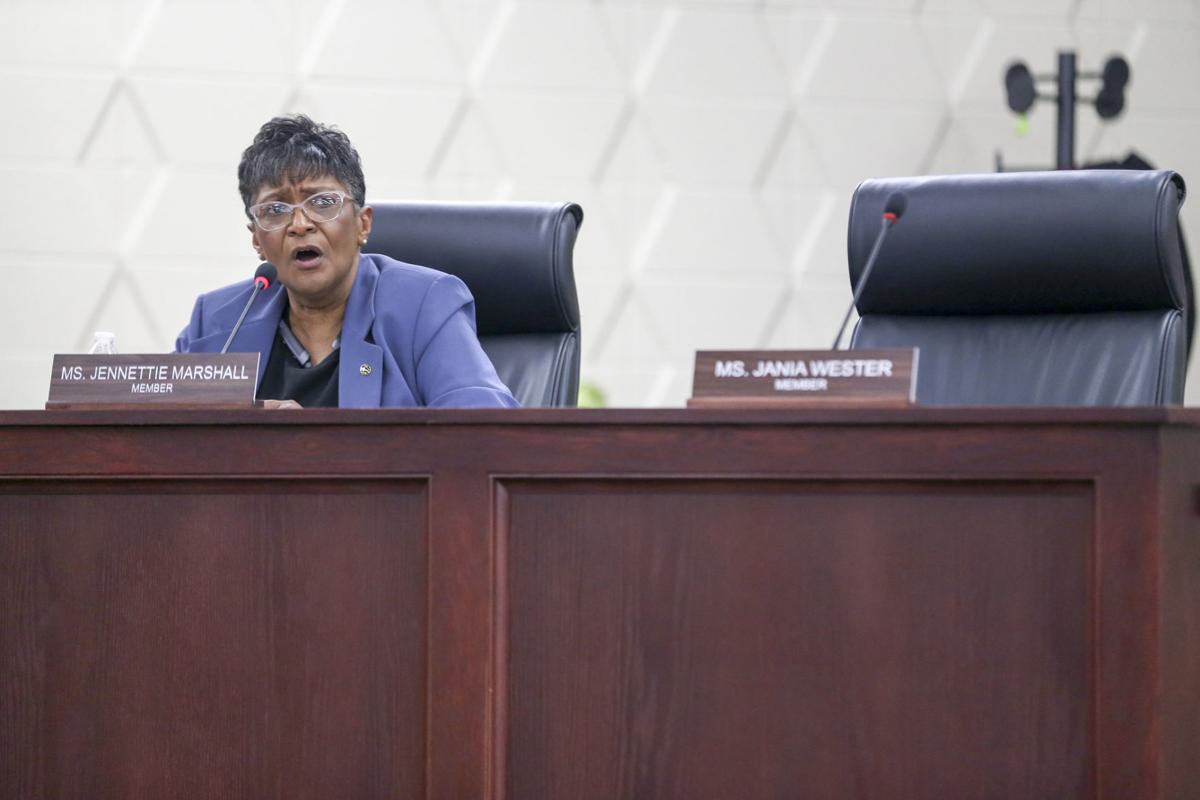 The Tulsa school board's only Black member accused colleagues of disparaging her through what she calls a series of "racially motivated" remarks at a recent board meeting.
Jennettie Marshall, who represents a large portion of schools in north Tulsa, spoke for 10 minutes during the July 20 meeting about board members she says have tried to silence her since she was elected three years ago.
Marshall's comments were specifically in reference to a board meeting two weeks earlier, when four board members spoke out against a nomination for her to serve as vice president.
"July 6 was about one thing and one thing only: a pressure cooker called white rage," Marshall said during the July 20 meeting. "… White rage is not about a visible bias. It's subtle and corrosive and is found even in a place like school boards and cloaks its way through legalities.
"The presence of Black people is not the trigger for white rage. It's the presence of Black people with ambition, the presence of Black people with drive, the presence of Black people with aspirations, the presence of Black people who achieve. …"
Shawna Keller and Suzanne Schreiber — who served as the board's president and vice president, respectively, until the July 6 meeting — said Marshall failed to communicate with them about concerns they've raised to her in the past.
During that meeting, Schreiber said she had reached out to Marshall several times to work out their issues but never received a response. She further said Marshall has criticized the board repeatedly for "lacking in integrity, being untrustworthy, not being truthful and not being transparent."
"I think those things make me have concerns about whether or not she can work with all of us and trust everyone on the board and move forward in a positive way," Schreiber said at the time.
Board member Jania Wester then said that while she respects Marshall and thinks she brings a lot of valuable questions to the table, she could not support the nomination based on conversations with her constituents.
John Croisant, who was attending his first meeting after being elected to the board, also alluded to concerns he's heard from constituents about the group's ability to work together. He said having a board split on Marshall's nomination worried him.
Schreiber, Keller, Wester and Croisant ultimately voted against Marshall's nomination for vice president, which went to Wester shortly thereafter.
During the July 20 board meeting, Marshall denied that she was uncommunicative with Schreiber and Keller, saying instead that the two board members have not returned numerous calls and messages from her over the past year.
"It's interesting that I can search my phone and go back over a year ago and see in my log many calls that weren't answered, but I got automated responses saying not available, but they were never returned," Marshall said. "But I've been held to a different standard because I didn't return calls or I didn't call. I'm labeled dissident or obstinate."
On Tuesday, Schreiber again reiterated in a statement to the Tulsa World her belief that Marshall has expressed "extreme and unfounded allegations against the board as a whole and against individuals."
Marshall long has been a vocal critic of the district's overall leadership and has accused Schreiber of having a conflict of interest during prior votes because of her employment with the George Kaiser Family Foundation.
"When I have reached out to Ms. Marshall to address these matters, she has not responded to me," Schreiber said. "These two things combined concern me, and that is precisely why I said what I said in the discussion of the failed nomination for vice president.
"I plan to continue to reach out to Ms. Marshall when and if she expresses concerns, and I look forward to continuing to serve with her and my fellow board members as we continue to devote ourselves to serving kids, families and Tulsa."
During the July 20 meeting, Marshall also took issue with Wester's comments about constituents saying Marshall is not right for leadership. Marshall alleged that Wester hasn't properly represented the Black constituents in her district because most of her focus is on the Latino community. She added that she has had to take on the duty of representing the Black constituents in Wester's district herself.
Wester told the Tulsa World in a statement that families in Tulsa Public Schools can enroll in schools outside of their neighborhoods, meaning board members serve families from all over the city.
But she said most who reach out to her identify as Hispanic and Latino because they know she is bilingual and shares similar cultural experiences.
"Having a board member that speaks their language opens up the door for them to reach out when they need to," Wester said.
"Of course, I ran for the board to serve all Tulsans and everyone in District 2 regardless of their race," Wester continued. "I am enthusiastic and eager to continue to speak to, represent and serve any person with questions, concerns, ideas and thoughts regarding our mutual goal of improving educational outcomes for our students."
Marshall also questioned why Croisant praised her efforts on the board and lauded her reputation in the community during a three-hour phone call but then offered sharp criticism in another call shortly before the July 6 meeting. She claims that Croisant told her that "everyone thought I was the worst thing" and "the worst person with no integrity."
Croisant told the Tulsa World in a statement that he stands by Marshall's right to speak freely and represent her constituents and TPS students in the "way she deems best."
"Watching the TPS school board over the last few years, I have seen a division on the board, and we as board members must work to eliminate these issues," he said. "I apologize for any issues this has caused Ms. Marshall, and I look forward to working with her and the rest of the board to help TPS through this difficult time we are going through."
Finally, Marshall condemned a comment made during the July 6 meeting in which Keller said Wester would be a valuable leader on the board because she represents an "unrepresented faction of our population."
"That was racist," Marshall said of Keller's calling a minority group a faction. "That was insulting to a minority population within the district, and it insulted all minorities. It was culturally insensitive. I am an African American. … But I am not a faction."
Keller did not respond directly to Marshall's comments in a statement to the Tulsa World but did say she believes that each of her colleagues is "committed to ensuring that every single child in Tulsa has the supports that they need to be successful."
Marshall later told the Tulsa World that she is not asking for an apology from her fellow board members, adding that "you can't apologize for being a racist." Instead, she said they need to take an "inward look at themselves and the biases they carry."
She said she has sat through numerous conversations during board meetings and other meetings about how to address bias and equity in the school district.
"Until we fix it at the board level, we as a district will never truly address implicit bias, racism and equity on the level that it needs to be addressed in Tulsa Public Schools," Marshall said.
---
COVID-19 basics everyone needs to know as the pandemic continues
Kyle Hinchey 918-581-8451
Twitter: @kylehinchey