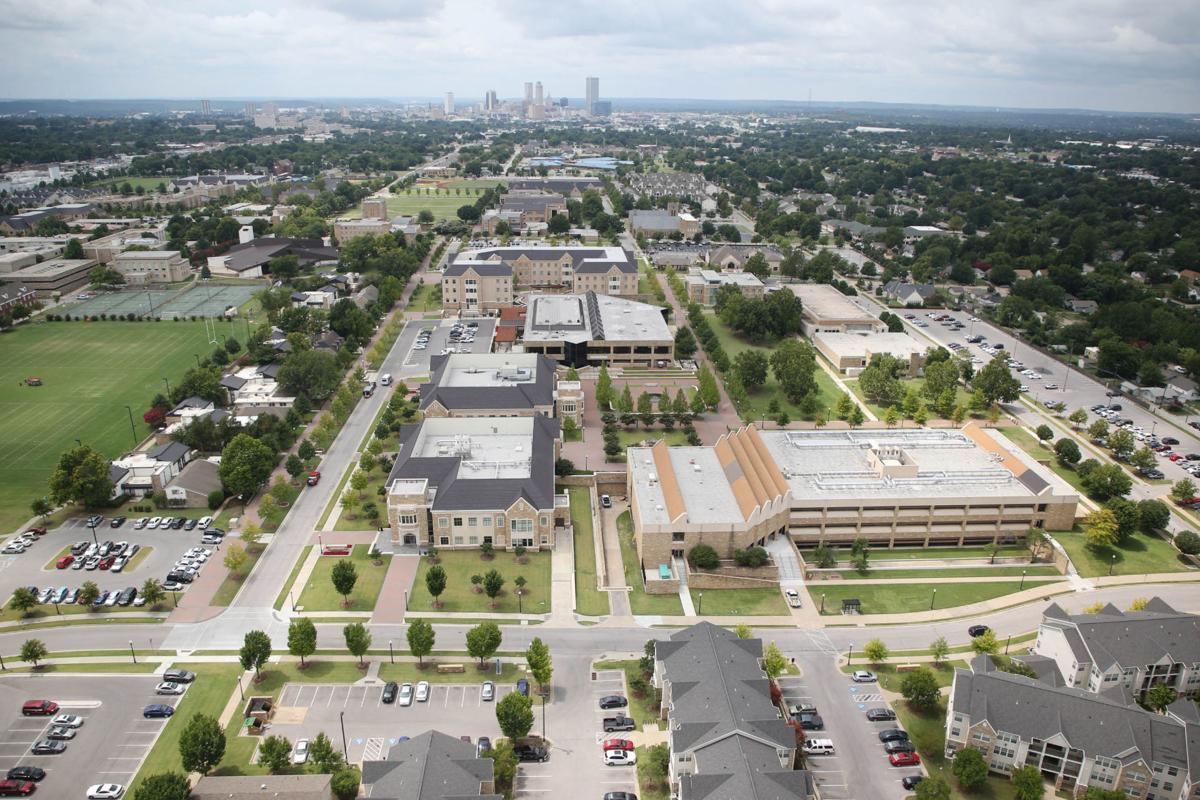 Correction: This story originally misstated the source of an opinion that TU has more degree programs than can be justified for its enrollment. TU administrators made that characterization
---
A reorganization intended to bolster the University of Tulsa's reputation for undergraduate education while trimming administrative costs and low-demand academic programs was revealed to TU faculty, staff and students Thursday morning.
The plan, referred to as a "reimagining" in the report submitted by a review committee, includes grouping the business, health and law colleges together in a "professional super college," creating a "university studies" program for all incoming freshmen, and additional academic and social supports for students.
"Every piece of this is focused on student success," TU Provost Janet Levit said in an interview.
The reorganization comes with a 2% pay increase for all TU employees — and a substantial pruning of degree options.
Over the next five years, TU will reduce the number of degree and certification programs from 196 to 112. Officials said about 6% of the student body is majoring in the affected programs.
Current and incoming freshmen majoring in those programs will be allowed to complete their degrees.
The Higher Learning Commission, an accrediting agency that visited TU last spring, noted in its report that university programs seemed to be discontinued mainly because of faculty attrition rather than strategic decisions. 
TU administrators say the university has more degree programs than can be justified for an enrollment of 4,400.
Levit and TU President Gerard Clancy said the review committee spent six months gathering information and compiling recommendations that are the basis for the academic and administrative reorganization announced Thursday.
To the general public, the most noticeable difference may be an end to the building boom that largely remade the TU campus over two decades.
"I've been really pleased," said Clancy. "As soon as we explain (to donors and alumni) what we're doing, they agree. We've raised $15 million around student success and scholarships."
Levit and Clancy outlined three "major shifts" they see coming from the reorganization.
First, all entering freshmen will begin their TU careers in a University Studies program built around a revised version of the Tulsa Curriculum, a writing-based foundational curriculum that has long been a TU hallmark.
Second, a transition will be made from academic departments to interdisciplinary divisions built around "contemporary issues."
Third is creation of the "super college," a name officials say is likely to be temporary. Clancy said the grouping will allow for administrative savings while encouraging collaboration among the disciplines.
Underlying the reorganization are some stark realities. According to the review committee report, TU spends about $10,000 more per student annually than it nets from tuition. Although the school's endowment is in the neighborhood of $1 billion, the long-term trend is not good.
Another uncompromising trend is demographic. According to the university, the number of college-going students nationwide will drop 20% over the next decade.
Acerbating the decline is a sharp drop in international students, who typically pay full tuition in cash. TU said international students have gone from 20 percent of enrollment a few years ago to 12 percent this year and are likely to be less than 10 percent in the fall.
Clayton Christensen of Harvard Business School has predicted that half of the nation's 4,000 or so colleges and universities will close or merge in the coming decade.
Thus TU's "reimagining," which Levit's introduction to the review committee report describes as "doubling down" on "high-touch" undergraduate education, especially in engineering and science, which have become the university's biggest draws.
A few academic areas are targeted for expansion, including science, technology, engineering, math and cybersecurity, and Clancy said the goal is to add about 600 students over the next few years.
Among the academic programs to be phased out are bachelor's of musical theater, theater and performance; doctorate and master's programs in chemistry, geosciences, mathematics, physics and anthropology; all graduate programs in education; master's degree in women's and gender studies; master's of fine arts; and master's of law degrees in energy and Indian law.
Officials said the reorganization will not result in an immediate reduction in force although some positions may be eliminated and others created over the next few years.
Randy Krehbiel
918-581-8365
Twitter: @rkrehbiel