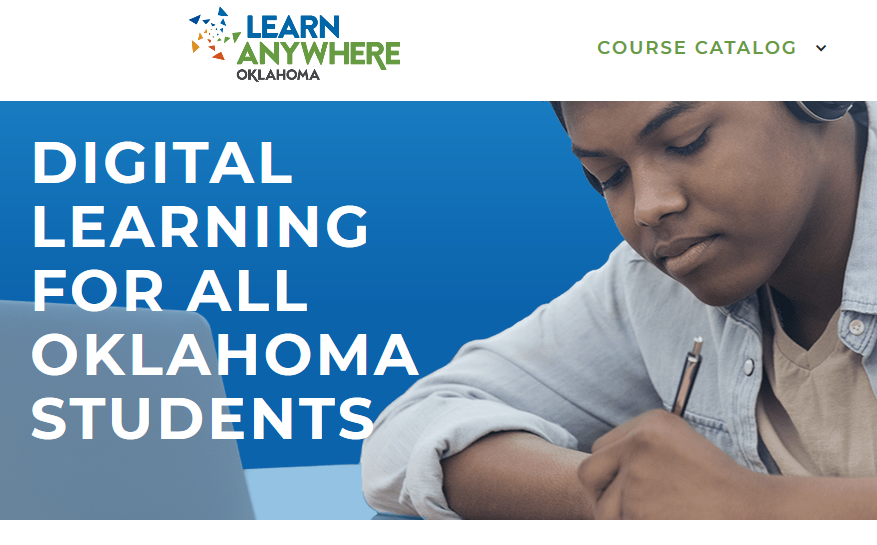 With only three days left to apply, fewer than half of Oklahoma's public school districts have claimed a share of $12 million in federal relief funds set aside to pay for online courses and instruction for students amid the pandemic.
"We wanted to make sure whatever districts were deciding — whether they have some students or an entire classroom that needs to do virtual learning — to be able to give those kids high-quality options," said Ryan Walters, Gov. Kevin Stitt's newly appointed secretary of education. "At a minimum it gives them a complete curriculum; at a maximum, they're getting a teacher along with the course."
The "Learn Anywhere Oklahoma" initiative is funded through the federal Coronavirus Aid, Relief and Economic Security — or CARES — Act. Emergency funds from the federal government were set aside for each governor to address individual state needs.
In Oklahoma, schools can claim a share of Learn Anywhere funds based on the number of students enrolled in the school district. The funds are used to purchase access to online courses — either for local teachers to use in their own instruction or for students to be enrolled in online courses with instructors employed by the state's vendor, called Edmentum.
Of Oklahoma's 530-plus school districts, about 250 have applied for the funds.
But Walters said state leaders believe more could use the help.
"We really want to empower the local districts to keep students who want to stay in their local school," he said.
"There are some schools that already have a type of system, but a survey was done that showed one-third of districts around the state didn't have a consistent (online) learning platform. We think there are still quite a few out there (who could apply)."
Several Tulsa-area school districts have already put their Learn Anywhere allocations to work in serving students through various at-home learning scenarios this fall.
Rob Loeber, spokesman for Jenks Public Schools, said that district received $20,000 and used it to offset some of the cost of applying its virtual education platform to elementary school students.
In Tulsa Public Schools, Learn Anywhere has helped foot the district's bill for serving students in grades six to 12 — through the TPS virtual academy and for students in traditional schools, who have all been in distance learning mode.
"We had already started to think about the courses we needed to purchase. We were just happy to take those funds and add them to the funds we spent from our general fund and from bond money to support student learning," said Danielle Neves, deputy chief of academics at TPS.
"That includes everything from a middle school math course all the way up through an Advanced Placement course for high-schoolers and ensures our schools have the digital resources they need to offer students music, art, languages, English language development, etc."
What will happen to the unclaimed funds?
Walters said the Governor's Office will be looking for feedback from public school leaders to determine what would be most effective — both during the remainder of the pandemic and beyond.
"We have got to continue to empower districts to be able to offer high-quality virtual learning," he said. "We think there's potential here because there's COVID, then there's post-COVID. Other states are doing this with their own teachers, but right now, we're doing this with one vendor.
"In the future, could we use this platform to open up new possibilities to use the best teachers in Oklahoma on these platforms? That's something we're interested in. What does that do for scheduling? What does that do for equity of course access?"
---
Video: Tulsa Health Department's Bruce Dart talks about school activities during COVID-19
---
Gallery: COVID-19 basics everyone needs to know as the pandemic continues