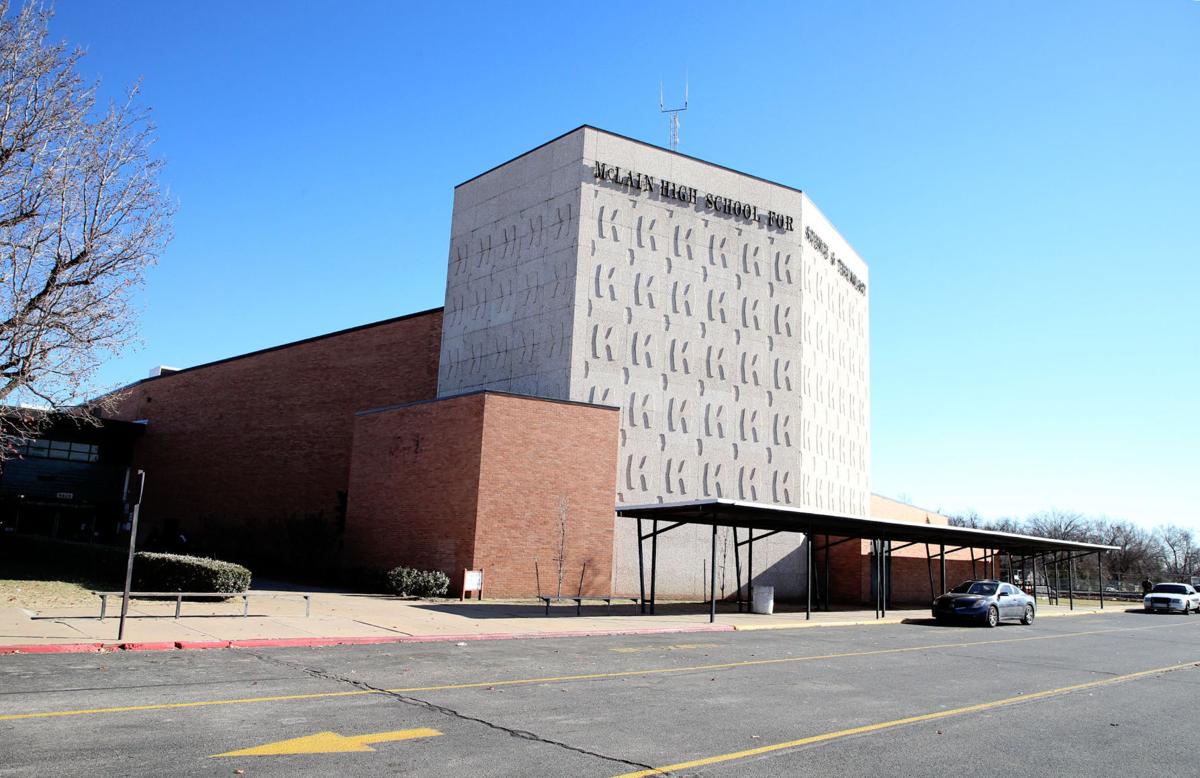 Ninety-two more Tulsa seniors walked across a stage in a cap and gown during the 2016-17 school year than the year before, which boosted the Tulsa Public Schools graduation rate by 4.4 percent
Graduations rates went up last year at all but two TPS high schools. Several schools saw double-digit percentage point increases. Several, McLain and Webster, have seen graduation rates increase by about 25 percent in a four-year span. While the rates continue to improve — the district average went from 72.5 percent to 76.9 percent — TPS is still below the national average of 83 percent.
Whether or not someone actually gets a high school diploma is something of an economic prediction for the rest of their lives, statistics show. TPS Superintendent Deborah Gist, among others, frequently notes how much graduating matters.
"This is a milestone that changes the trajectory of a student's life," Gist said in a statement earlier this week.
The consistent yearly uptick in graduation rates is something that TPS administrators have attributed to a more intentional approach of identifying students at risk of not graduating early and working to help them clear the behavioral or academic hurdles in front of them. The yearly graduation rate is an end result, but not the number the district focuses on.
District officials are worried about the kids a few years away. The district is tracking where students are by number of credit hours and has predictive models based on attendance and behavioral data of who might be at risk of not graduating on time.
"As a principal or counselor, I can go in and see exactly who my students are who are at risk — high risk, medium risk and on track. And that information then tells me who can I aim at," said Stephen Fedore, the chief data and analytics officer for TPS. "And where can I get the most impact with the limited resources that I have."
Fedore explained that while an increasing graduation rate is the goal, the statistic itself isn't the most important one to the district.
"At this point it is really difficult to get a ton of value out of the '16-'17 graduation rates," Fedore said. "Looking at the '16-'17 data in April of 2018 we don't have the opportunity to impact those students right now. What we're using right now is the '17-'18 cohort data and '18-'19 cohort data. We don't know what the graduation rate will be but we're using it in real-time."
That's not to say the statistic isn't useful.
"What it is really useful for is providing a signal as to whether or not what we're doing is working," Fedore said. "I think what the clear signal is over the last four years is what we're doing is working."
For Booker T. Washington High School, the improvements in graduation have been slight over the past four years, increasing by 0.9 percent overall. The school's graduation rate actually fell year over year from 99.7 percent to 99.6 percent.
But for most other TPS high schools, the climb has been much more precipitous. Edison Preparatory School has seen its graduation rate climb by 10 percent over four years. Hale has seen a jump of 6.5 percent and East Central climbed by 17 percent.
Only one school has stayed relatively flat in that time period: Central. In 2013-2014, its graduation rate was 77 percent. The preliminary rate for '16-'17 was 72.8 percent.
Samuel Hardiman 918-581-8466
Twitter: @samhardiman