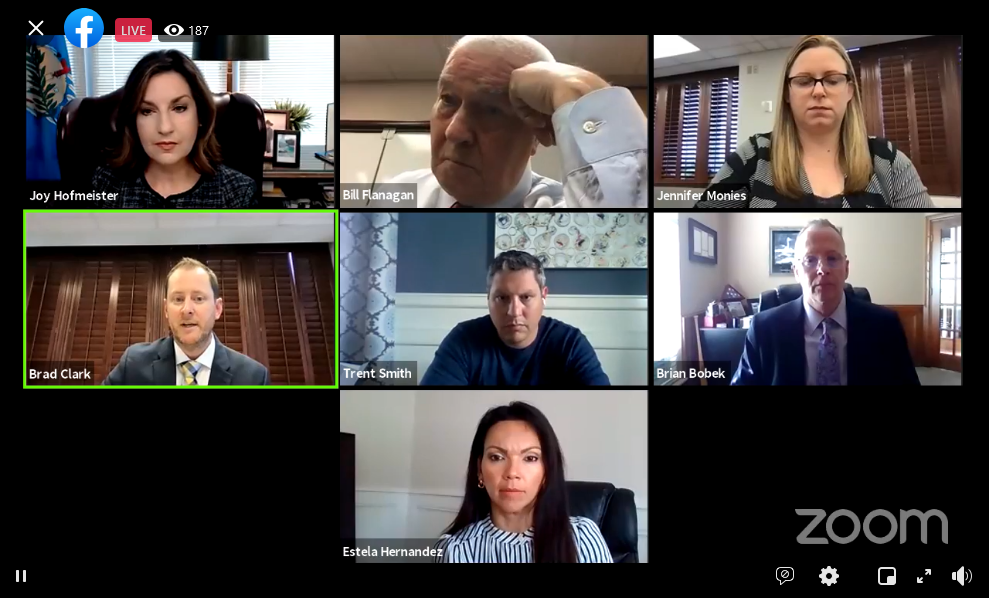 Editor's note: An earlier version of this story stated that member Carlisha Williams-Bradley was absent. She attended the meeting, which was conducted by videoconference, via an audio connection.
The Oklahoma State Board of Education on Monday authorized the use of taxpayer dollars for an outside law firm to represent it in three lawsuits over charter school funding.
Up to $45,000 "subject to subsequent review, consideration and adjustment as deemed necessary" was approved for a legal services contract with the law firm of Hall, Estill, Hardwick, Gable, Golden & Nelson. Tulsa attorney John O'Connor is to serve as lead counsel for the board.
Over the strongly voiced objections of State Superintendent Joy Hofmeister and against the advice of its own legal counsel, the State Board of Education split 4-3 on March 25 in voting to settle a years-old lawsuit by the Oklahoma Public Charter School Association seeking an equal share of revenues from Oklahoma's gross production, motor vehicle and rural electrification association tax collections, state school land earnings and county tax collections.
It was members Williams Bradley and Bill Flanagan, along with Hofmeister, who cast "no" votes to that March 25 surprise settlement deal.
Trent Smith, who publicly introduced the proposed settlement deal, indicated Monday that he believed all of the legal fallout would be resolved if Senate Bill 229 is adopted before the Legislature ends its session at the end of May.
"If 229 passes in a form that basically makes the hearing moot, … we all decide that, hey, this is great. We've already filed the briefs, say this happens on the 28th — and then the lawsuits are dropped; we rescind our vote. The briefs have already been filed.
"Does it simply go away at that point, or will there be other steps that will have to be taken?" Smith asked.
SB 229 is repurposed legislation that in its current version would create a $38.5 million equalization fund to distribute among school districts with low property tax bases. That would include brick-and-mortar charter schools, which do not have access to the building funds provided by local property taxes.
General Counsel Brad Clark suggested that the board discuss such "strategy and approach" with their new legal advisor in a nonpublic executive session during a future meeting.
Oklahoma City Public Schools filed a petition in the existing 2017 case in Oklahoma County District Court, challenging the state board's authority in the matter and seeking a temporary restraining order and temporary injunction to block any reallocation of revenue that currently flows only to traditional public schools.
And 187 other school districts went to the Oklahoma Supreme Court to challenge the constitutionality of the proposed settlement, claiming that it would undermine the Legislature's authority by unilaterally determining public education funding levels.
By design, the changes proposed by the settlement are supposed to be in effect by the start of the new fiscal year on July 1.