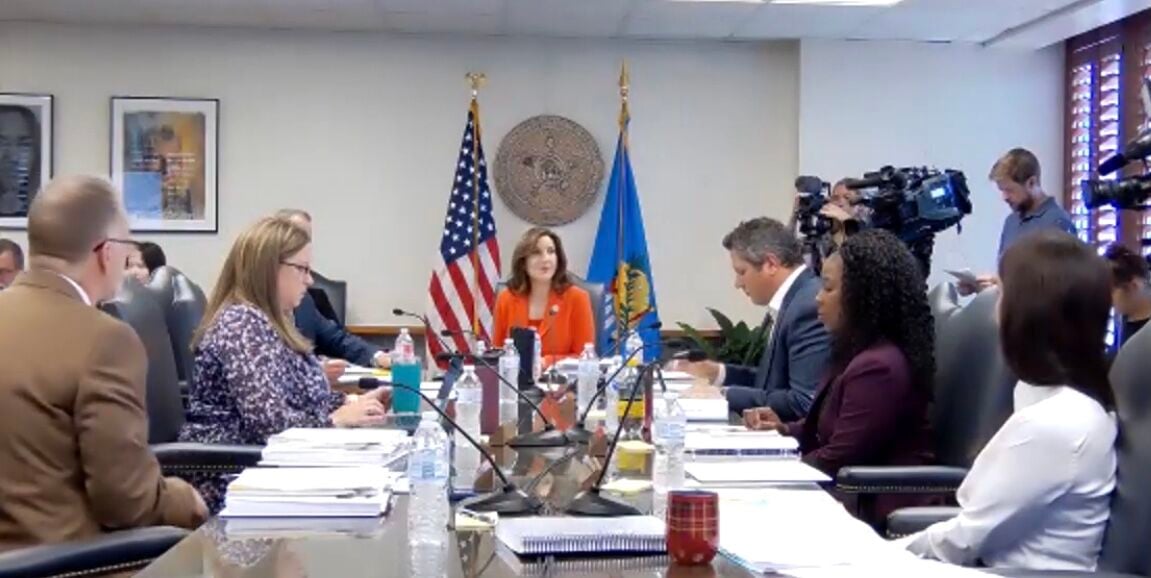 The Oklahoma State Board of Education adopted temporary rules Monday so public schools would have some formal guidance heading into the 2021-22 academic year on a controversial new law intended to limit certain instruction on race, gender and history.
House Bill 1775 prohibits teaching that one race or sex is inherently superior to another and that anyone, by virtue of their race or sex, is inherently racist, sexist or oppressive, whether consciously or unconsciously.
As for consequences for a school's failure to comply with House Bill 1775, the emergency rules state that "at a minimum" the state accreditation status of the school be downgraded to "Accredited with Deficiency" and that the school be given one academic year to correct such deficiencies.
Also, the state Department of Education could suspend the license or certificate of any school employee found to have violated HB 1775 or the adopted rules.
Board member Estela Hernandez of Oklahoma City said the state's largest districts deserve to be admonished for some of their practices to date. But fellow member Carlisha Williams Bradley pushed back, saying Oklahoma's largest districts face the greatest challenges in grappling with classroom conversations about history because the majority of their students are people of color.
She pointed out that she is the only one among the governor's slate of appointed state board members to have ever worked as a classroom teacher and said she believes HB 1775 and the related new rules "continue to propel fear in the teaching of history."
"I cannot in good faith or conscience vote 'yes' on these rules or support this legislation," Williams Bradley said.
According to Carrie Burkhart, spokeswoman for the Oklahoma State Department of Education, the emergency rules adopted by the board's 5-1 vote on Monday were submitted by state board members Brian Bobek and Jennifer Monies, who worked with the bill's authors, and then that submission was revised before the vote.
State Superintendent Joy Hofmeister said it was important to acknowledge that "teachers are feeling a lot of fear," and she encouraged teachers to look to Oklahoma's academic standards, which she said "do cover those elements of our history that are difficult to wrestle with and understand."
She also pointed out that the entire matter of rules related to House Bill 1775 will be reexamined come fall, when the "more open, formal" permanent rulemaking process begins.
"This was not a transparent process by nature of swift emergency rules. Sparing that, I do believe there is a need for emergency rules," Hofmeister said.
The vote was 5-1, with Williams Bradley voting no and member Bill Flanagan of Claremore absent.
After the meeting, Tulsa Public Schools said it will not make any changes to its lessons responsive to HB 1775 or to the newly adopted emergency rules for public schools across the state.
"We are teaching our children an accurate — and at times painful, difficult, and uncomfortable — history about our shared human experience," TPS spokeswoman Emma Garrett-Nelson said in a written statement.
"We cannot and will not teach those histories and experiences that reflect only the dominant white culture, just as we cannot and will not provide an education that deprives children of a true and accurate understanding of the world in which they live.
"As a public school district, we owe it to the communities we serve to teach the truth — our children and families need and deserve nothing less."
She called it disappointing that the emergency rules were not made available to districts or the public for review until Monday morning.
"The lack of notice, the disregard for the operational needs of the public school districts it serves, and the absence of engagement with those who will bear the burden of these rules demonstrate a lack of transparency in the Oklahoma State Board of Education's process for considering an issue of such magnitude," Garrett-Nelson said.
"We are grateful to Board member Bradley for advocating on behalf of our students and schools and in support of educational experiences grounded in truth."
State lawmakers rarely attend State Board of Education meetings, but a whole slate were present at Monday's meeting, including Rep. Sherrie Conley, R-Newcastle; Rep. Tom Gann, R-Inola; Rep. Denise Crosswhite Hader, R-Piedmont; Rep. Mark McBride, R-Moore; Rep. Eric Roberts, R-Oklahoma City; Rep. Wendi Stearman, R-Collinsville; House Bill 1775 co-author Rep. Kevin West, R-Moore; Rep. Rick West, R-Tecumseh; Rep. Danny Williams, R-Seminole; Rep. Max Wolfley, R-Oklahoma City; and Sen. Jake Merrick, R-Yukon.