SAND SPRINGS — "It's not the days in life we remember; rather the moments," said Limestone Technology Academy Principal Terri Lee. The quote fits retiring special education teacher Vickie Harbaugh perfectly, she said.
"The hundreds, even thousands, of students she has impacted — I just can't even put a number on that," Lee said Tuesday.
She can get close, though.
In 44 years of teaching roughly 100 students a year, Harbough has taught — and shepherded, mentored and loved — around 4,000 youngsters and sent them on their way toward a future that was no doubt brighter thanks to her guidance.
That's just in the classroom.
Harbaugh has spent those same 44 years — hundreds and hundreds of days — on hot, dusty softball fields as a volunteer for Special Olympics Oklahoma encouraging her charges to strive for just one more base, one more hit.
But it's the moment she remembers.
"When I was in the third grade, my Girl Scout troop toured Hissom, and I knew right then that's what I wanted to do," Harbaugh said Monday. "I told my mom I was going to be a special education teacher, and that's what I did."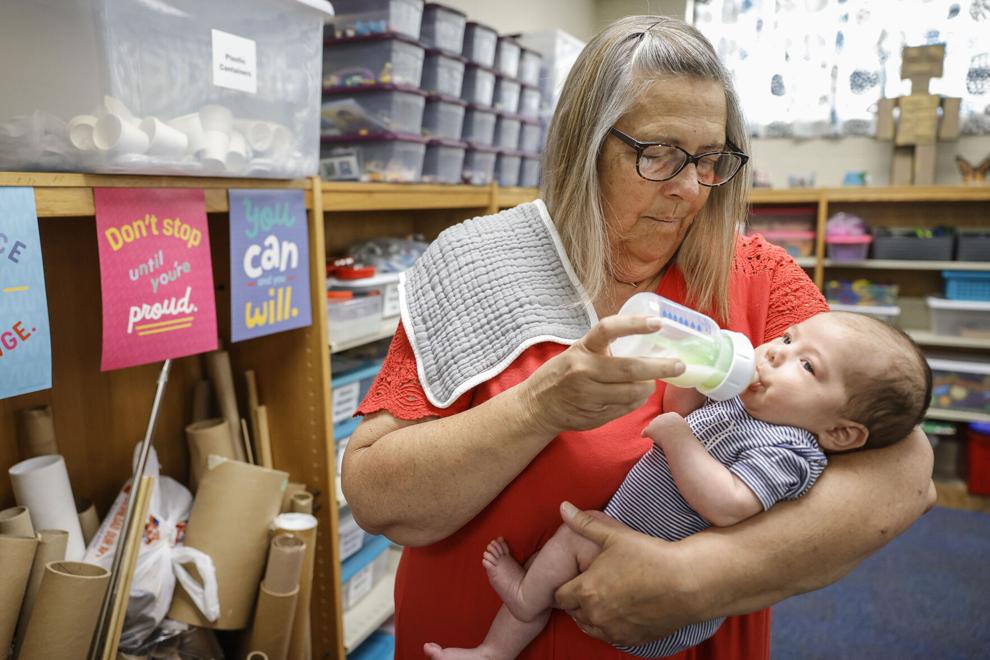 In 1979, before most of her current students' parents were born, Harbaugh began teaching at Hissom Memorial Center, then a 15-year-old residential diagnostic, treatment, rehabilitation and training facility for children with developmental disabilities. That same year, she began volunteering for Special Olympics.
Because Hissom was in Sand Springs, its teachers were employees of Sand Springs Public Schools. When the facility began shutting down in 1990, Harbaugh transferred to Angus Valley Elementary School for three years and then moved to Limestone, where she's been ever since.
Although education generally and special education specifically have evolved in the past 44 years, Harbaugh has a ready answer to the question of what has been the greatest change.
"Inclusion," she said, noting that most of her students spend a large portion of their days in general education classrooms instead of self-contained special education classrooms. "And that's good, because it gives them socialization and teaches them about social interaction."
That same interaction benefits all students, regardless of whether they have disabilities or not, Harbaugh said.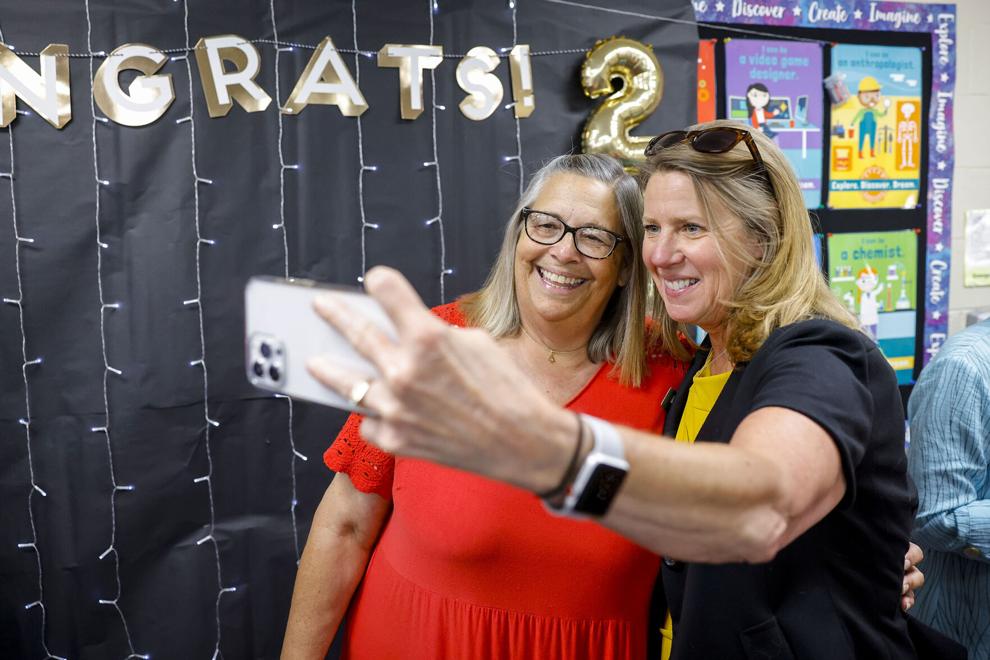 "But it's also hard work for these kids to be in general education all day, every day," she said, so she promotes her classroom as "a safe space. I have an open-door policy. They can come here anytime they want to or need to."
If Harbaugh could change one thing, it would be state-mandated testing, which demands achievements from her students that they might perhaps never reach.
"They really stress about it," she said. When testing time gets close, "they start saying, 'Oh, I'm not going to pass. I'm not going to get to go to third grade.'
"But I see progress all the time," she said.
Lee, Limestone's principal, said Harbaugh "has taught all of us that all students can learn. They may not all be at the same level, but progress is progress."
Limestone STEAM Lab teacher Barbie Jackson, who has worked with Harbaugh for 20 years, said Harbaugh is always "the first to offer to help others — students or colleagues. Her unconditional love for all students is inspiring."
Carrie Schlehuber, who is Sand Springs Public Schools' director of special education, began working with Harbaugh through Special Olympics about 15 years ago when Schlehuber was a teacher.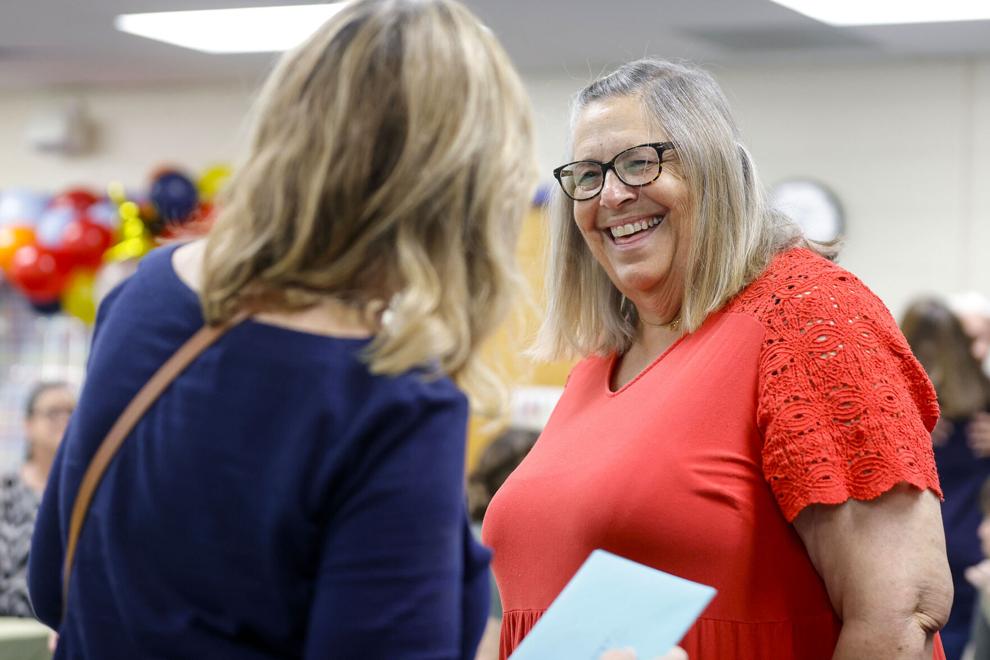 She credits Harbaugh with helping to create and continue a culture of inclusion.
"She has been such a role model and mentor in terms of how simple it is to include everyone," Schlehuber said. "Vickie really opened the door for hundreds and hundreds of Special Olympics students and general education students in Sand Springs to learn how to play together and go to school together and work together."
As Harbaugh sees it, the beauty is in the program.
"Special Olympics has just been a lifesaver for these kids," giving them ways to shine and see success, she said.
Many times, "when they run those bases, their parents haven't seen them do that before."
"So they cry. Their parents cry. We all cry."
The Special Olympics Oklahoma Summer Games held last week in Stillwater were Harbaugh's last as a Sand Springs educator, although she said she hopes to continue to volunteer in some fashion.
But as her teaching days come to a close, Harbaugh has again been wiping away her share of tears.
"I'm going to miss my kids. I'm really going to miss my kids," she said. "I love my job. I love everyone here at Limestone. We have a really good group, and we all love on the kids really well.
"But I'm going to miss my kids."
Even if Harbaugh — who's going to be helping to care for her new grandson — isn't always present, though, her legacy will be.
"I look at former students now who still have relationships with their (Special Olympics) peers today because of the opportunity that Vickie gave them through Special Olympics," Schlehuber said, noting that many of those former students are now doctors, nurses, firefighters and even special education teachers themselves.
"So many people found their niche in a helping field because of the opportunity she gave them to take part in Special Olympics," she said. "Vickie is the gold standard for what we should all strive to be."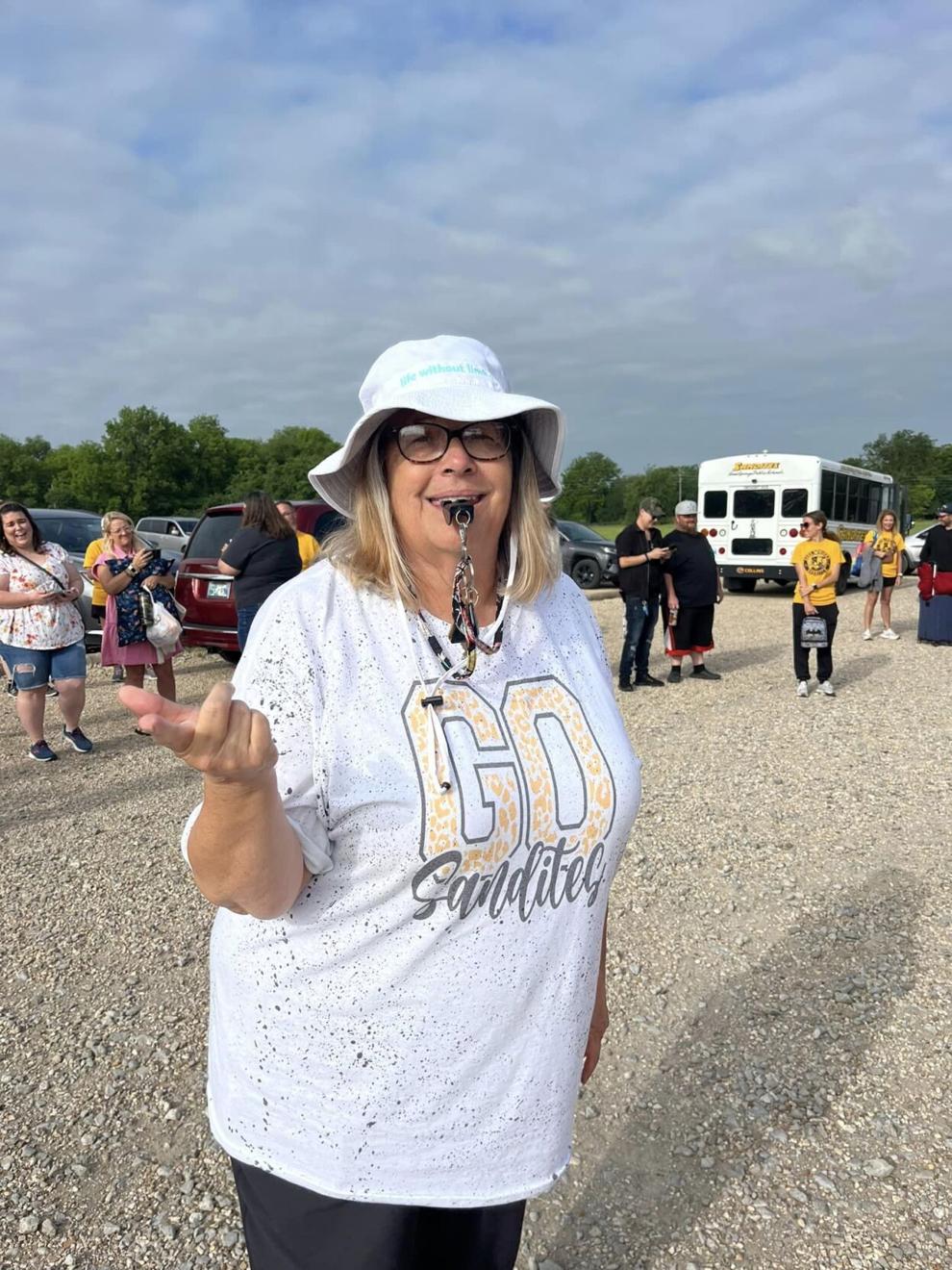 ---

The new Tulsa World app offers personalized features. Download it today.