Records show FBI has also been looking into Epic Charter Schools, along with federal education investigators
The Federal Bureau of Investigation and the U.S. Department of Education's law enforcement arm have also been probing Epic Charter Schools' student enrollment practices and finances, public records obtained by the Tulsa World show.
Emails with officials at the Oklahoma State Department of Education and Statewide Virtual Charter School Board reveal that federal investigators were at work behind the scenes in the years after the Oklahoma State Bureau of Investigation's initial inquiry into allegations of fraud at Epic resulted in no charges.
It is unknown whether there has been any coordination between state and federal investigators, who have all declined comment, but Epic's most recent revenue reports show the financial stakes of any fraudulent practices would be much higher for the state of Oklahoma than the federal government.
OSBI's latest investigation involves allegations of embezzlement, obtaining money by false pretenses and racketeering at the state's fastest-growing online school system.
And federal investigators' paper trail, obtained by request under the Oklahoma Open Records Act, shows a clear overlap in the subject matter now the focus of OSBI's renewed probe.
Agents with the federal Department of Education's Office of Inspector General, or OIG, and the FBI arranged meetings about "dual enrollment" of students, requested Epic's banking information, student rolls by year, administrative cost reports, and federal funding amounts for special education students, and inquired about whether Oklahoma maintains a database of homeschooled students, which it does not.
After the World's records request, state education officials first submitted the public records for redaction of information deemed sensitive by OIG and FBI lawyers. Ultimately released were a host of written communications between federal investigators and state education officials from throughout 2016 and 2017.
Steffie Corcoran, a spokeswoman for the state Department of Education, confirmed that the federal investigators have continued to be in contact with the state agency about Epic through 2018 and 2019.
A separate, but identical request to the Statewide Virtual Charter School Board, which sponsors one of Epic's two school choices, produced a few, uncensored communications between OIG and the virtual board's executive director.
Examples of documents released include one from March 2016, when an OIG agent emailed David Kinney, then the in-house attorney for the state Department of Education, for assistance to the agent and an employee of OIG's Technology Crimes Division in obtaining data in a certain format for an "EPIC subpoena."
In November 2016, an OIG agent emailed Nancy Hughes, the director of finance at the education department, and copied Kinney and an FBI agent in asking the amount of money Epic received for special education that year.
A few months later, OIG wrote Kinney to say: "Our office needs to obtain the direct deposit information used by OSDE (state Department of Education) to electronically transfer state and federal funds to Epic One on One Charter School."
In spring and summer 2017, Kinney shared information with the OIG and FBI agents about two big moves Epic was making. First, a new partnership to convert a small, struggling school near McAlester called Panola into a charter with all its students enrolled in Epic was announced.
Then, Epic sought and received the sponsorship of Rose State College to open a second school model it calls Epic Blended Learning Centers.
Email communications in late 2017 included the transfer of Epic's own submitted reports to the state's financial accounting system for all public schools, called the Oklahoma Cost Accounting System, and arrangements for a meeting about the issue of dual enrollment between OIG, FBI and state education officials.
Investigation began during Epic's start-up phase
Back in 2013, then-Gov. Mary Fallin requested an OSBI investigation into allegations of fraud at Epic, which was then only two years old and a much smaller operation. About a year later, OSBI turned over its findings to the Attorney General's Office, but no charges were filed against anyone at Epic and no further announcement was ever made.
In late February, the Tulsa World was the first to report that Epic Charter Schools was once again under active investigation by OSBI, and also that authorities from the federal education department's Office of Inspector General were involved.
Beth Green, an assistant special agent in charge at the OSBI, confirmed their renewed investigation. And public records the World obtained at the time indicated widely circulating public accounts that some Epic Charter Schools students are dually enrolled in private schools appeared to be at least one line of inquiry by OIG during the summer of 2018.
Epic denied all reports about the investigations for months, saying, "Epic has not been contacted by investigators and no federal agency has confirmed a probe of Epic is ongoing."
Then earlier this week, OSBI filed public court documents revealing new allegations that Epic has wrongly obtained millions of taxpayer dollars by leaving students on its rolls long after they stopped attending and enrolling students from home schools and private schools who received little or no instruction by Epic. That reportedly included the so-called "dual enrollment" of many students in both a private school and Epic, without the knowledge or consent of their parents.
A search warrant was executed at the Oklahoma City home of one Epic teacher, but no one has been arrested or charged, and an OSBI spokeswoman said their investigation is still ongoing.
Asked about the status of the federal investigation revealed in the newly-obtained records, Andrea Anderson, public information officer for the Oklahoma City Division of the FBI, told the Tulsa World, "The FBI does not confirm or deny the existence of an investigation."
And an OIG spokeswoman said that office does not confirm or deny active investigations but issues public reports after their completion. No such report has been issued.
Asked again whether Epic had been contacted by federal investigators, Shelly Hickman, an assistant superintendent and spokeswoman, responded: "The school has neither been officially contacted nor has it received any subpoenas. A teacher was interviewed by a federal agency approximately a year ago and in the presence of Epic school attorney Chuck Richardson. However, nothing further resulted from that interview and Epic is not aware of further outreach by any federal entities since that time."
What is Epic and how much money is at stake?
Epic Charter Schools opened in 2011, founded by two Oklahoma City men, Ben Harris and David Chaney, under a nonprofit corporation by the name of Community Strategies.
But Harris and Chaney, who until a month ago was also Epic's superintendent, are both owners of Epic Youth Services LLC, a separate, for-profit company with which the school contracts for its operation. That contract indicates an annual cost of $125,000 for "development services" plus a 10 percent share of the school's collected revenues as an "indirect cost allocation."
To put that 10 percent into context, Epic Charter Schools was allocated $112.9 million in state aid funding alone for fiscal year 2019. State funding sources accounted for 94.5 percent of all of Epic's revenue, compared to 5.4 percent in federal funding in fiscal year 2018, the most recent year for which final revenue figures are available.
In court records, OSBI said it reviewed bank statements that showed Harris and Chaney had split profits of at least $10 million between 2013 and 2018.
Epic serves students in pre-kindergarten all the way through 12th grade. It began with a statewide virtual charter school called Epic One-on-One. Then, in 2017, it sought and received the sponsorship of Rose State College to open a second school model it calls Epic Blended Learning Centers.
Since then, Epic's overall student count has grown exponentially, from 13,200 in October 2017, to more than 23,000 by the close of 2018-19. Epic Blended Learning, which offers students a blend of online and in-person instruction at three centers located in Tulsa and Oklahoma City, is set to open a fourth center come fall in Midwest City.
What it took to get these public records
On April 3, the World sent identical requests to the Oklahoma State Department of Education and Statewide Virtual Charter School Board for all records from recent years involving representatives of the U.S. Department of Education Office of Inspector General and the Federal Bureau of Investigation.
The Statewide Virtual Charter School Board responded with its records less than three weeks later with no information censored, or what is commonly referred to as redaction.
At the state Department of Education, two document searches by the Office of Management and Enterprise Services were required to produce records deemed responsive to the World's request. Department officials also asked that the World agree to narrow the scope of its request, so it could weed out records concerning other matters.
Then, the release of the records was delayed by several weeks because Brad Clark, who now serves as general counsel at the state Department of Education, submitted the records for review by attorneys at OIG and FBI.
Nearly three months after the request was filed, state education officials released hundreds of pages of records which had whole pages blacked out by the feds, along with every individual's name and contact information.
The World objected and state education officials agreed to uncensor their own state employee names and the portion of the federal agents' email addresses which would reveal which agency they are with from a select number of pages at the World's own choosing.
A day later, 39 pages were provided to the World.
Clark formerly represented Epic in its legal battle to become an established online charter school against the very same state agency where he now works. His wife, Tiffany Clark, is currently Epic's contract school board clerk.
Asked whether Clark serves as the point of contact for federal investigators as his predecessor, David Kinney, did before him, the department's spokeswoman said that Assistant General Counsel Lori Murphy was asked to step in since she had been privy to the earlier communications.
Asked whether that was the result of any conflict of interest, Corcoran responded by saying Clark's "pre-existing relationships had been shared with the aforementioned entities early on." She added, "state and federal entities work with whomever they need to, including Brad."
The Tulsa World submitted a open record request looking for correspondence between federal investigators and state education officials. Here are five examples of what was discussed. 
Epic Charter Schools investigation: Email dated March 15, 2016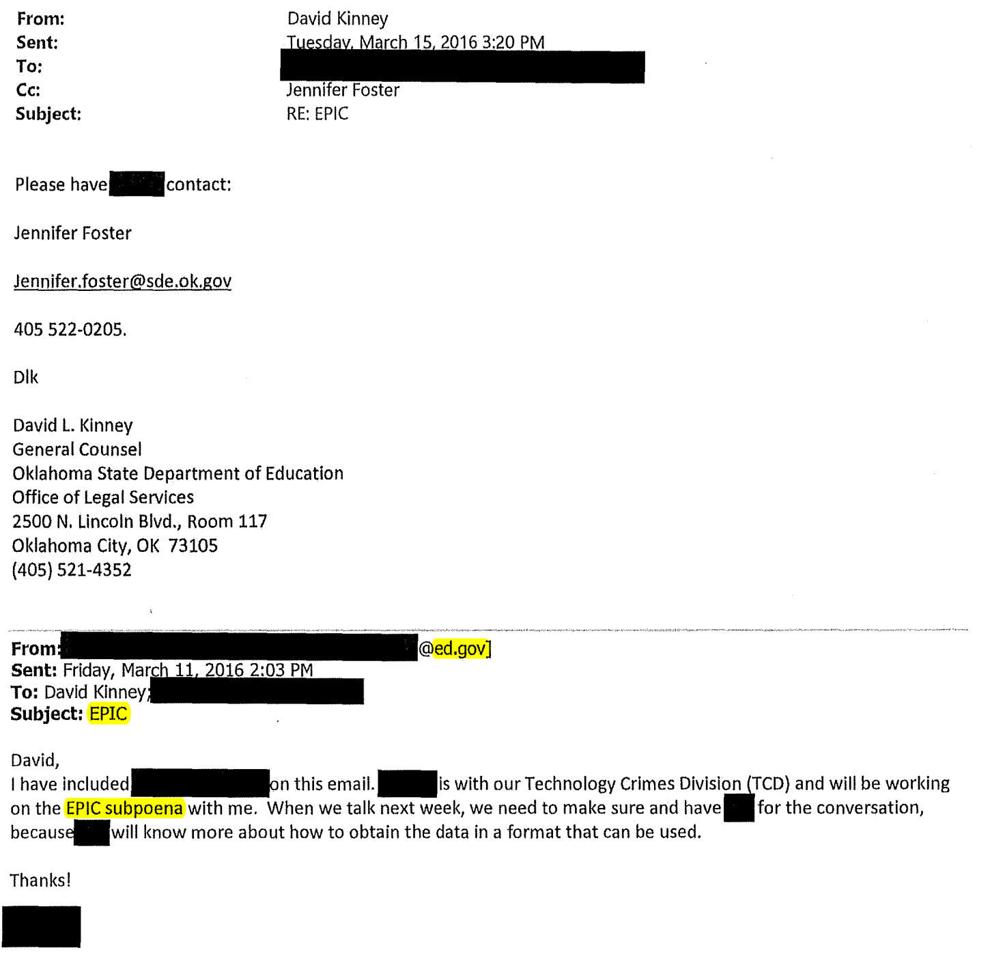 Epic Charter Schools investigation: Email dated Nov. 30, 2016

Epic Charter Schools investigation: Email dated Jan. 30, 2017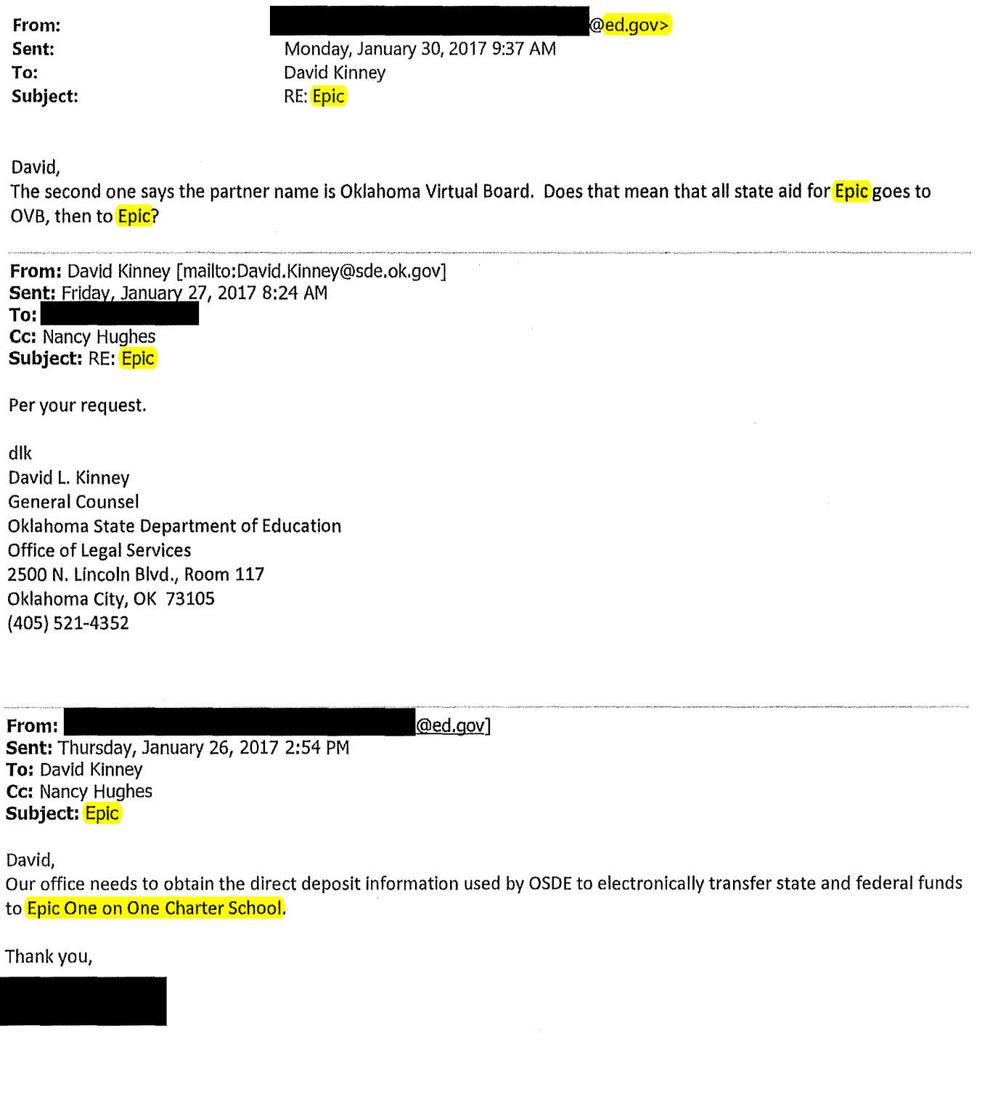 Epic Charter Schools investigation: Email dated June 14, 2017
Epic Charter Schools investigation: Email dated Dec. 6, 2017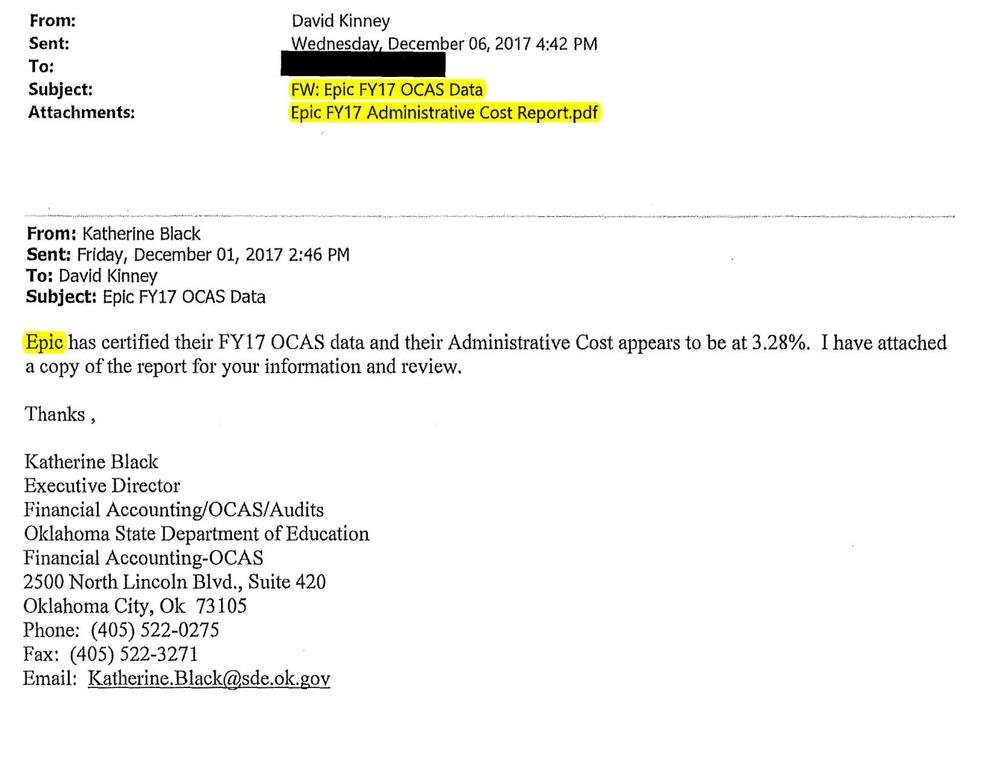 Oklahoma virtual school under investigation