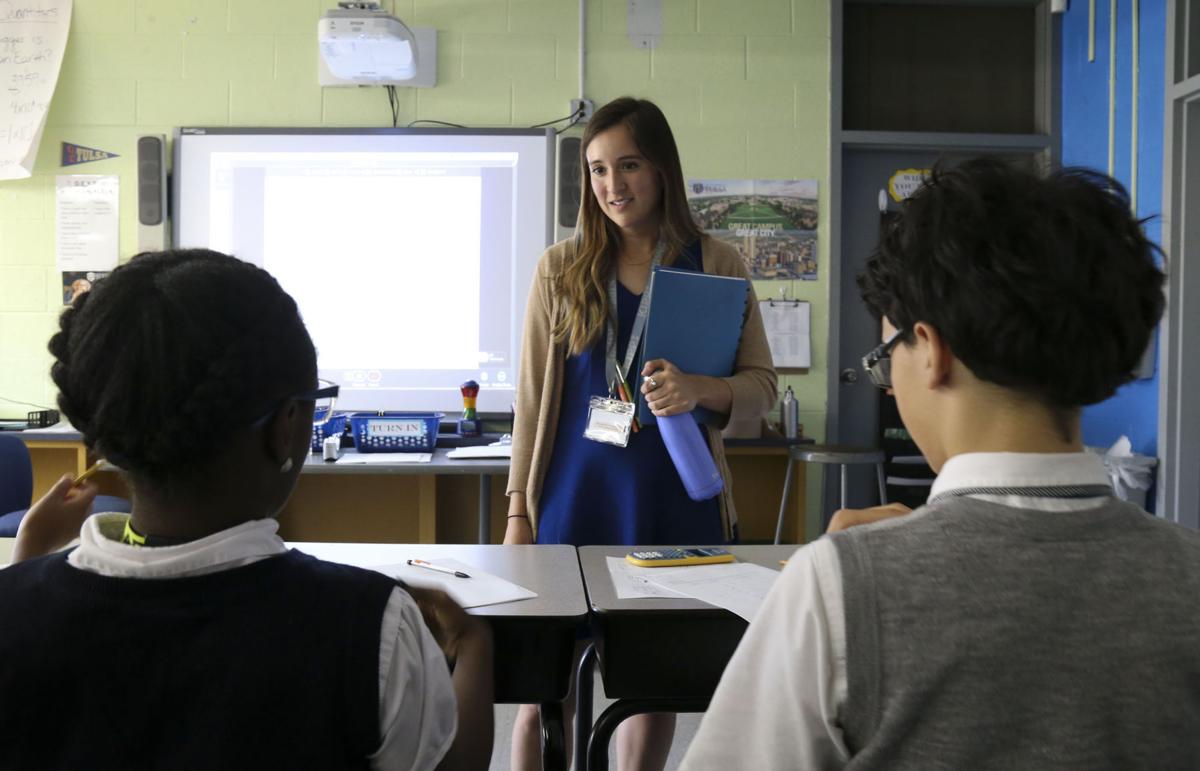 The Oklahoma Public Charter School Association's lawsuit against the state aims to accomplish what legislation recently did in Colorado and Florida — increase charter schools' access to public dollars.
At issue in the lawsuit is a share of traditional public schools' revenues from Oklahoma's gross production, motor vehicle and rural electrification association tax collections; state school land earnings; and county tax collections.
The National Alliance for Public Charter Schools says its nonprofit advocacy organization has worked with the Oklahoma charter school group for the past several years and that legislative remedies were also considered.
"What's happening in Oklahoma is part of a broader movement to bring greater equity to the way public schools in the U.S. are funded," said spokeswoman Vanessa Descalzi. "Florida and Colorado have already passed state law for districts to equitably share their local tax money among public schools — district and charter. Michigan appears to be headed toward being the third state this year to pass such a law."
In its suit against the state Board of Education, the Oklahoma group is trying to make the case that existing state laws governing charter schools and school finance in general are being misinterpreted.
After learning that a settlement of the lawsuit appeared imminent, school boards in Oklahoma City and Tulsa moved swiftly last week to try to intervene in the case.
The two inner-city school districts willingly sponsor most of the state's 28 charter school districts. But the legal battle puts them in direct competition with charter schools for existing dollars, and Oklahoma City Public Schools and Tulsa Public Schools stand to lose the most revenue.
Court filings indicate that their estimates of first-year losses alone are between $1 million and $1.5 million.
Those estimates do not count possible losses from sought-after funds for virtual charter school students, which school district attorneys claim would cut down on funding to every traditional public school in the state.
"Moreover, the financial impact of the proposed relief would increase every year and quickly diminish the District's necessary — and scarce — revenue," reads Tulsa Public Schools' motion to intervene in the lawsuit.
In their only public statement, TPS officials indicated that they would have preferred the Legislature to take up the issue, not a court.
"Intervention in this suit is not our first choice," their statement read in part. "We believe that this issue deserves a legislative solution that is lawful, sustainable, and equitable.
On Friday, an Oklahoma County judge is scheduled to hear the two school districts' motions to intervene and requests for an emergency stay or restraining order to halt any settlement.
Todd Ziebarth, senior vice president for state advocacy and support for the National Alliance for Public Charter Schools, said his organization has been "keeping an eye on the lawsuit and reactions by school districts."
"The bottom line is that all public school students, whether they attend a charter or district school, deserve funding at equitable levels," the group said in a written statement to the Tulsa World. "For school boards representing public school students to stand in the way of equity is worrisome and, quite frankly, disappointing."
The advocacy group says that currently in nearly all states, charter schools receive funding from state taxes but not regional property taxes, and that is contributing to funding inequities especially in communities where property taxes raise considerable money for public education, the group added.
"On average, despite also being public schools, charter schools nationally receive just 70% of the funding of traditional district-run schools," officials said in their written statement.
In an interview, Ziebarth said Colorado and Florida have recently passed legislation to force school districts to share with charter schools a portion of their "mill levy overrides," or voter-approved increases in local property tax collections.
He said legislative remedies were also considered in Oklahoma.
"We've done a variety of work in Oklahoma the past few years now, working with both the charter association and Oklahoma Public School Resource Center, usually on legislatively focused items," Ziebarth said.
"We've had conversations over the years about trying to push for legislative changes, but I think the conclusion was we aren't going to push forward right now legislatively, and instead, it might be more effective to push forward on litigation."
Asked whether litigation over the issue had occurred in any other state, Ziebarth said that in Florida, the change in law is being challenged in one lawsuit by a single district and a second suit filed by about a dozen other school districts that banded together.
The other organization Ziebarth mentioned — the Oklahoma Public School Resource Center — works to support local charter schools, as well as providing support services such as professional development and technical assistance to member school districts across the state.
OPSRC Executive Director Brent Bushey clarified that while his organization is not a participant in the lawsuit and that "we haven't lobbied for any bills related to charter funding," it wants to see funding increased.
"We do support increasing funding for education. We also support equitable funding for all public school students," Bushey said. "We are hopeful that this lawsuit can be resolved in a manner that allows charter schools and public school districts to work together to address the important funding challenges facing our state's public education system."
OPSRC was just awarded a $16.5 million grant from the U.S. Department of Education that could help open as many as 25 new charter schools in Oklahoma over the next five years.
Andrea Eger
918-581-8470
Twitter: @AndreaEger