Oklahoma's kids are going to get back to the business of school on Monday from the confines of home.
But what will "distance learning" look like for a 4-year-old? How will third-graders stay on track in reading through the end of their milestone year? How will a middle- or high-schooler finish a band credit all alone?
We went right to the sources — local teachers — to find out how they're going to make learning possible when it might seem impossible.
Kristi Main teaches 20 prekindergarteners at Jenks West Elementary School. Their parents will have a menu of choices to choose from each week.
"It's all play-based activities," she said. "We're only requiring them to have 45 minutes of work time and 30 minutes of outside activity — walking or riding bikes, or some kind of outside activity or interaction. Whatever fits in their schedule."
A writing assignment might include using a finger or a stick to trace letters in salt or flour in the kitchen or a sandbox or in the dirt outside. And her students have already become pen pals, drawing pictures and writing letters if they're able and mailing them to one another.
A math activity could be sorting dry noodles or the canned goods in their kitchen.
Main is going to record mini-lessons and do live meetings and chats via Google platforms for students with access to the Internet, and she's creating packets of activities and lessons to pick up for those who don't. She's also planning to use this extraordinary time to partner with parents to address each chid's specific skills deficits.
"We have rubrics for our report card skills. Parents can see those rubrics. They can see: 'My child is not on grade level for a certain skill,'" for example, she said.
Tulsa Public Schools has been scrambling to get every student who needs one a computer paid for with voter-approved bond funds, and Cox Communications has stepped up to provide local families with low-cost or free options.
But Brandy Wall, interim principal at Tulsa's Celia Clinton Elementary School, said that doesn't mean children will be staring at a computer screen for seven hours a day.
"Every day, there will be a 30-minute block to be live (online) with that teacher. If a parent has more than one child, the times are spread out so no one would overlap," Wall said. "Four and a half hours of each teacher's seven-hour day is being designated for communicating with students. It may be a small group Zoom meeting or phone calls with individual students."
Paper packets will also be made available to families if they do not want to connect online, and student activities for subjects will be as simple as things they can find in their backyard or apartment complex courtyard or following along online with special afternoon offerings by the Cincinnati Zoo.
"We don't want them going five or six more weeks without growing. We are just trying to find ways to keep learning going on. That's important," Wall said. "It's also important that we keep our connection with our kids. The community is so important. To not see them and know what's going on and to say goodbye? We need them and the parents and the community to know we will be here. We are going to be here to help them."
Bailie Henry said she and the other third grade teachers at Celia Clinton are planning to pick up right where their students left off when they headed out for spring break, not knowing their break would be extended.
"They already have a routine for spelling lists, so they already know what to expect. We just have to come up with creative ideas for spelling each week, like online flash cards," Henry said. "My class was studying fractions right before all of this went down, so we are going to have our class make a cookbook. Talk to Mom about a favorite recipe and put everything together so they can make that connection with math and maybe learn a life skill.
"We will still have math lessons, but we are trying to supplement with a fun activity of measurement around the house or graphing the birds they see outside."
A return to learning gives kids some structure in their day and — perhaps most importantly — connection with a teacher or teachers they know and trust.
Jaime Synder, who teaches geometry at the Bixby Ninth Grade Center, said her first order of business will be to give her students some semblance of normalcy.
"It's not a best-case scenario for anybody. We spent seven months building relationships with our students, getting them to trust us and providing them with safe spaces to come and learn and live a teenage life. That is going to help us get through this part," Snyder said. "The content we are trying to push out to them, though it is important, it's not the end-all for us. They have tons of feelings right now — they see their parents' reactions, the media reactions. Most teenagers are internalizing all of that."
Snyder has been coordinating with the Algebra II teacher at her school to ensure that her students leave geometry in May with the tools they need to begin Algebra II come fall.
Students will have all week to complete assignments, so they can juggle school work with responsibilities such as babysitting younger siblings.
"I have materials I need to get in their hands because they won't take geometry again and there are things they need to know to take the ACT," she said.
"Children need structure, and they need relationships, and at Bixby, that is what we are hoping to help them with. All of us that are doing this extra work, it is not because we want to pass a test to hold us accountable. It's student-centered. We want to do what's best for them."
Jeremy Parker, director of bands and coordinator of instrumental music for Bixby Public Schools, will be overseeing how 788 band students in grades six to 12 finish their year.
Band members may not be able to gather in band rooms, but they will be able to gather in small groups, by instrument, in meet-ups on web-based Google platforms.
Band directors will be sharing sheet music students can practice and utilizing software called Smart Music, which has been made free because of the pandemic, to try to keep their students engaged.
"Our biggest goal is to make sure we have as much face-to-face contact with the kids over the computer so they can see us and we can see them. Our biggest goal is not trying to fit in as many requirements as possible," said Parker. "We think contact will motivate them to keep practicing."
---
Gallery: Owasso school staff donate meals to local families
Free meals
Free meals
Free meals
Free meals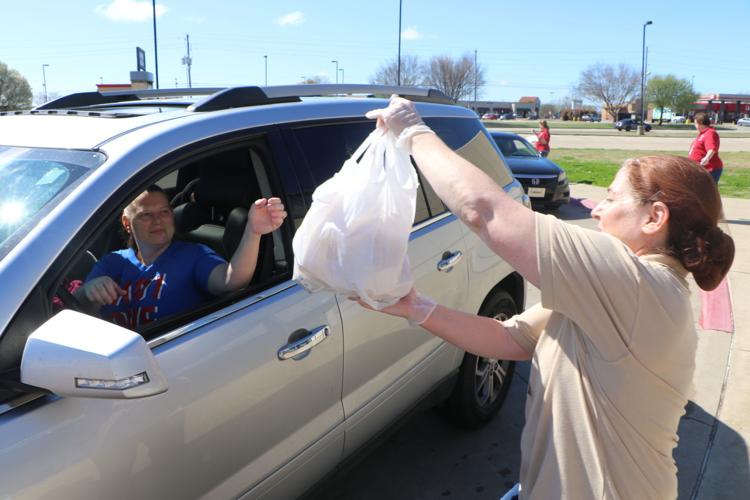 Free meals
Free meals
Free meals
Free meals
Free meals
Free meals
Free meals
Free meals
Free meals
Free meals
Free meals
Free meals
Free meals
Free meals
Free meals
Free meals
Free meals
Free meals
Free meals
Free meals
Free meals
Free meals
Free meals
Free meals
Free meals
Free meals
Free meals
Free meals
Free meals
Do you love Owasso as much as we do?