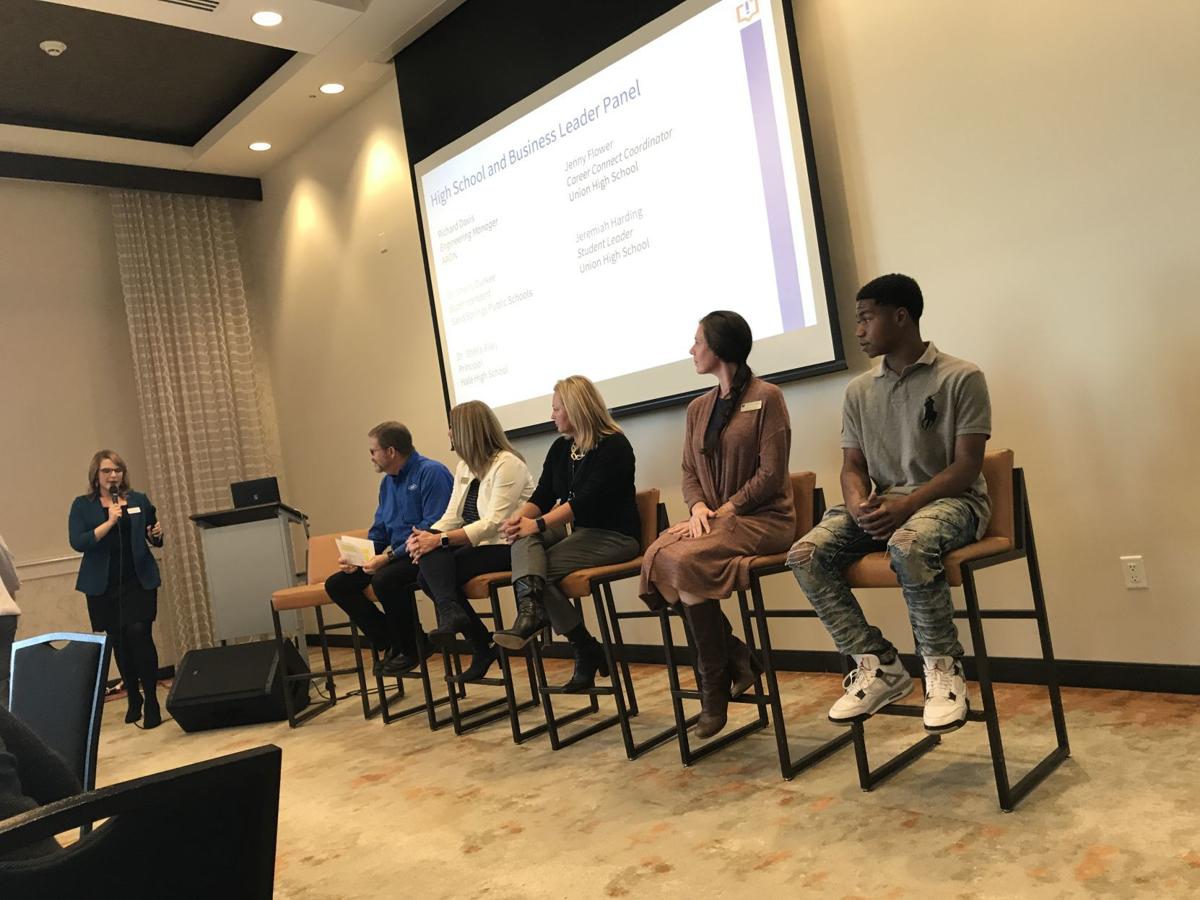 Offering internships and other "real world" opportunities for high school students ultimately benefits both the schools and businesses that participate, as well as the community as a whole, a panel with experience in the subject said on Tuesday.
ImpactTulsa and the Tulsa Regional Chamber joined to host "Building the Workforce through Real World Learning" at the Hotel Indigo, with several area education and business leaders on hand.
The event was highlighted by a panel discussion featuring representatives from three school districts that offer internship programs, a business that employs interns, and a student currently participating in an internship with the city of Tulsa.
"We know at ImpactTulsa that education is directly correlated to economic development, for the vitality of our city and for the future of generations to come," said Carlisha Williams Bradley, ImpactTulsa executive director.
Richard Davis, engineering manager with AAON, a heat and air manufacturer, said his company's experience with interns, whom they've hired as young as 16, has been overwhelmingly positive.
"We find the more that we give to them, it seems the more they give to our company," he said.
"It's hard to find good technical employees in the workplace," Davis added. "So part of our internships are looking for skill sets that we can use. But also, we feel very passionately about giving back to the intern."
Sherry Durkee, Sand Springs Public Schools superintendent, said until her district started its internship program recently, she didn't realize "how hungry businesses are" for the opportunity.
She said the high school currently has "106 students placed in some kind of work opportunity," including two with the district itself.
She added that schools shouldn't let liability concerns be a barrier to starting an internship program and that there are good insurance options.
"It feels scary because nobody wants to deal with a liability claim, but the truth is, once we looked into it, you can really put away that fear," Durkee said.
Jenny Flower, who oversees the internship program at Union High School, said, "Most of my students walk away with a certification that will help them get a foot in the door," along with better interpersonal and job interview skills.
"But the confidence they gain is probably the most important asset."
One of Flower's students, Jeremiah Harding, is interning with the city of Tulsa, where he's learning to work on and maintain heavy equipment.
He said the job, among other things, has taught him how to hold a job like an adult.
"In the real world, if you don't show up, it might be your last day," he said.
Sheila Riley, principal of Hale High School, said her school is expanding its internship program.
"My challenge to you," she told the audience, "is to host an internship program. Because it will not just change (the student's) life, it will change yours."
Bradley said the topic represents an expansion of focus for ImpactTulsa.
"Some of you may have been familiar with a lot of our work in early childhood space. We do a lot of campaigns around pre-K enrollment," she said.
"This past year we were fortunate to hire Dr. Laura Latta as our director of post-secondary partnerships and research, and we dug in much more deeply into the post-secondary space."
---
Tim Stanley
918-581-8385
tim.stanley
@tulsaworld.com
Twitter: @timstanleyTW