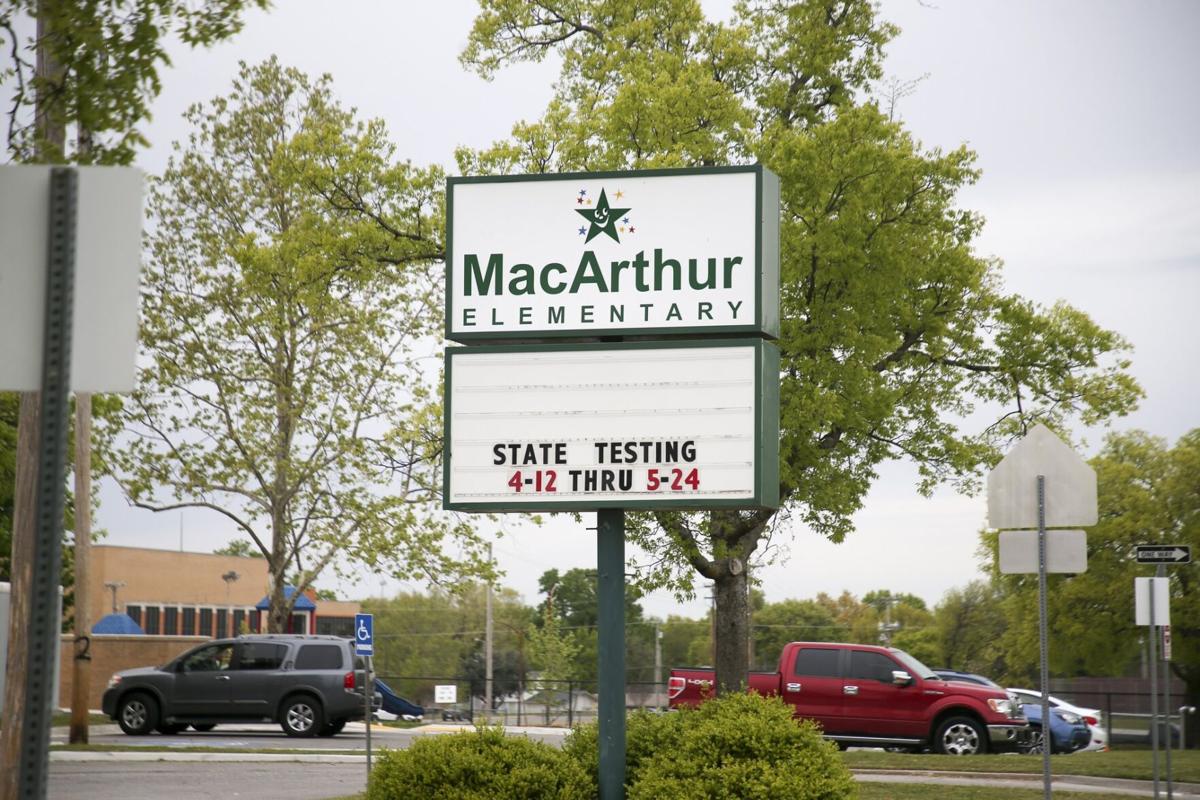 Come June 8, Tulsa Public Schools is asking local voters for help with its technology costs.
As part of TPS' five-year, $414 million bond proposal, Proposition 2 would allocate $90.7 million for technology needs across the district, including interactive display boards for classrooms, network and cybersecurity upgrades and software licenses for programs such as Canvas and Zoom.
The bond would also help pay for maintaining and replacing hardware for students and staff, including Chromebooks used by students across the district both on campus and while in distance learning.
"If it hadn't been for the vision of Tulsa voters in the 2015 bond issue, we would not have had enough technology to support our kids through the pandemic," Chief Information and Analytics Officer Joe Jennings said. "If we hadn't been building towards a 1-to-1, student-to-device ratio and building out a lot of this infrastructure, just imagine what it would have been like trying to support kids at home during the pandemic."
That 1-to-1 student access for Chromebooks was something Vanessa Rodrigues kept in mind while helping develop the proposition. The chairwoman of the Citizens Bond Development Committee's technology subcommittee and a current TPS parent, she said it was eye-opening to her that the district had to rely on bond money in order to buy enough Chromebooks for distance learning.
"Someone thought about that and knew our kids needed to have these devices in their hands," she said. "It is amazing that we were able to do that with the previous bond and I want us to be able to look back in five years and say we did the right thing."
Among the site-specific components of the proposition is $4.2 million for technology needs at Will Rogers Early College Middle and High School, which serves about 1,700 secondary students.
On top of the normal costs associated with providing computers and a secure network for students and staff in any building, providing those services for the Rogers community requires some extra creativity.
The campus' 82-year-old main building is on the National Register of Historic Places, which means additional restrictions when trying to upgrade, repair or install networks. The district's information technology team has even resorted to putting access points under library tables and reusing the infrastructure of the building's old intercom system at times in order to get necessary lines laid out without disturbing the art deco architecture.
"When you think about that $4.2 million, it sounds like a lot of money at first," Principal Nikki Dennis said. "But if you think about getting a Chromebook and internet access to all 1,700 students that go to Rogers, plus the relevant technology for the 200 staff members who work here … it isn't that much money."
The proposition also includes $1.9 million for digital marquees at campuses around the district.
Dana Kalbe is the principal at Hawthorne Elementary School, one of the sites that would receive a new digital marquee as part of Proposition 2. The current marquee at the north Tulsa campus is missing letters and many of the remaining ones are old and cracked, forcing the staff to choose their words and posts carefully.
"It's almost an oxymoron," she said. "We're promoting literacy, but our marquee isn't the best way to get that out. I'm excited to be able to put information out there for families to be able to understand what we're trying to say."
Twyla Waterson, the principal at MacArthur Elementary School, is in a similar situation and has had to resort to super glue in order to keep letters up on the marquee. New digital signage would help the school communicate more effectively with the community in both English and Spanish, something she said is a critical need while the pandemic continues to linger.
"When we had to switch back and forth between distance and in-person, it was very difficult to get that message out," she said. "We didn't have enough letters to post the message so that everyone could see it.
"Another piece of that for me is that it is important for our neighbors to know that even though they're not necessarily seeing cars in the lot every day, we're still teaching. We couldn't communicate that because we didn't have the capacity to put that on our marquee."
With so many aspects of the district relying on networks, including security, finance and instruction, Jennings said it would make it difficult to accommodate TPS' rapidly evolving technology needs should voters reject Proposition 2, particularly with respect to cybersecurity.
"Nothing stops tomorrow," he said. "The challenge though, is that we're generally limited on general fund dollars because education is underfunded in this state. If we as an IT department want or need to do something new to address cybersecurity, a lot of times bond dollars are how we pay for that technology. What we have in place will stay, but it can become antiquated quickly."
As per state law, school bond proposals require a supermajority of the votes cast in order to pass. Should TPS' bond package be approved, it would not raise property tax rates. Instead, it would replace the 2015 bond, which is scheduled to be retired in August.
The voter registration deadline is Friday. Absentee ballot requests must be received by 5 p.m. on June 1. Early voting is scheduled for 8 a.m. to 6 p.m. on June 3-4.
Video: TPS enrollment climbing following restart, district says.