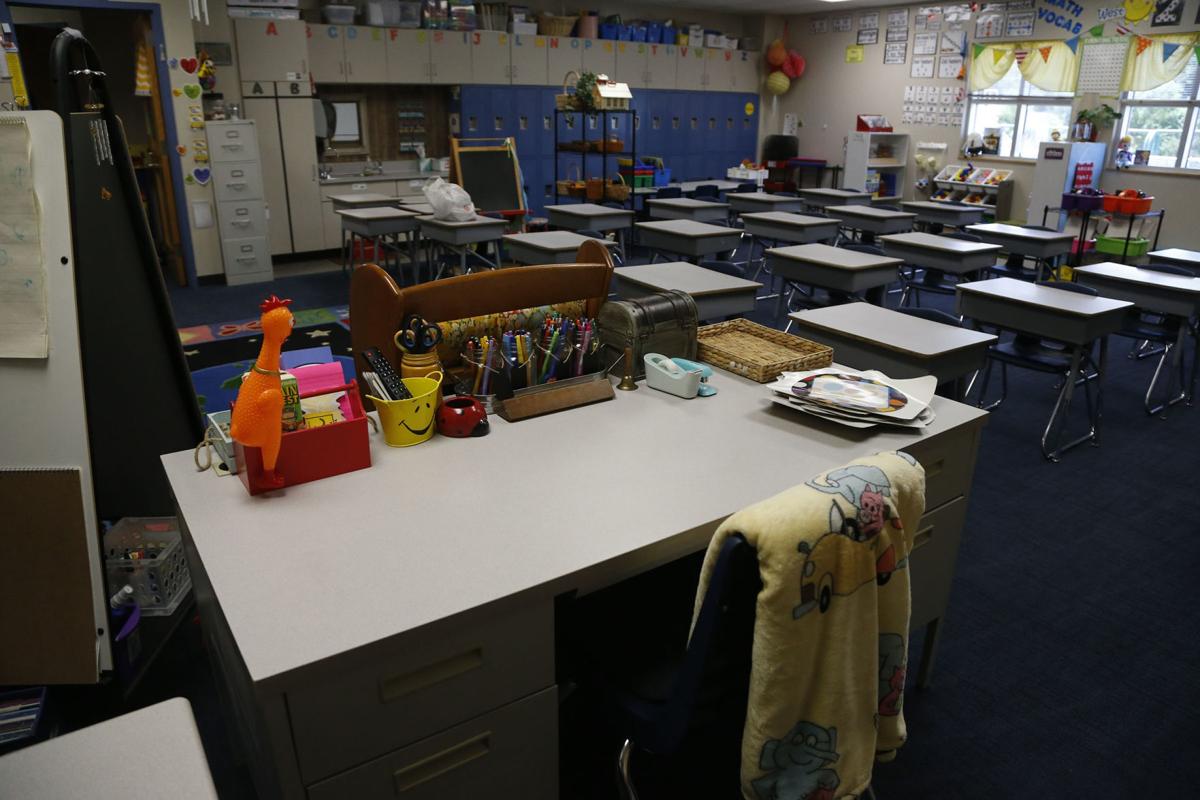 Just weeks after announcing their intent to start the 2020-21 school year with in-person classes, Owasso and Jenks district leaders decided to scrap those plans in response to overwhelming input from education and health officials.
The original plan at Jenks Public Schools was to offer students a choice to return to the classroom physically or virtually. They also could opt for a combination of at-school and online lessons.
Jenks Superintendent Stacey Butterfield said the plan always involved pivoting to distance learning when and if it became necessary due to the COVID-19 pandemic. The issue is that many, including Butterfield, never expected to have to make that jump on the first day of school.
But a lot has happened since the district revealed these options in mid-July. For one, the State Board of Education "strongly recommended" that schools use remote instruction if they're in counties with high rates of community transmission.
That includes Tulsa County, which has been classified at an orange, or moderate, risk level under the state Department of Health's COVID-19 Alert System since June. For a county to be in the orange level, it must have more than 14.39 daily new cases per 100,000 residents.
Jenks also factored guidance from local and national health agencies and organizations into its decision. None, Butterfield said, suggested allowing in-person learning in counties experiencing a rising number of COVID-19 cases.
Tulsa County Health Department Director Bruce Dart, for example, maintained this week that distance learning is the safest option for students until there's a definitive reversal in the spread of COVID-19.
"We have to make a choice," Butterfield said, "because our principals and our teachers, we can't be flip-flopping back and forth. We have to start school one way or another. By making this decision now, we're able to focus our attention and our efforts to saying this is how we're starting so that families can make their final selection."
Jenks will begin looking at safely transitioning to in-person learning once Tulsa County's risk level is reduced to yellow — meaning fewer than 14.39 daily new cases per 100,000 residents — for two weeks.
For Owasso Public Schools Superintendent Amy Fichtner, the need to cancel in-person classes became clear after additional COVID-19 data showed no improvements heading into August.
Fichtner said she had hoped the city of Tulsa's mask ordinance would result in a downward spiral, which has not yet materialized. The deciding factor was seeing the recommendations from the state Department of Education and the Tulsa Health Department.
"Opening our schools would have gone against the advice of both of those entities," she said. "Really, the question came down to did we have enough concrete knowledge to go against the guidance of the Tulsa County Health Department and the state Department of Education, and we did not. We couldn't confidently say we knew more as educators about a health issue and go against those two sets of guidelines."
The decisions of both districts have been met with mixed support from their communities. Some families expressed gratitude, while others expressed disdain and frustration.
Online petitions have surfaced this week calling for the districts to reverse their decisions and open classrooms. The Owasso petition had collected nearly 1,800 signatures as of Wednesday evening, while the Jenks petition had garnered about 500.
Fichtner said memories of the hardships and frustrations that came with distance learning in the spring have made it difficult for many to be optimistic about doing it again this fall. But she asserted that moving forward, remote learning will be much more organized and fluid, while also better replicating the classroom experience.
"The only difference is instead of being at a desk in school, they're going to be at home," she said. "But they're still going to have a class with a teacher delivering their lessons. That is almost more than people can fathom right now."
Tulsa Public Schools will also start classes remotely. Other suburban districts, including Union and Broken Arrow, remain on course to offer in-person classes on the first day of school.
When asked whether Jenks' decision could prompt others to do the same, Butterfield said every district has to choose based on its community, capacity, configuration and staffing.
"There's just so many considerations," she said. "It's not like a snow day, where you look out and say, 'Oh, my gosh. We have 4 inches of snow across Tulsa County.' That's going to be an easy call for all of us. It's just not that easy."
---
Featured video: Let's Talk Town Hall on "Back to School"
---
Gallery: Your guide to the 2020 Tulsa mayoral candidates. Election day is less than a month away.
Kyle Hinchey
918-581-8451
Twitter: @kylehinchey
Concerned about COVID-19?
Sign up now to get the most recent coronavirus headlines and other important local and national news sent to your email inbox daily.