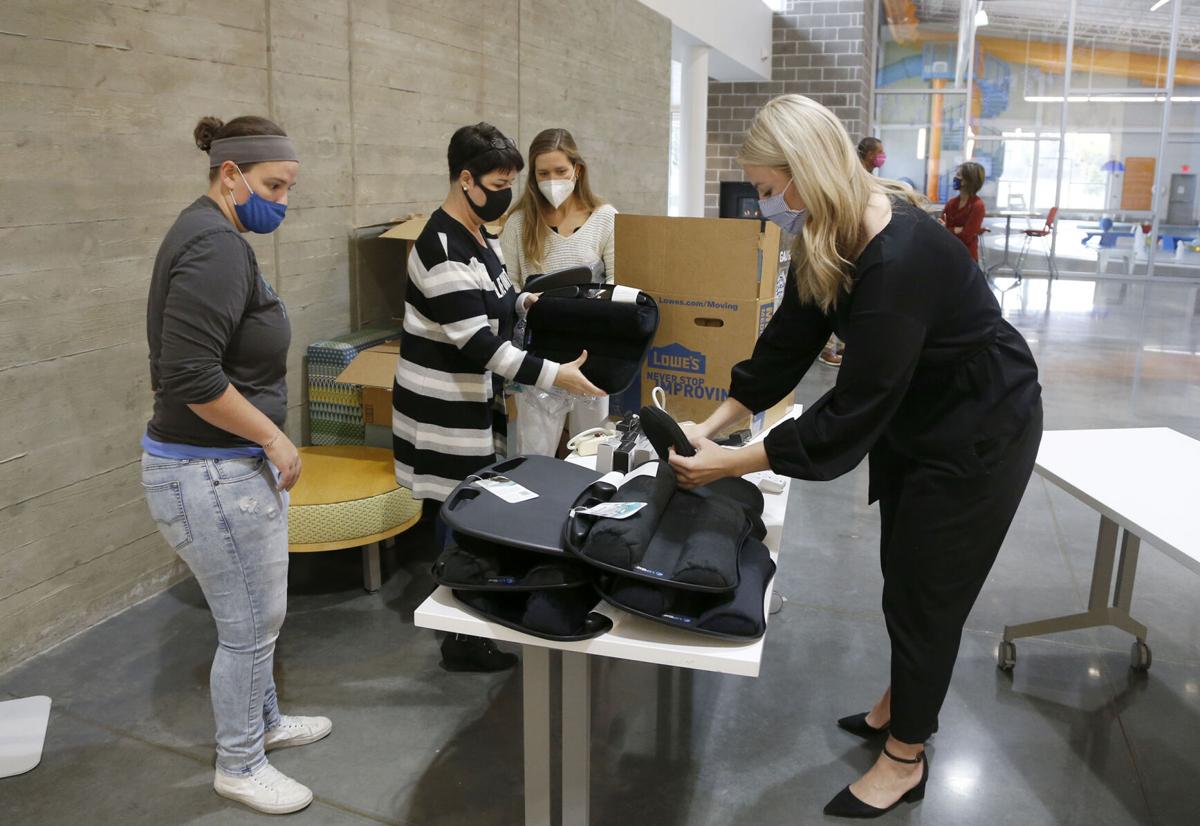 Several nonprofit and Tulsa Parks facilities hosting local distance-learning students this fall will now be able to better accommodate their needs, officials said.
The Tulsa Area United Way has been delivering boxes of computer accessories donated through a recent drive to sites across the area that are serving distance-learners during the COVID-19 pandemic.
It included on Tuesday the Tandy Family YMCA, 5005 S. Darlington Ave., which is accommodating about 65 students.
"We're just so thankful for how the community came out in support of our children," Krista Hemme, TAUW spokeswoman, said, adding that some $5,000 worth of equipment was collected through the recent K-12 Gadget Drive.
The drive was part of the United Way's annual Days of Caring.
"We have children who are in sites in rooms with several other children, and it's really hard to focus on your Zoom calls and your computers," Hemme said. "We hope these tech accessories — headphones, lap desks, power strips, and other items — will really help students engage and be focused on their learning."
Other sites receiving donated equipment included the Tulsa Dream Center, multiple Tulsa Parks locations and other YMCA and Boys & Girls Club sites.
The effort was a partnership between the TAUW and the Opportunity Project and was coordinated by the Emerging Leaders Society.
The Tandy, which has the capacity to host 100 distance-learning students, has seen a recent increase in its numbers, said Kyle Wilkes, vice president of mission advancement for YMCA of Greater Tulsa.
He credits that in part to word of mouth.
"I think it's a little bit like with the teacher walkout, where you have people pivoting really quickly to be able to find the support they need," he said. "Now the word is getting out about what is available. Families are starting to identify opportunities for support sites throughout the community."
Wilkes said the donation of accessories will help meet immediate needs.
"As they make the shift from a traditional school environment with paper and pencil to a virtual-learning environment, we continue to hear from our families and our students that they are lacking the resources they need," he said.
"I continue to lie there at night and think about these kids and the shift that they've made, and the single mom or the grandparent raising these children who need the supplies to find success. That's what this is all about."
Hemme said the drive ran from Sept. 18 through Oct. 2.
It was sponsored by the Bank of Oklahoma, with a grant from the Maxine and Jack Zarrow Family Foundation allowing purchase of additional supplies.
This year's Days of Caring was expanded to three days from the traditional one, with a focus on meeting immediate community needs brought on by the pandemic.
For more information for the Tandy's distance-learning options, go to ymcatulsa.org.
---
Featured video: Mickel Yantz, director of collections and exhibitions at the Sherwin Miller Museum of Jewish Art, on the museum's new Holocaust exhibit
Tulsa World Magazine's Women to Watch: Meet 13 women who go above and beyond for community
Be the first to know
Get local news delivered to your inbox!