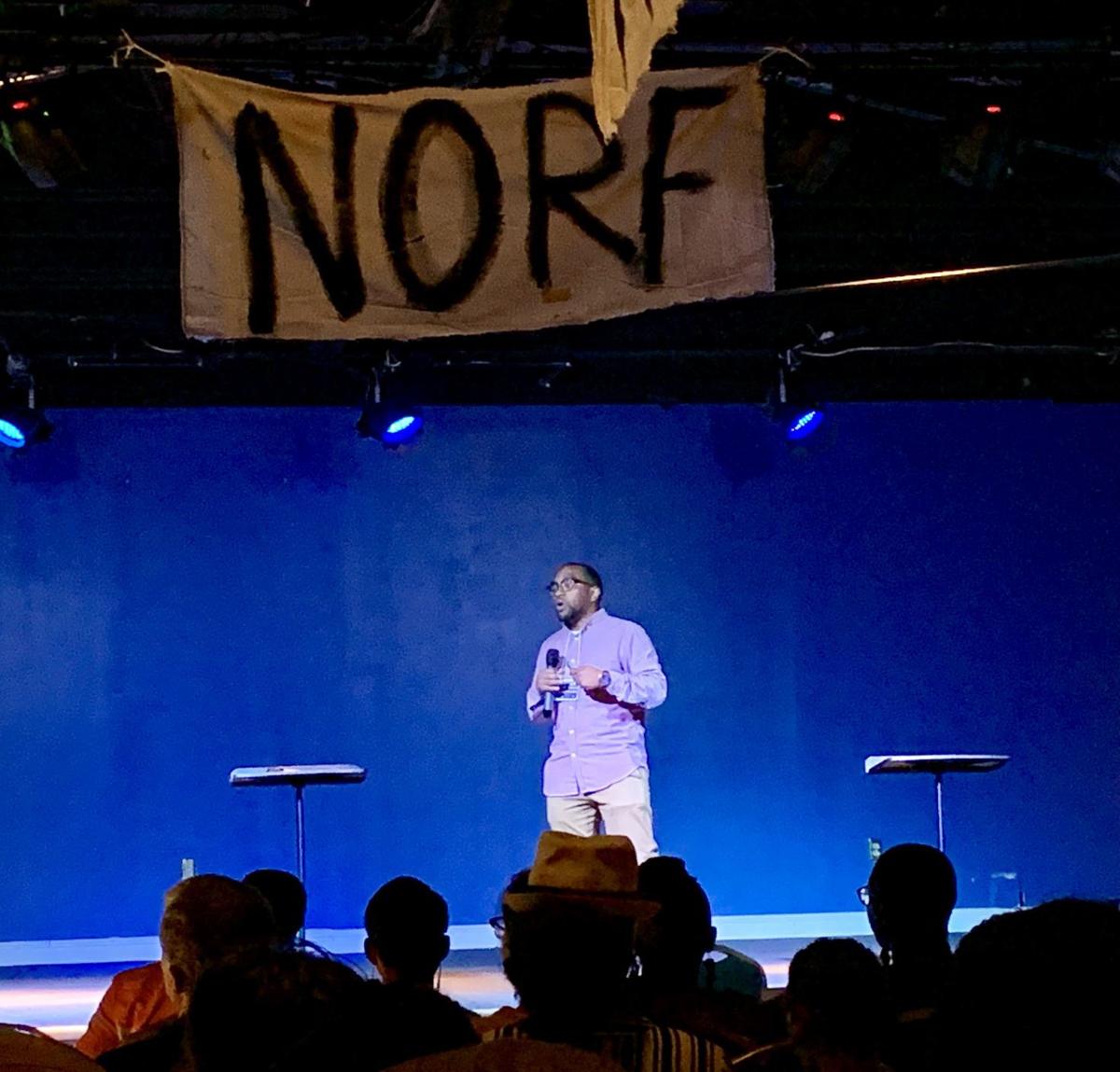 North Tulsa activists are one step closer to executing a plan to address trauma in schools and other important issues during a community meeting Tuesday evening.
Hundreds of people attended the second annual Building Wakanda Summit to hear about the Met Cares Foundation's proposals for driving positive change on the city's north side. One of the foundation's primary goals is to transform the academic and social outcomes of north Tulsa's prekindergarten through 12th-grade students.
Greg Robinson II, director of family and community ownership at Met Cares, said the summit is a culmination of the work the foundation has done with the greater north Tulsa community in the past 18 months. Countless meetings and persistent research led to the creation of four sets of recommendations around the areas of trauma in schools, community policing, housing access and economic development.
North Tulsa stakeholders who were at the meeting or watched it online via Facebook Live voted on which recommendations resonated with them the most to help organizers prioritize them. Officials from Tulsa Public Schools, the Tulsa County Sheriff's Office and the Tulsa Mayor's Office also shared their thoughts about the ideas.
"We hope to leave here with a community-driven agenda to work toward," Robinson said.
The recommendations were crafted by research teams consisting of community members, including Brittnee Buck.
Buck is a long-term substitute teacher at Greenwood Leadership Academy, a TPS partnership school operated by the Met Cares Foundation. She helped create five recommendations centered on trauma in schools. They included every school in the McLain and Central feeder patterns receiving funding and support to implement measurable long-term trauma informed practices, having a full-time therapist and licensed social worker at every school, and TPS collaborating with the city of Tulsa to commission a task force to attack the root causes of trauma in north Tulsa.
But the recommendation that led the way in votes Tuesday night involved TPS requiring all teachers to engage in at least 12 hours of trauma-informed learning, implicit bias and culturally competent teaching training every year.
Buck stressed the importance of schools understanding how trauma affects students. A lot of kids, she said, get labeled as having behavioral issues when they're actually experiencing trauma. They often don't know how to process trauma and verbalize that they're stressed, causing them to lash out in other ways.
"I want to really speak to the need for teachers to be thoroughly trained in how to properly handle trauma, how to work with that student and ways that they can work with student support (services) so that it's a group effort and not an overwhelmed teacher dealing with 20 stressed-out kids," she said.
In responding to the recommendation, TPS Deputy Superintendent Paula Shannon said she agrees that educators still have a lot to learn and that the district needs to work with colleges to ensure that teachers are grounded in trauma-informed learning.
However, Shannon said schools need help from their communities to advocate for more funding to allow better teacher training.
"Right now we have four contract days given how much we pay our teachers and where the state sets the bar," she said. "We need to treat our teachers like professionals. We need to fund educators so we can create the conditions for educators to continue to learn together. We can't do that alone."
The community policing recommendation with the most votes focused on law-enforcement agencies in Tulsa moving from a "warrior" to a "guardian" mentality by implementing implicit bias training, eliminating ticket and arrest data as an evaluation tool, and increasing transparency and accountability around problem officers.
For housing, the most popular recommendations for the city of Tulsa were establishing a rehabilitation loan fund and enacting a vacant property policy to alleviate issues of depreciated value and crime without placing the burden on underserved communities.
Leading the way for economic development was a recommendation for the city to begin a campaign highlighting the north Tulsa community to bring additional investment, business, employment and lifestyle opportunities to residents.
Kyle Hinchey
918-581-8451
Twitter: @kylehinchey