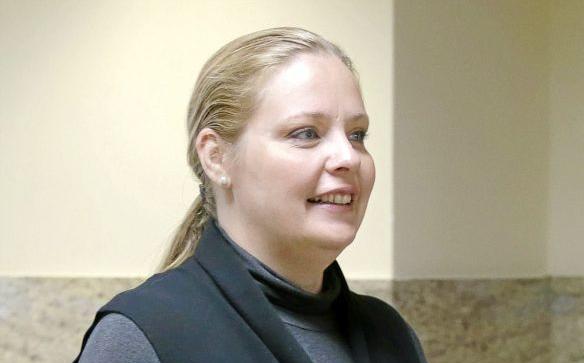 The U.S. Supreme Court on Monday declined to review an exonerated Tulsa woman's claim that the city violated her civil rights during the investigation of the 1994 stabbing death of her infant son.
In a one-sentence notice issued on Monday, a clerk for the 10th U.S. Circuit Court of Appeals provided written notice that the U.S. Supreme Court had opted not to take up Michelle Dawn Murphy's appeal.
Tulsa City Attorney David O'Meilia said the decision ends the series of challenges Murphy's legal team lodged after Chief U.S. District Judge Gregory Frizzell granted the city's motion for summary judgment in response to Murphy's lawsuit. Frizzell had said Murphy's attorneys did not show evidence that the city had a policy or custom that resulted in a civil rights violation in her criminal case.
An email to Murphy's attorney seeking comment was not returned by Monday evening.
Murphy was 17 when she was sentenced to life without parole for the 1994 slaying of her baby. She told police she awoke Sept. 12, 1994, to find her 3-month-old son, Travis Wood, with his throat slashed in a pool of blood on her kitchen floor.
After serving nearly 20 years in prison, she was freed based on DNA evidence and was declared innocent of murdering her son.
Murphy received $175,000 from the state of Oklahoma in 2015 after filing a tort claim related to her wrongful conviction, but she sought further damages related to alleged civil rights violations by police.
"My office vigorously defended the city against unfounded allegations, and ultimately we're extremely pleased with the outcome," O'Meilia said. "We had myself and four or five of my attorneys working on this constantly."
He has previously told the Tulsa World that the state court's decision to exonerate Murphy did not include a finding that the city or Tulsa police had responsibility for the legal issues with her trial.
O'Meilia pointed out on Monday that the 10th Circuit also chose not to reverse Frizzell's decision before the Supreme Court declined to review the case on Monday.
Murphy alleged in her lawsuit that the city violated her Fifth and 14th Amendment rights when her statements to police were used at her trial, as she claimed her statements — made as a teenager — were coerced.
She did not make a specific monetary request for damages but noted that the city in the past agreed to pay $12.25 million to settle the lawsuit Arvin McGee Jr. filed after DNA evidence exonerated him in a 1987 rape and kidnapping case.
McGee spent 14 years in prison, and a jury awarded him $14.5 million in damages.
The lead prosecutor at Murphy's criminal trial, Tim Harris, who served as district attorney until 2014, suggested to jurors that Murphy could have been the source of blood found at the crime scene, according to Tulsa World archives.
But court records show forensic tests have determined that none of the blood at the scene was hers.
---
September 2014 video: Woman convicted of murdering infant son 20 years ago ruled innocent
Throwback Tulsa: Woman ruled innocent in 1994 death of infant son in 2014
Sign up for our Crime & Courts newsletter
Get the latest in local public safety news with this weekly email.