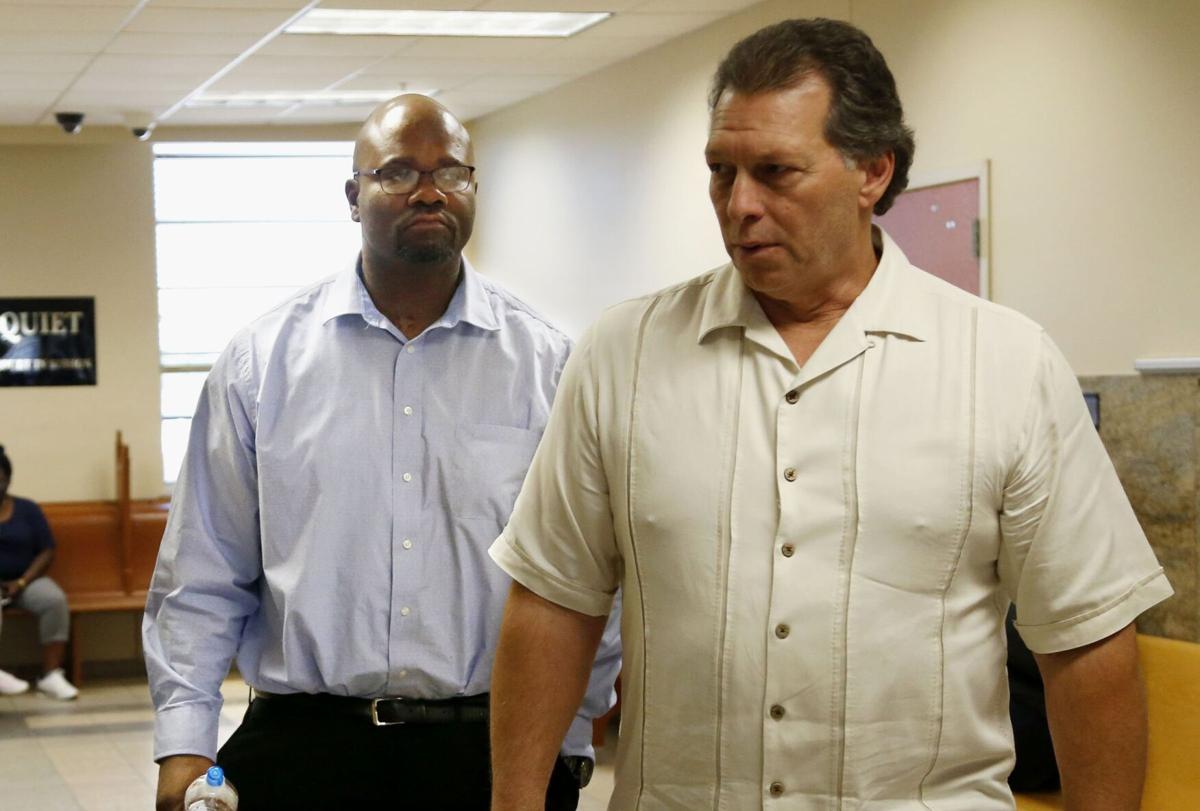 A Tulsa County jury acquitted a man Friday night of shooting a childhood acquaintance, thereby ensuring that he will not go back to prison nearly five years after he was exonerated on a first-degree murder charge for which he spent 20 years behind bars.
Before finding De'Marchoe Carpenter not guilty of shooting with intent to kill and illegal firearms possession, the jury heard Friday from four witnesses, including a cousin of Carpenter's who said he saw a different person shoot Sheldon Reed on Aug. 6, 2019.
Carpenter's defense team had sought to show that Reed was lying about Carpenter being his assailant, but First Assistant District Attorney Erik Grayless said that "people don't frame people like that, even if they're on the streets."
"What motivation or interest would Sheldon Reed have to lie?" Grayless asked the jury during his closing arguments.
He later said the jury's decision would "come down to the believability of Sheldon Reed" because the case against Carpenter was based in large part on Reed's statements to police, including to Lt. Sean Larkin, the lead investigator.
After the jury rendered its verdicts, Grayless said he was "disappointed" because he believed there was sufficient evidence to find Carpenter guilty. He also said he sympathizes with Reed, whom he said will likely face social stigma due to testifying despite having almost died in the shooting.
Reed said Tuesday that he was "100 percent" sure Carpenter was the person who shot him as he sat in his truck in a residential area just north of the Gilcrease Expressway west of Peoria Avenue. Reed's mother and brother also spoke to the jury and said Reed was consistent in his identification of Carpenter.
Reed testified that it was difficult for him to go public because of the perception that he would be a "snitch," but he said he believed it was the right decision to protect himself and his family.
Relatives of Reed's apparently provided hospital security with a photo of Carpenter out of concern for their safety while Reed was undergoing treatment.
But defense attorney Brett Behenna asserted that Carpenter was framed and suggested that Tulsa police detectives were uninterested in further investigation after they learned that someone had claimed Carpenter was involved.
"He may honestly believe it's De'Marchoe Carpenter," Behenna said of Reed. But "it's just wrong. It's false."
In remarks outside of court Friday night, defense co-counsel John Coyle said it was "a fabulous day" for his team because of Carpenter's acquittal, and he said the defense "totally believed" in Carpenter's innocence.
During the trial, Behenna referenced medical records that show Reed had been hallucinating the day he gave Carpenter's name to a uniformed police officer who visited him and his mother in the hospital, though three officers — including Larkin — said Reed was able to communicate effectively despite his injuries.
"You get hit in the face with a bullet. Imagine that pain," Grayless said of Reed, who he said still "had the wherewithal" to call for help and drive away from the neighborhood, though he did not identify a shooter at first.
But Carpenter's cousin, Thomas Carpenter, took the stand Friday and said he witnessed the shooting. He described the shooter, whom he did not recognize, as a slender man between 5-foot-9 and 5-foot-11 who possibly had dreadlocks partly concealed by a do-rag.
He said he saw Reed drive away after being shot from the passenger's side and tried to park next to him at a convenience store. However, he said Reed drove away to a bank near Pine Street and Martin Luther King Jr. Boulevard, where authorities found him in his car.
The jury heard a recording of a brief 911 call from Thomas Carpenter, who is heard telling a dispatcher about Reed's truck before hanging up upon the arrival of medical assistance. Asked why he did not disclose his observations to police at the time, he said, "The way law enforcement treats Blacks in north Tulsa, I was fearful of that."
"We were anticipating that law enforcement would come and talk to us," Thomas Carpenter said. But after he learned that De'Marchoe Carpenter had been charged, he said he did not feel comfortable speaking to authorities without a lawyer and a way to record the interaction.
"But I would have talked to you if you asked to talk to me, sir," Thomas Carpenter told Grayless.
Grayless argued that Thomas Carpenter's account did not line up with the trajectory of bullet holes in the truck, nor was it consistent with Reed's statements about how he drove. Grayless also told the jury he believed there was too much detail in Thomas Carpenter's testimony for his account to be entirely accurate.
De'Marchoe Carpenter's sister, Lametra Carpenter, testified earlier and said she sent Reed — who had known Carpenter's family most of his life — a text message to say "Marco loves you. He would not shoot you bro." She alleged she has received information that indicates Reed implicated her brother because "Sticks" — Larkin's street name — "has another case on him," which the state has denied.
"You know what (De'Marchoe Carpenter's mother) went through for 22 years," she wrote, according to her testimony. She added that she believed Reed was helping police play "a dirty game" against Carpenter by "getting him locked up for something he didn't do again." Reed, according to Lametra Carpenter, subsequently sent her a text message of an emoji with a sad expression.
Behenna, in his closing, said it did not make sense for Carpenter to leave a house near 32nd Street North where he and Reed had been socializing with family only to lie in wait for 25 minutes at an intersection to shoot Reed. A friend of Carpenter's testified that she remembered Carpenter and his wife visiting her residence at roughly 11 p.m. Aug. 6, 2019, and did not notice anything unusual about them.
"Certain people who live in certain areas of town don't like to talk to the police," Grayless told the woman, who lives in east Tulsa, of testimony from other witnesses. When Grayless asked the woman whether she had any fear of law enforcement, she said no.
Grayless alleged in his arguments that the woman was not consistent about what day or time Carpenter went to her residence, which meant it did not constitute a proper alibi.
Behenna spent much of Thursday afternoon cross-examining Larkin about his designation in federal documents as an "unidentified co-conspirator" during a 2009 corruption investigation into Tulsa police officers.
Larkin, who was not charged with a crime, denied wrongdoing but acknowledged that as a result of being named in that investigation he has been unable to provide testimony in federal cases for 11 years. He was the designated case agent for the state's case, a decision Grayless said was made because "we have nothing to hide."
"All of the witnesses that we had this week are lawfully sworn officers with the Tulsa Police Department," he said. "And they can testify in this courthouse and will continue to do so."
Larkin acknowledged in his testimony that he could have made more of an effort to contact Carpenter or his family members before recommending he face charges.
Meanwhile, the jury received instructions stating that Reed made statements during his trial that were inconsistent with what he said either in court or to police previously.
"Would you want this evidence to be enough to convict you?" Behenna asked the jury after mentioning Carpenter's two-decade incarceration on a murder charge of which a judge declared him actually innocent.
He reasserted his view that Reed was trying to get money from Carpenter in a lawsuit in the event he was convicted.
"When you have people like Sean Larkin testifying for the other side, it really had us all worried," Coyle said Friday night. He also said the jury's verdict shows "it's clear" that Carpenter was innocent of any crime.
"Any time you have tunnel vision like that, it ends up really helping the defense," Coyle said of the state's case. "We knew from the get-go that was going to help us, that they just picked him out and charged him. They went after him.
"It just took a while to get to trial because of COVID and a few other delays, but we got justice this evening."
Grayless said Larkin was "assumed guilty" by the defense, unlike Carpenter, and said information elicited during Behenna's "withering" cross-examination over unrelated matters was a "red herring" to distract from Carpenter's guilt.
Larkin testified that did not know of Carpenter until Reed disclosed his identity, nor was he working for the Tulsa Police Department at the time of Carpenter's 1994 murder case.
During the trial, Grayless referred to the allegations against Larkin as having been made by "a bunch of dopers and bad cops" who sought retaliation.
"This case isn't about the Tulsa Police Department," Grayless said. "This defendant is either guilty or not guilty on his own conduct" and not the actions of others.
Upon receiving the jury's verdict, he said it was apparent the defense's strategy was to put the reputation of the Tulsa Police Department on trial.
"You heard a lot of accusations in this case, many of which suggested TPD was a corrupt organization and all they were doing was looking to convict people," Grayless said. "Nothing is further from the truth, as far as I'm concerned."
He later said that "it is their right to impeach our witnesses. We understand that, but we were disappointed that the Tulsa Police Department had to be dragged through the mud because of this case."
"Despite that, we still respect the jury's decision and their verdict. We will continue to respect all jurors' verdicts, despite our disappointments," Grayless said.