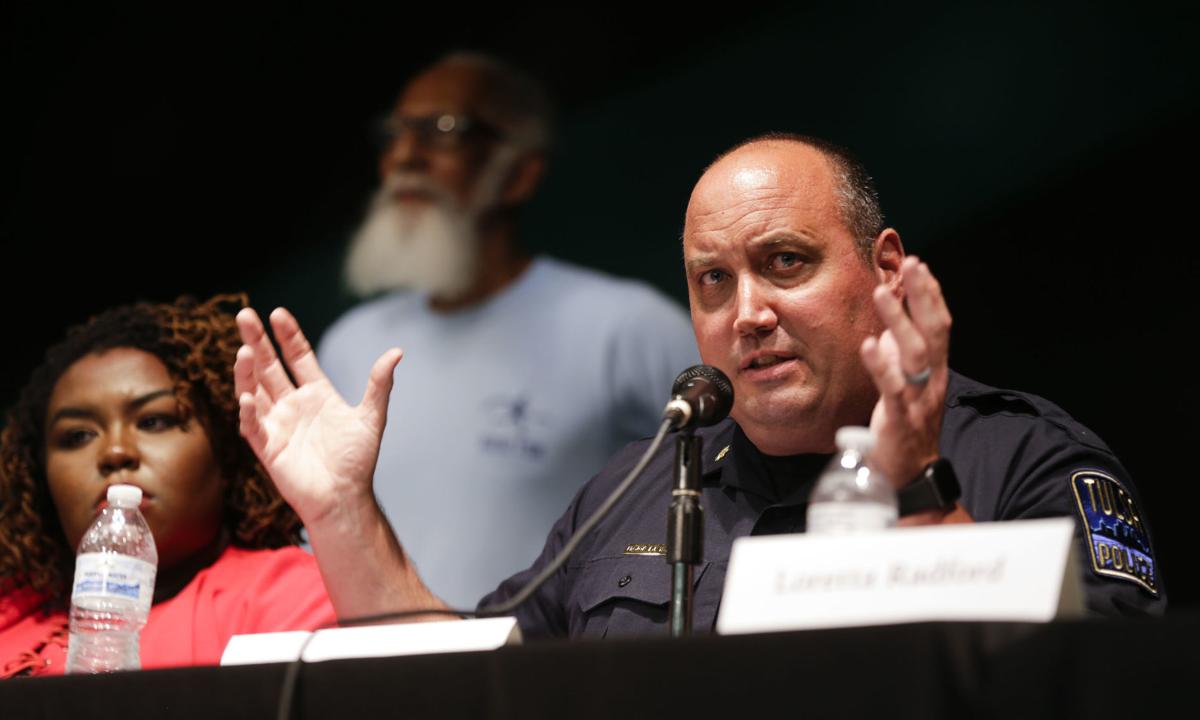 A Tulsa police major has filed a lawsuit against various media organizations, claiming their reports about his comments on a local morning radio show were libelous, portrayed him in a false light and intentionally inflicted severe emotional distress.
Maj. Travis Yates, a 28-year veteran of the Tulsa Police Department, filed the lawsuit in Rogers County District Court.
Yates names Gannett Co. Inc. and its affiliate GateHouse Media Oklahoma Holdings Inc., Comcast Corp., Public Radio Tulsa and one of its employees as defendants in the lawsuit.
"I realize I'm picking a fight with the biggest bullies on the block, but someone needs to stand up to media giants that pervert journalism into activism and destroy lives and reputations with impunity," Yates said in a press release provided by one of his attorneys.
The lawsuit stems from reports about comments Yates made June 8 while being interviewed on "The Pat Campbell Show" on KFAQ. During the interview, Yates denied the existence of systemic racism and also discussed data collected on police shootings.
"And by the way, all the research says … we're shooting African-Americans about 24% less than we probably ought to be based on the crimes being committed," Yates said, according to a partial transcript of the radio show interview included in the lawsuit. "And so, there is — this isn't Travis talking — the research is sound, but nobody's watching it. They're just looking at memes and losing their minds."
Yates later told the Tulsa World he was referencing research from an economist as well as a conservative commentator and the National Academy of Sciences.
In a later post on Yates' Facebook page, he wrote that news coverage of his statements "does not reflect my hypothetical discussion of statistics based on the research of others."
Yates condemned any assertions that he advocates for more police violence against people of color.
"This is plainly false and factually inaccurate," he said in the statement. "And to think that beyond a discussion of comparative statistics that I would suggest that the 'police should actually be shooting' anyone is simply outrageous."
Yates' statements on the radio show were followed by a statement from TPD that said it didn't "condone or support" Yates' comments.
Mayor G.T. Bynum said this in a Facebook post regarding Yates' comments on the show: "I want to believe he didn't intend to say what he did, but what he did say goes against everything we are trying to achieve in community policing."
The lawsuit faults reporting of the radio interview by Public Radio Tulsa and its news anchor and reporter Chris Polansky.
"On July 9, 2020, the Defendants Polansky and PRT, without making any effort to solicit additional information or clarification from Mr. Yates, maliciously authored, edited, published and marketed a story on radio, on the world wide web and in Rogers County, Oklahoma about Mr. Yates that is false, defamatory and portrays Mr. Yates in a false light …," Yates' lawsuit says.
The lawsuit says a headline accompanying the Public Radio Tulsa story "falsely asserts that a 'TPD Major [stated] Police Shoot Black Americans 'Less Than We Probably Ought To.'"
The lawsuit goes on to claim: "In what can only be described as an effort to discredit Mr. Yates and stir racial tensions, the opening paragraph of the article identifies Mr. Yates as a 'white Tulsa Police Department Major … ' thus falsely insinuating that Mr. Yates is racist."
The lawsuit claims that Polansky and Public Radio Tulsa made other false claims about Yates' comments on the radio show.
Public Radio Tulsa General Manager Rich Fisher said: "We have confidence in the quality of, and stand by, our reporting. Otherwise, we do not comment on ongoing litigation."
Polansky did not respond to a message seeking comment that was left for him through Fisher.
The lawsuit also alleges that other media, including Gannett Co., GateHouse Media and the Comcast Corp., libeled Yates with their reporting about Yates' comments during the June 8 radio interview. Gannett and GateHouse Media merged in 2019.
The lawsuit specifically targets reporting of the radio interview by the Gannett-owned The Miami News-Record and Comcast-owned NBC News.
Requests for comment left with Gannett, GateHouse and Comcast were not returned.
The claim seeks actual and punitive damages of an unspecified amount in excess of $75,000, plus interest, attorney fees and court costs.
"I'm pretty confident that as we get into discovery in this case we're going to uncover a lot more that builds on the allegations we made in that lawsuit," said Doug Stall, an attorney who is representing Yates.
"I think in its simplest form, he wants to see the record set straight and the defendants held accountable for what they've done," Stall said of Yates.
---
Curtis Killman
918-581-8471
Twitter: @loucardfan61
Sign up for our Crime & Courts newsletter
Get the latest in local public safety news with this weekly email.