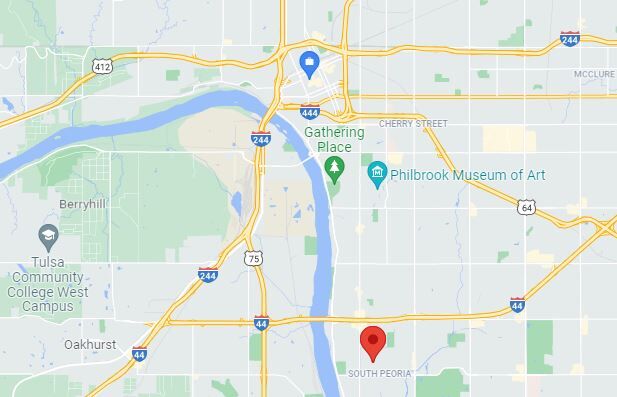 A man who had been named as a person of interest in his mother's apparent murder earlier this week resurfaced Friday, only to shoot himself with police hot on his trail.
Tommy Carmichael, 46, died at a hospital, Tulsa police said.
Investigators had been trying to speak with him since his mother, 69-year-old Carol Longacre, was found dead in her south Tulsa home Wednesday evening.
Officers were notified of her death about 7:30 p.m. Wednesday after Longacre's boyfriend found her car missing and her body in the bathtub at her home in the 5800 block of South Rockford Avenue. Investigators determined that it was clear that her death was not natural, Homicide Unit Lt. Brandon Watkins said.
Carmichael, whose name previously was released as Carmichel, supposedly had been at Longacre's house earlier that day, and when officers attempted to contact him at a house in Berryhill, he fled at high speeds to a wooded area on private land near Chandler Park, Watkins said.
Carmichael was driving an SUV equipped with a lift kit that was ideal for off-road driving, Watkins said, and his vehicle continued on through the "extremely rough terrain" while police vehicles could not.
When officers in the police helicopter found where Carmichael's vehicle had come to a stop, Carmichael fled on foot and disappeared into the trees.
Carmichael apparently was an avid hiker and was more familiar than most with the area, and he used his knowledge of the terrain to escape, Watkins said.
Officers established a large perimeter with assistance from the Tulsa County Sheriff's Office, Sand Springs Police Department and Berryhill Fire Department and continued searching with the helicopter and K-9 Unit for several hours.
Because they knew whom they were tracking, when responders reached a point where radio communication was unreliable, which posed a safety issue in the dark of night, they suspended the effort until the morning, Watkins said.
The department alerted the public to the situation and continued searching on Thursday. About 12:30 a.m. Friday, TPD's Fugitive Warrants Unit found Carmichael driving a flatbed truck in the 3300 block of Southwest Boulevard.
Carmichael refused to pull over when police turned on their emergency lights, and he led them on yet another pursuit — albeit low-speed due to the truck's limited ability — but this time he led them to the home where the investigation began.
Once there, Carmichael reportedly ran from the truck to the front of his mother's home and shot himself in the head.
It all unfolded "very, very fast," and detectives were just now finding time to slow down and sift through the facts, Watkins said later in the day. Longacre's vehicle was recovered in south Tulsa.
Carmichael was their only person of interest in the death of his mother, he said, but that doesn't mean the case is closed.
Although some factors, such as his fleeing and evidence of financial hardship, could point to Carmichael for now, Watkins said detectives owe it to Carmichael and Longacre's family members to be thorough, especially considering the whirlwind of tragedy they've endured.
"We've got to keep an open mind," Watkins said. "We try to give (families) the best answer we can give them. … It just might take a while."