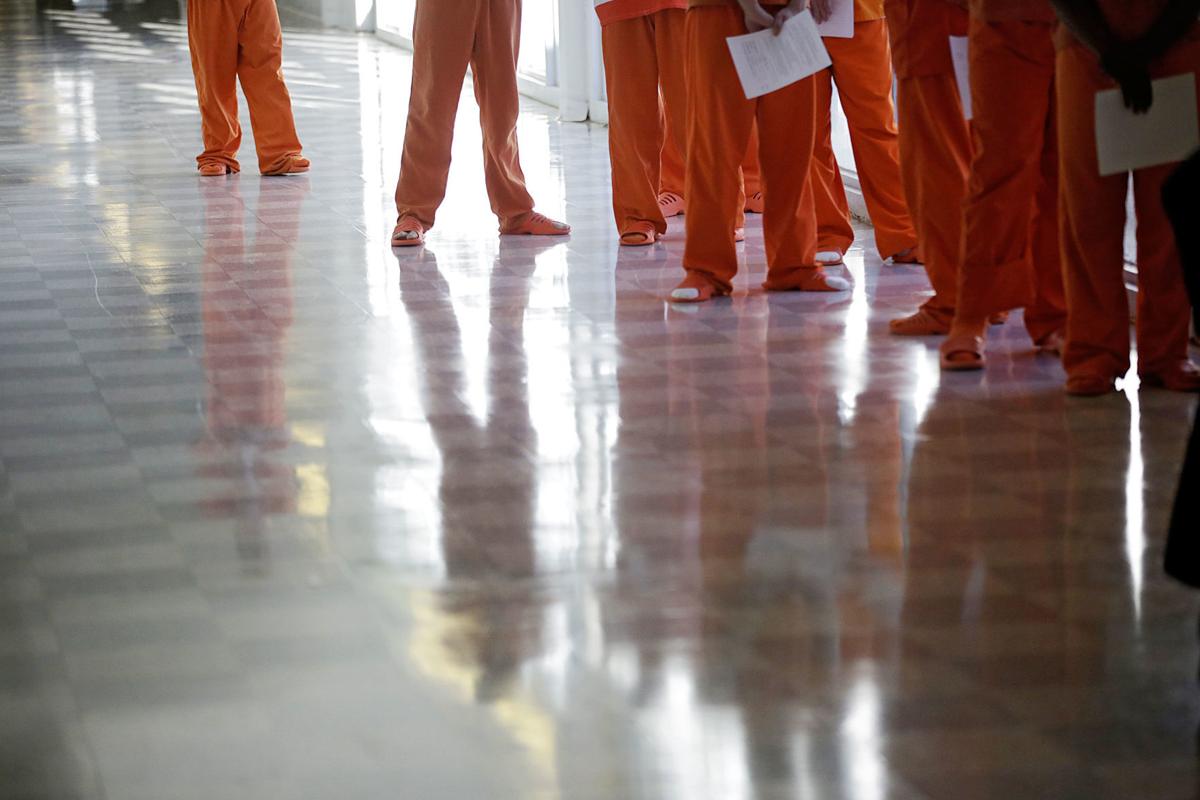 The local court system is adapting to life amid the COVID-19 global pandemic.
As of 4 p.m. Friday, the Tulsa County Jail population had decreased roughly 15% within a 10-day period — resulting in what's believed to be a new low of occupancy at the facility.
"We have told officers to use discretion," Tulsa Police Chief Wendell Franklin told the Tulsa World this week. "We don't want to put officers in any danger. We don't want to bring people into the city jail or the county jail to potentially spread this virus."
However, Franklin cautioned the state is in "a crisis" because of the safety risks created by the rapid spread of COVID-19, caused by the coronavirus.
"We're in this pandemic, but we still have to try and maintain order within our community," he said. "Crime does not stop because this pandemic has hit, and we wish it would."
On Friday, the Oklahoma Supreme Court modified its March 16 emergency order to state district courts requiring the cancellation of juried trials through May 15 and ordered the closure of all 77 county courthouses except for emergencies. In emergency hearings, no more than 10 people can be in a courtroom at one time, including the judge and court personnel.
In specialized proceedings March 19, the Tulsa County Public Defender's Office successfully lobbied for the release of dozens of people either accused only of misdemeanors or nonviolent felony offenses. By the end of that day, Tulsa County Presiding Judge William LaFortune ordered courtrooms and judges' offices closed, though the daily bond docket — and other emergency civil and criminal matters — is still taking place remotely.
District Attorney Steve Kunzweiler said Wednesday that LaFortune, Tulsa Mayor G.T. Bynum and Franklin have since spoken about "limiting arrests to public safety threats" or those "engaged in ongoing criminal enterprises."
Bynum's office declined further comment but Franklin said he recorded 37 arrests on March 17 compared to 22 arrests on Tuesday.
Chief Public Defender Corbin Brewster said there were about 1,250 people housed at the Tulsa County jail on March 16, while a jail population report Friday afternoon said there were nearly 1,100 people on the books.
"We don't want people in the jail any more than they want to be in the jail," said Broken Arrow Police Public Information Officer Chris Walker, whose agency transports arrestees to Tulsa and Wagoner counties. "Even on our responses to calls, we're taking a lot of telephone reports instead of in-person reports to minimize contact."
Franklin said Tulsa County Sheriff Vic Regalado has since implemented a protocol to separate new bookings from those who are already in general population. Sheriff's Office spokeswoman Casey Roebuck has said there is no evidence COVID-19 has entered the jail, though the county has not publicly said whether anyone in the jail has been tested.
Kunzweiler issued a statement to the World in which he said, "Individuals who are not public safety threats are processed quickly and many times released (from jail) on a personal recognizance bond or on a reduced bond."
But Brewster said he identified at least 10 arrests between March 19 and 23 that were "likely avoidable" altogether, including a woman arrested March 21 on a $100 bond for a 2008 misdemeanor warrant for a bogus check.
Kunzweiler, in his statement, said people can be released from custody pre-trial either on their own recognizance with conditions including ankle monitors and homebound detention if necessary, and said, "This is a fluid situation with changes happening every day."
He said the daily bond docket helps to more quickly address cases such as the ones Brewster highlighted.
Asked about the arrests Brewster cited, Franklin said there are often "underlying factors" that go into the decision to arrest someone with such a warrant, including whether the person is disturbing the peace during their interaction.
He went on to say it was easy to "sit an office and say on paper we should not make arrests on petty crimes and other things," but countered: "What if we get called to, say, a guy running around naked on the streets of Tulsa?
"Do people want their kids (and) do families want to see that?" Franklin asked. "In some instances, we have to make an arrest on that." However, he said: "There's lots of times we interact with people and say 'you have warrants, go take care of those.' "
He said, "I've been on for 23 years and I was doing it as a rookie officer. We've always had that (discretion.) And I think more so now officers are using that discretion."
When asked a similar question about warrant-related arrests, Sand Springs Police Chief Mike Carter said, "The guidance we've put out to our officers is that they need to use discretion in those types of situations. There's obviously a lot more important things to be concentrating on right now."
Carter said officers there have typically issued citations for drug crimes since the legislative passage of criminal justice reform measures. However, he said the agency is also limiting arrests for certain other nonviolent offenses and said police are focused on outreach to businesses impacted by closures due to COVID-19.
"But when we say nonviolent offenses, to be clear, we do not count burglary and felony-level theft crimes in that same manner," Carter said.
Walker, from Broken Arrow, said officers would still be required to make arrests in suspected cases of domestic violence but said he believed "not much has changed" with regard to behavior on patrol.
"Where is the line?" he said of deciding which offenses are worthy of arrest. "Everybody's going to say something different. Minor offenses may get a citation rather than an arrest, but that's going to be the individual officer's discretion."
Brewster said Friday afternoon that he thinks law enforcement has overall "done better" at reducing bookings since last week and added: "I think there seems to have been a change in tone in terms of those arrests." He also commended Franklin's willingness to discuss circumstances related to the arrests he identified.
"We recognize the seriousness of this and we recognize the judicial system isn't operating at full strength. We know that," Franklin told the World of the situation. "Obviously the courts know that. The presiding judge knows that. Our municipal judges and court administrator know that.
"But they recognize there is still some function of government that has to be maintained and that judicial branch has to continue to operate, albeit more slowly and remotely. That's the difficult thing. We know we still have to operate and every branch of government still has functions it has to do."
---
Featured Video


Samantha Vicent
918-581-8321
samantha.vicent
@tulsaworld.com
Twitter:
@samanthavicent