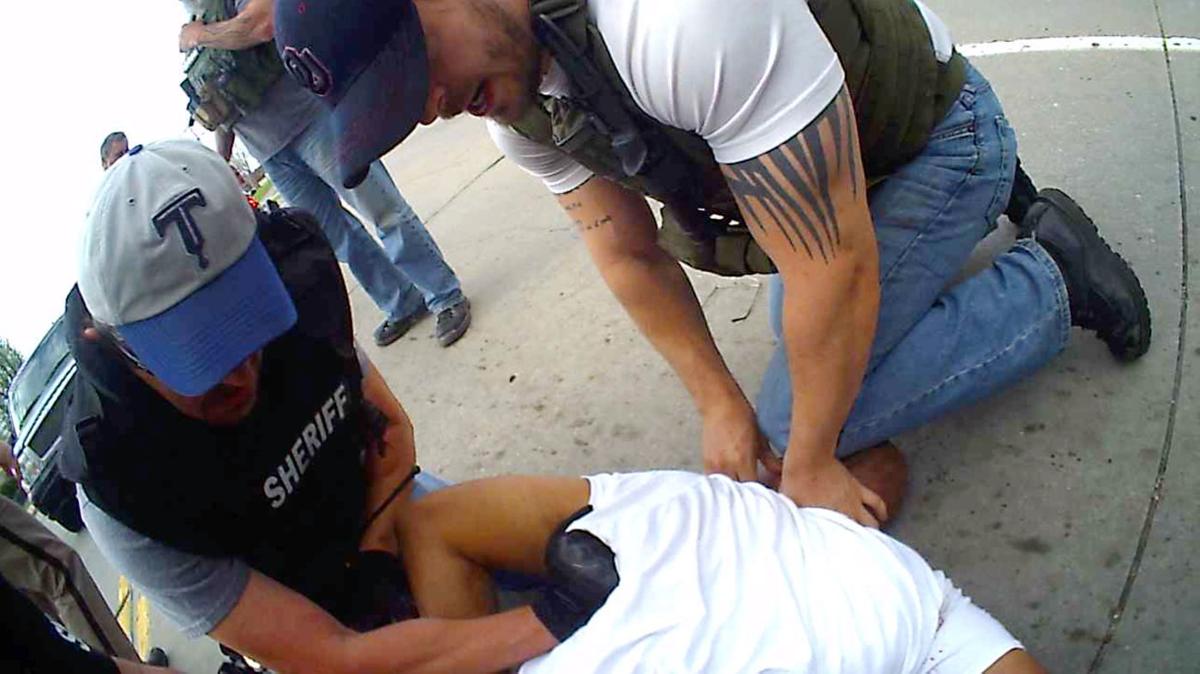 ---
A Tulsa County sheriff's deputy who told the dying Eric Harris to "f- — your breath" offered compelling testimony Thursday on why he made such a perceptibly harsh statement a year ago.
Deputy Joseph Byars testified that he approached the ground struggle and saw at least two other deputies wrestling with Harris. Byars said he mentally noted that Reserve Deputy Robert Bates was nearby with a less-lethal rifle in hand that is "a lot more powerful than a pepper ball gun."
Byars was "looking for work" when he got to the scuffle and jumped in to hold down Harris' unrestrained left arm to try to gain control of the situation. He testified that he heard a shot and thought it was an accidental discharge from Bates' less-lethal weapon and that "he's probably going to be in trouble for it."
Sheriff's Office video shows Harris immediately begin to exclaim that deputies had shot him. The less-lethal rifle was powerful enough at close range for Harris likely to feel as if he had been shot even if it wasn't an actual bullet, Byars explained, so he operated under the false assumption that the round was a plastic bullet.
Byars also testified that the less-lethal rifle can "hurt and kill" if used in the wrong manner.
In the video, Harris soon can be heard uttering, "I'm losing my breath," to which Byars replies, "F- — your breath." Byars said he had seen Harris keep "dodging vehicles" as he ran and getting "further and further" down the road.
"My thinking was, 'You're the one that ran, and you're going to complain that you can't catch your breath?'" Byars said.
The realization that he was missing a "piece of information" came when firefighters cut away Harris' shirt and he saw a gunshot wound and blood instead of a large discolored welt, Byars said.
Knowing what he now does, Byars testified, "I do believe (Harris) was attempting to cooperate" and not fight with deputies.
He said he didn't realize that Harris' blood was on his arm, leg and clothes until he was back at the Sheriff's Office.
Harris' brother, Andre Harris, left the courtroom as Byars' testimony was drawing to a close and the video of the shooting had played in open court another time. He exited around the time Byars was testifying about his attempts to calm his brother and make him more comfortable.
---
World Staff Writer Arianna Pickard contributed to this story.