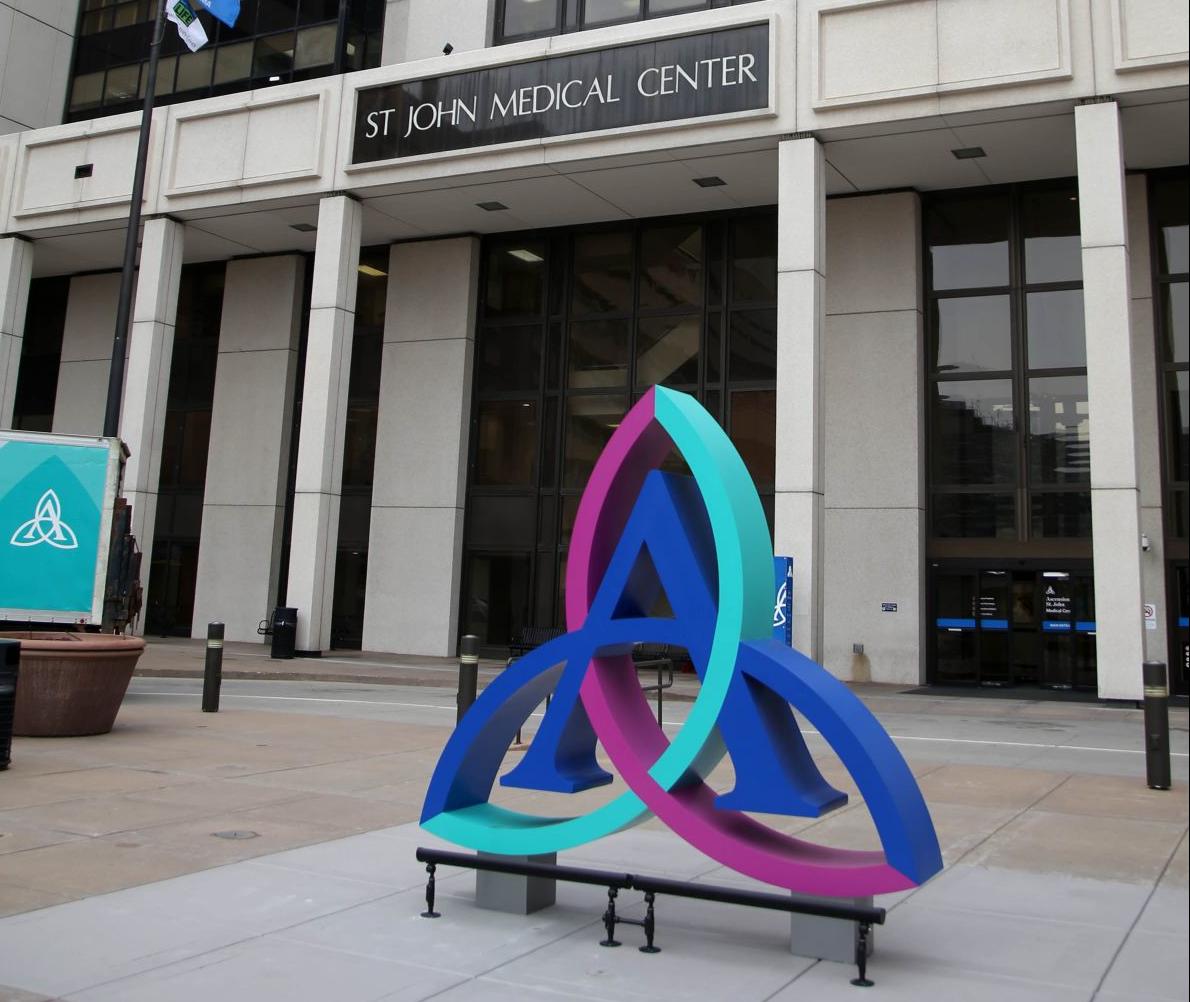 A temporary restraining order that halted Ascension St. John Health System from imposing a COVID-19 vaccination requirement for its employees will remain in effect indefinitely until a Tulsa judge decides the legality of the mandate.
Meanwhile, a federal judge in another state has granted a nationwide preliminary injunction blocking the shot mandate.
The jointly-agreed order cancels a hearing originally scheduled for Wednesday in Tulsa County District Court on whether a temporary injunction should be imposed while Oklahoma Attorney General John O'Connor investigates complaints of religious discrimination regarding its vaccine mandate.
Presiding Tulsa County District Judge William LaFortune issued a temporary restraining order Nov. 12 at the request of O'Connor, who claimed he had received reports of Ascension St. John violating the Oklahoma Anti-Discrimination Act in its administering of its vaccine mandate.
LaFortune on Tuesday cancelled the Wednesday hearing, calling for the temporary restraining order to remain "in effect until further order of the court," according to a docket entry in the case.
LaFortune gave Ascension until Dec. 8 to file its legal pleadings and the state until Dec. 17 to file responses.
"If necessary, the court will issue its ruling on any issues as a matter of law on or before Jan. 3," the entry continued.
An evidentiary hearing on the matter has been scheduled for Jan. 14.
While Ascension St. John has imposed a vaccine mandate, it has allowed for both medical and religious exemptions. But O'Connor claims the review process for religious objections to the mandate are a "sham and pretext for outright religious discrimination."
Spokespersons for both O'Connor and Ascension St. John did not respond to requests for comment.
However, prior to agreeing to extend the temporary restraining order indefinitely, Ascension St. John argued in court filings that The Centers for Medicare & Medicaid Services is requiring all healthcare employers to mandate COVID-19 vaccinations for its employees.
The healthcare system borrowed from other court rulings on the subject in its defense of the mandate.
"Any employees impacted have the choice as to whether to comply with the policy or find new work in a setting where they can remain unvaccinated," Ascension St. John argued in one court filing when the case was briefly before a federal judge. "The economic impact of workers choosing to leave their jobs could be addressed in monetary damages, if they prevailed."
O'Connor sued Ascension St. John Nov. 12, the same day the health care business had set for a deadline for its employees to be fully vaccinated against COVID-19 or have secured a medical or religious exemption.
In the lawsuit, O'Connor requested the restraining order prohibiting Ascension St. John from suspending or firing employees or contractors who have requested but been denied a religious exemption from taking the COVID-19 vaccination.
The restraining order also gave Ascension St. John employees and contractors until Dec. 12 to submit requests for a religious-based exemption to the COVID-19 vaccination.
O'Connor claimed in his petition that Ascension St. John planned to fire on Jan. 4 those who had been suspended and had still failed to obtain their COVID-19 vaccination, absent an approved exemption.
The case has bounced between state and federal court during its short life thus far.
The case was briefly in Tulsa federal court after Ascension St. John tried to remove the case from state court.
But a federal judge on Nov. 23 kicked the case back to state court after state officials removed any federal law violation claims.
O'Connor claims he sought the temporary restraining order and injunction to give his office time to investigate claims that the health care chain was violating the Oklahoma Anti-Discrimination Act by denying its workers religious exemptions from the COVID-19 vaccine mandate.
Ascension St. John said in a statement after the lawsuit was filed that it was requiring its employees take the COVID-19 vaccine just as it has the flu vaccine.
"We want patients to be assured and comforted with the knowledge that our doctors and nurses, other clinicians and associates, working in one of our hospitals or other sites of care, will either be vaccinated against both COVID-19 and influenza, or in the instances of exemptions or accommodations, be complying with additional infection prevention protocols," the statement read in part.
The state court case plays out as federal courts in other states have imposed their own temporary ban on the vaccination mandate at health facilities.
A Missouri federal judge on Monday granted a preliminary injunction which banned President Joe Biden's administration from enforcing COVID-19 vaccination mandate at healthcare facilities while the case progresses. The Missouri lawsuit attacked the same vaccine mandate rule imposed by The Centers for Medicare and Medicaid Services that was noted by Ascension St. John as among its basis for the mandate.
Missouri and nine other states filed suit in the St. Louis-based federal court to block the vaccine mandate at health care facilities.
Meanwhile, a Louisiana federal judge on Tuesday granted a nationwide preliminary injunction halting the Biden administration from enforcing its COVID-19 vaccination mandate through the same Centers for Medicare and Medicaid Services rule for healthcare facilities.
Oklahoma and 11 other states joined the lawsuit filed in U.S. District Court for the Western District of Louisiana.
The injunction did not apply in the 10 states that won their own injunctions on Monday.
Gov. Kevin Stitt and O'Connor lauded the federal court order in separate news releases.
"I am pleased that federal courts have blocked yet another one of President Biden's unconstitutional vaccine mandates," Stitt said, in written remarks.
"I stand with Attorney General John O'Connor and the Legislature as we fight back to defend our individual liberties and want Oklahomans to know we will continue standing up to the Biden Administration's excessive federal overreach," Stitt continued.
"This is a major win for the medical freedom of Oklahoma's healthcare heroes who have fearlessly braved the pandemic to keep the rest of us healthy," O'Connor said.