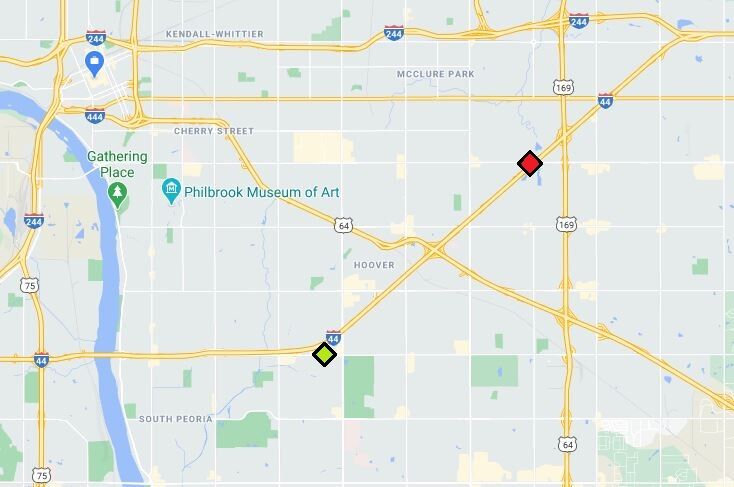 A stalking situation involving a former co-worker escalated into a violent kidnapping attempt Friday morning that left law enforcement officials grateful a south Tulsa woman and her husband survived.
"This couple," Tulsa Police Capt. Karen Tipler said. "They are to be commended for their actions."
The stalking began through the woman's work more than a month ago, Tipler said.
The woman and the suspect, 22-year-old Justin Davis, never had a dating relationship, Tipler said. They were only co-workers, but the situation soon rose to a level that caused the woman to report the recurring instances to her human resources department.
Davis reportedly was fired, which Tipler said typically deters stalkers from further pursuing their victims, but that was not the case for Davis, she said.
Officers took reports each time Davis drove by the couple's south Tulsa apartment, and they urged the couple to file for an emergency protective order, Tipler said. The woman eventually did.
"Unfortunately, it had not yet been served," Tipler said Friday morning.
The woman noticed Davis driving through the parking lot as she was trying to walk to her car to leave for work about 6 a.m. Upon sight of him, she went back to her apartment and told her husband, who then went outside to escort her to her car.
Davis confronted them and stepped out of his truck with a shotgun, which he fired into the air once, Tipler said. A neighbor called the police to report the gunshot, and the couple ran back to their second-story apartment.
Davis followed them and shot through the door, injuring the husband's hand, and forcing his way inside, Tipler said.
She said Davis grabbed the woman and dragged her outside, assaulting her as they went down the stairs, with her screaming and fighting to get away from him. At one point when they got to his truck, he attempted to choke her against the vehicle as he tried to force her inside.
Her husband followed, trying to help her, but Davis reportedly threatened to kill him if the woman didn't get in his truck, Tipler said.
Getting in the vehicle could have led to the woman's death, Tipler said. From years of domestic violence and stalking case investigations, detectives know that the chances of a victim's survival are minimal if an attacker gets the victim to a second location.
"Whatever they can do to get away from that situation is going to be best for (the victim)," Tipler said. "When it gets to the point where the suspect is trying to kidnap the victim, if that victim gets into the car with that suspect, that victim will not make it out of that situation alive."
Tipler said the husband in this situation, injured and under threat of his own life, distracted Davis until police officers arrived about 4 minutes after the initial neighbor's 911 call was made. Davis then reportedly left in his truck, leaving the woman behind.
Police pursued Davis until his vehicle crashed into a pole along 21st Street near the Interstate 44 overpass. He was taken to a hospital for injuries that were considered not life-threatening, Tipler said.
Davis was then arrested and booked into the Tulsa County jail without bond on complaints of first-degree burglary, kidnapping, assault and battery with a deadly weapon, stalking and eluding while endangering others and two complaints of pointing a deadly weapon with intent to kill, according to online jail records.
First responders attended to the woman and her husband at the apartment complex before the two went to police headquarters for interviews with detectives, Tipler said.
Tipler said she is grateful for the couple's bravery in the face of such violence, and she hopes that sharing their story will help someone else who is facing a similar situation find the courage to file for a protective order, report the behavior or fight for their life.
"Any time someone's being stalked, you know, that's not normal, and for it to escalate to this magnitude is not an everyday occurrence," Tipler said. "If this helps someone else to get that protective order, to let someone else know, … it's absolutely worth it."