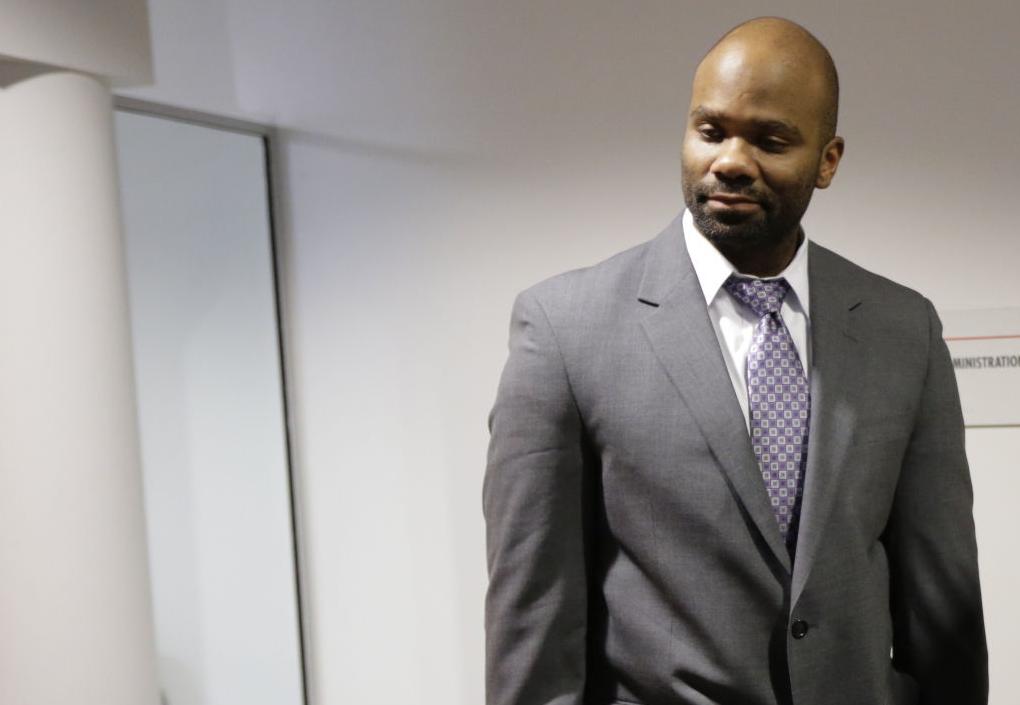 A Tulsa County jury began hearing testimony Tuesday in the case of a man accused of shooting a childhood acquaintance in 2019 — three years after a judge found the same man actually innocent in a 1994 fatal drive-by shooting, resulting in his release from prison.
The jury in De'Marchoe Carpenter's case heard from three witnesses, including the man who alleges that Carpenter shot him multiple times in north Tulsa on Aug. 6, 2019.
In May 2016, District Judge Sharon Holmes exonerated Carpenter and Malcolm Scott of related first-degree murder convictions they received as teenagers after having served two decades of the life terms they had received. Carpenter has sued the city for damages related to being wrongly incarcerated.
But First Assistant District Attorney Erik Grayless told jurors Carpenter's past is unrelated to the investigation led by Tulsa Police Lt. Sean Larkin, which they allege found that Carpenter shot Sheldon Reed, his acquaintance. Reed had a casual dating relationship with Carpenter's now-wife while Carpenter was in prison, which Reed acknowledged created tension between them in the past.
However, defense attorney Brett Behenna characterized the case as being motivated by "pure unvarnished greed" from those seeking money from Carpenter, who he said is being blamed without adequate proof. He said Carpenter has made steps since being freed to better himself, including finding a job, getting married and pursuing his legal options after being wrongly convicted of murder.
But Grayless said: "It's not about money. It's not about the Police Department trying to frame a man. They don't have time to do that."
Reed conceded that he wrote a since-deleted Facebook post that stated about two weeks after the shooting: "I'm just trying to get some money. I'm not worried about pointing the finger."
Reed told Grayless the post was not about Carpenter but was instead a reference to how his life was changing due to his increased involvement in horse training and rodeo activities. Behenna, though, pointed to the comment in his opening statement as being indicative of an ulterior motive.
Asked directly Tuesday whether he was falsely accusing Carpenter or trying to extort him, Reed told Grayless no. He also said Larkin did not force him to identify a specific person as the shooter.
"I have to tell the truth before (Carpenter) hurts somebody else. I have kids," Reed said.
Reed testified that Carpenter flagged down his vehicle and shot him without warning shortly after Reed left a home in north Tulsa where he, Carpenter and Carpenter's wife had been socializing with friends and family. He also said he saw Carpenter with a gun in his waistband and claimed that was the weapon Carpenter used to shoot him.
Behenna contended that Reed's account of what took place in 2019 "is neither consistent nor is it logical."
Reed acknowledged that he did not want to identify who shot him to a uniformed patrol officer but felt more comfortable talking to Larkin, who "wasn't a field officer" and therefore could better investigate what happened.
He showed the jury scars on his right cheek, back and left leg that were a result of the shooting and said he was "100%" confident that Carpenter was his assailant.
A patrol officer and a former crime scene investigator described the injuries as "traumatic" and possibly fatal, with the latter saying he did not leave the hospital until he "made sure (Reed) was stabilized and wasn't going to die."
"I didn't say anything (about who shot me) because I was trying to get some help," Reed said of his call for an ambulance, during which he did not identify an attacker. "I was literally dying."
The jury heard the call recording, including when a dispatcher asked Reed whether he was unable or unwilling to provide information as he attempted to continue driving.
Reed denied at least twice that he had used PCP on the day he was shot, though Grayless and Behenna said in their opening statements that he had consumed PCP and cannabis.
The defense attorney attempted to cast doubt on the case by assailing the lead detective's credibility.
"Sean Larkin is not allowed to testify in federal court. It means the U.S. Attorney's Office is not willing to sponsor his testimony because he is not a credible witness," Behenna said, obliquely referring to a lengthy Tulsa Police Department corruption case filed in federal court about a decade ago.
Behenna also told the jury members they will learn that Larkin told Reed of Carpenter, "Hey, man, he might have beat that murder, but we're gonna get his ass" prosecuted for the shooting.
He described the Police Department's determination that Carpenter is responsible as being based on "tunnel vision."
"Fortunately, we live in a country where we do not get to wish someone into prison," Behenna said.
Tulsa World archives from 2011 state that Larkin — then with the Special Investigations Division — was among the officers named as unindicted co-conspirators in the case of former Officer Jeff Henderson, whom a jury convicted of perjury. Prosecutors at that time alleged that some Tulsa police officers fabricated evidence to get convictions on drug crimes, as well as tampered with witnesses  and stole money and drugs.
Larkin denied wrongdoing at that time and has continued to do so, according to Tulsa World archives. He is now the supervisor of the Police Department's Crime Gun Unit, which seeks to recover firearms from those who are legally barred from possessing them.
Carpenter's trial will resume Wednesday with Reed's cross-examination before Associate District Judge Cliff Smith. It is expected to conclude by Friday.