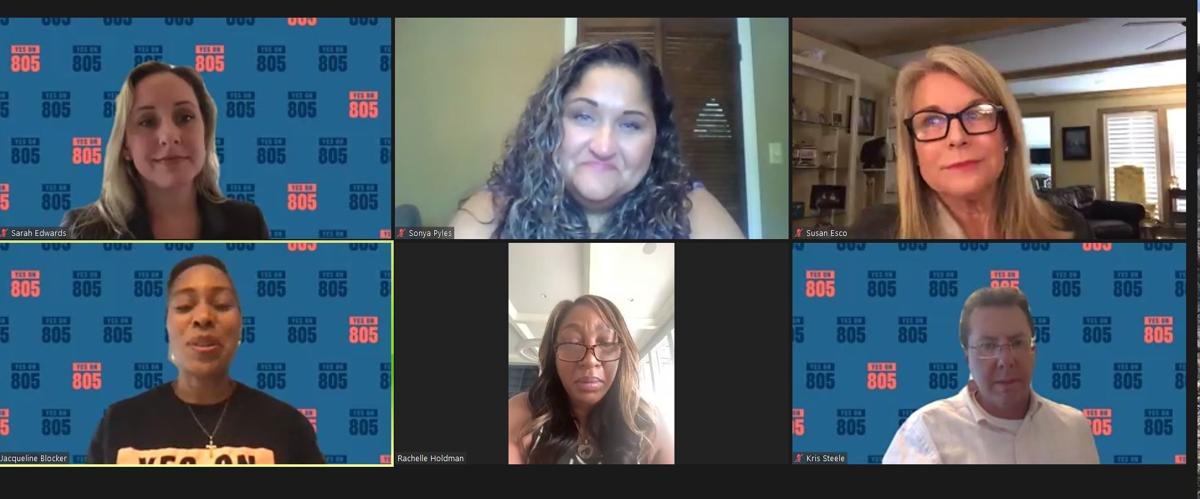 Hardly a dry eye was pictured on screen Tuesday evening as people formerly incarcerated or relatives of those who were or still are shared their testimonies in support of State Question 805, a sentencing reform initiative that could land on Oklahoma voters' ballots Nov. 3.
"The people of Oklahoma understand that our current system isn't working," Sarah Edwards, president of Yes on 805, said during the campaign's virtual town hall, referencing the more than 200,000 Oklahomans who signed a petition, far exceeding the amount required to get the question on the ballot.
It has been "quite a process" to get the initiative moving toward the ballot, Edwards said, alluding to the unexpected complications of the COVID-19 pandemic and having to sue the secretary of state to force him to accept the petition pamphlets, but she's excited to wrap it up.
Gov. Kevin Stitt will decide when to place the measure on the ballot.
Billed as a "modest" reform effort and a "step in the right direction," SQ 805 would end the use of sentencing enhancements — or more time — for individuals with nonviolent previous convictions.
It wouldn't, however, affect judges' ability to take an individual's criminal history into account when determining sentences. The penalty ranges, some of which are still considerably harsher than those in other states, would remain unchanged.
Edwards said excessive sentencing increases recidivism and tears families apart, and the millions of dollars the state pays to incarcerate people for nonviolent offenses could be better spent on wrap-around social services, she said.
After a life of abuse, Sonya Pyles was caught in a "vicious" cycle of enhanced sentences that didn't get her any closer to coming to terms with the problems and addictions driving her behavior.
Eventually, she was given the opportunity to be in Women in Recovery, an intensive outpatient alternative for eligible women facing long prison sentences for nonviolent drug-related offenses, and she's now the project coordinator of Tulsa Lawyers for Children.
"I am a successful woman because I had a second chance," Pyles said, her voice strained with tears. "I needed help; not to spend time in prison."
Edwards pointed to data suggesting that the passage and implementation of SQ 805 could reduce Oklahoma's prison population by 8.5% in the next decade, negating the need to build more prison cells in a state with one of the highest incarceration rates in the world and freeing up about $142 million in state funds.
---
Sign up for our Crime & Courts newsletter
Get the latest in local public safety news with this weekly email.