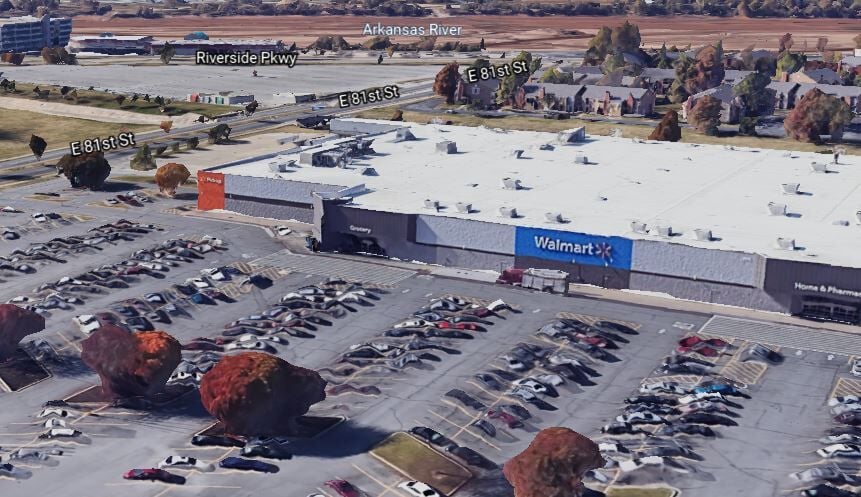 A federal criminal complaint filed Sunday identifies the man Terry Limose is accused of stalking and strangling outside a south Tulsa Walmart early Saturday.
Jessie Dean Childers, 51, is a registered member of the Muscogee Nation, an FBI investigator wrote. As such, his accused killer is subject to federal prosecution under the McGirt Supreme Court decision.
Police were called to the Walmart Supercenter at 2019 E. 81st St. about 4:05 a.m. Saturday after Childers' body was found outside the store.
The store was closed at the time, but investigators spoke with a handful of employees who were coming from or going to their overnight shifts and witnessed the violence or its aftermath.
One employee was on a smoke break outside when a man carrying a stick and who closely matched Limose's description asked her whether she had seen "a dude with a brown jacket" because "he punched me in the face."
When the employee replied no, she said the man said, "When I find him, I'm going to kill him," before running across the parking lot.
After she went back inside, a co-worker alerted her to Childers' body outside the store, and she saw that he was wearing a brown jacket and that a stick — apparently the same stick she had seen the other man carrying — was next to his body.
A Tulsa police detective who reviewed surveillance footage from the Walmart as well as from the nearby Sonic Drive-In traced the assault back to the Sonic, which was closed at the time. Limose, who "appeared to be stalking (Childers)," reportedly can be seen throwing rocks at Childers as Childers was approaching and attempting to break through the Sonic's front glass doors, the complaint states.
Childers walked around the business "to get away from Limose," and Limose chased him, continuing to throw rocks at Childers until the two can no longer be seen on that business's footage.
Once in view of Walmart's security cameras, Childers can be seen throwing a rock that Limose had thrown at him at the store's sliding glass doors.
"It is clear on video that Childers is in great distress and was attempting to notify anyone that he was in danger," the detective said in the complaint, adding that it appeared that Childers was cornered between Limose and the doors.
For several minutes, the two spoke to each other, and "it was clear that Limose was the aggressor," the detective wrote. Childers was armed with a rock, a metal rod and a piece of wood.
"Each time Childers backed away in an attempt to leave the situation, Limose followed," the complaint states.
After Limose grabbed the piece of wood, the fight went to the ground, and Limose reportedly can be seen beating and strangling Childers, the complaint states.
Minutes later, two other men who appeared to be homeless, like Limose and Childers, walked back with Limose to check on Childers' condition. The two left on foot before Limose can reportedly be seen on video possibly attempting CPR.
Limose, who had a Florida identification card, fled minutes before police officers arrived, but an officer with a police dog found him hiding in a grassy creek area behind the store, the complaint states.
He was taken to a hospital for treatment of a minor injury before being booked into the Tulsa County jail on a federal hold for the complaint of first-degree murder in Indian Country.
The homicide was the city's 56th of 2021.