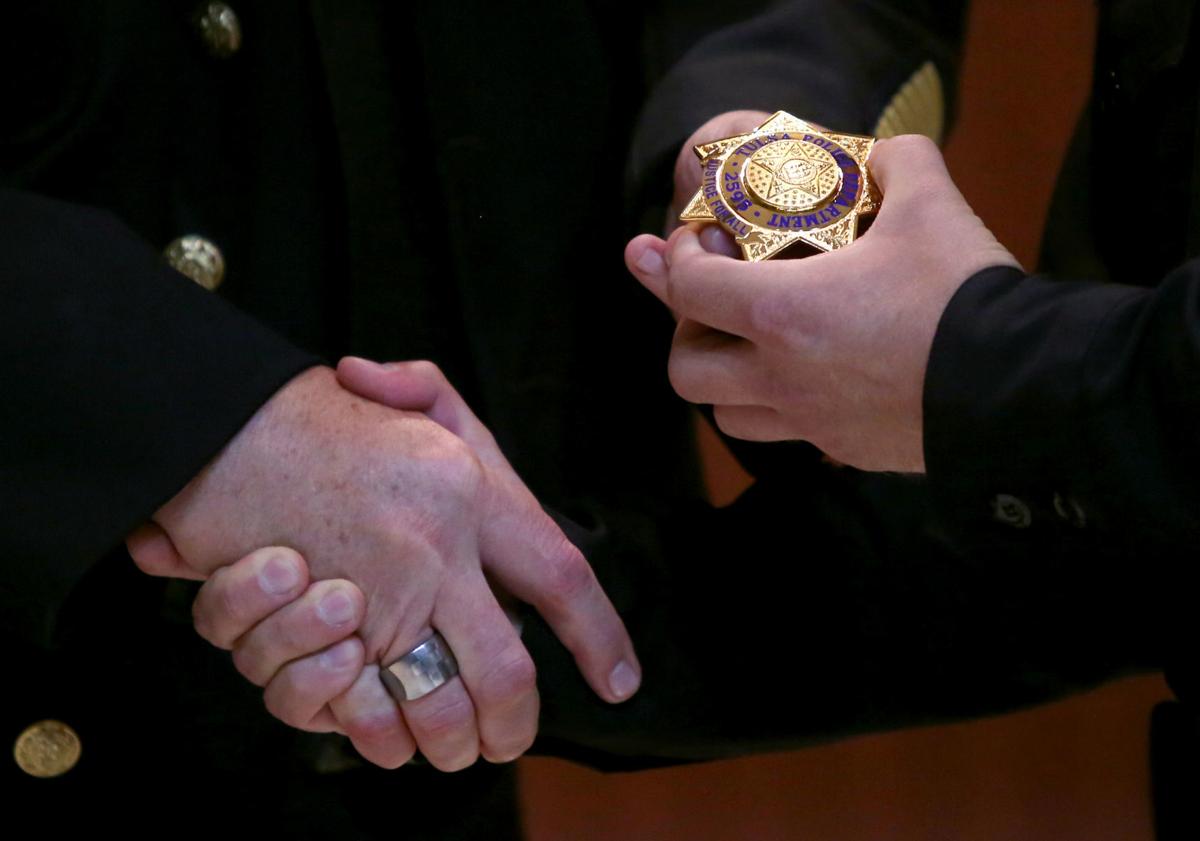 An audience member's written question cut straight to the matter at hand and drew interesting responses on a key issue: Where is community policing done well or not so well in Tulsa?
Two high-ranking Tulsa police officials offered insights during a recent Tulsa Public School's "Community Conversation" on community policing. Many programs and initiatives are underway or in development, but what about street-level work being done by officers?
One official noted its practice or comprehension on an officer-by-officer basis is sporadic, with yearly shift changes that sever relationships which are built. The other said many officers are uncertain what defines community policing but that most still are doing it without that knowledge.
Capt. Wendell Franklin, commander of the Gilcrease Division that covers north Tulsa and downtown, described community policing efforts on the patrol level as "segmented" and in "little pockets."
"I won't say that there is a particular area of Tulsa where it's done well in," Franklin said. "I think that there are officers out there individually that are doing things for the community."
Franklin did highlight a positive example of community policing — the Downtown Impact Team.
He noted those officers often are out of their cars, interacting with businesses and community members. They know the transient population by face and name, and vice versa.
"So I think that in and of itself is obviously an aspect of community policing, where they know the community and the community knows them and they work together to solve issues," Franklin said.
Capt. Matt McCord, the agency's assistant training director, explained to the audience that many officers haven't understood what makes a "community" police officer.
"Most of them are already doing it," he said. "It's just a matter of semantics."
McCord said many have reached out to him, concerned about his public statements on what is expected of officers today. He told a story of an officer who visited him upset after a Tulsa World article in October.
McCord had described to the Mayor's Police and Community Coalition how the department desires rookie officers who are equally eager to read books to youngsters as they are to catch bad guys.
The veteran officer felt slighted as if he weren't qualified to be a Tulsa police officer because he wasn't reading to kids, McCord said. But the officer acknowledged volunteering as a wrestling coach. The officer confirmed the wrestlers and parents know he is a police officer.
"OK, so you're doing it," McCord said he replied, eliciting chuckles from the crowd.
Here are synopses of other aspects of community policing to track as they shape up:
Public safety tax
A permanent public safety tax projected to bring in $272 million over 15 years passed in April 2016 with nearly three-fourths of the votes.
That funding will support the addition of about 160 sworn officers to help the Tulsa Police Department engage in community policing efforts. Chief Chuck Jordan repeatedly has cited that officers spend about 80 percent or more of their shifts in reaction mode going from call to call.
The city's benchmark is for officers to have approximately 30 percent to 40 percent of their shifts available for proactive policing.
The time spent running from call to call has started to dip below 80 percent, according to Jordan, though the department couldn't provide statistics supporting that assertion.
A University of Cincinnati study in 2015 recommended TPD have a sworn force of 958 officers. At the time, there were 752 sworn officers. A class of 17 cadets graduated the police academy in December, lifting the number of sworn officers to 801. The public safety tax is expected to boost the ranks to about 940 sworn officers.
Community policing task force
Seventy-seven recommendations were finalized in March 2017 in Mayor G.T. Bynum's Tulsa Commission on Community Policing. All but two are active and ongoing as of August 2018, according to the city's online dashboard tracking the status of each action item.
Staffing shortages have reduced the number of in-service training hours officers undergo. TPD is supposed to get back to its past standard of 40 in-service hours of training.
The recommendation notes that a reduction in hours doesn't allow officers time to participate in the range of training sessions offered on top of ones already mandated to keep pace with an evolving profession.
TPD also was supposed to use federal resources to measure the extent to which community policing has been implemented. However, the U.S. Department of Justice discontinued a program that evaluated the community policing efforts of police departments.
Bynum's proposal for an Office of the Independent Monitor would fill that void, offering a semi-annual report on overall trends and findings. It also will do a quarterly update on implementation of the community policing program.
Independent monitor
Bynum has proposed the OIM to provide transparency and help the public better understand TPD's practices and analyze best practices.
The OIM is proposed to have three core functions — oversight, policy and outreach.
It will oversee internal investigations into use-of-force to ensure the integrity of the agency's own reviews. The OIM would review internal affairs reports and provide the police chief with comments or recommendations prior to a final disciplinary decision.
Resilient Tulsa strategy
The Resilient Tulsa Strategy was released by the city in response to the Equality Indicators report to address systemic inequalities.
Among those indicators were that black residents are arrested more than twice as often as whites per capita and are subject to use-of-force by officers at rates five times and twice as much as Hispanic and white people, respectively.
The Resilient Tulsa plan calls for TPD to encourage and empower patrol officers to develop community-based solutions through community action groups.
Success metrics include tracking use-of-force complaints, the number of highest-level uses of force and overall use-of-force incidents, as well as crime and arrest rates.
Corey Jones
918-581-8359
Twitter: @JonesingToWrite
Sign up for our Crime & Courts newsletter
Get the latest in local public safety news with this weekly email.