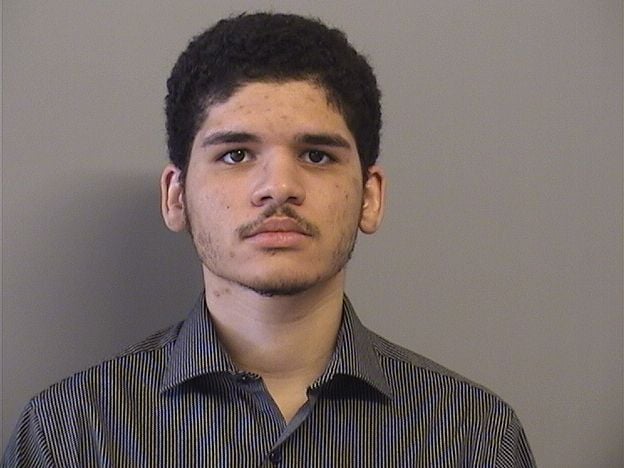 The Tulsa County district attorney felt "disappointment" after a judge granted probation on Friday to a man jurors found guilty of first-degree rape, he said Monday.
But the man's attorney said the outrage at the court's decision is "political posturing" and ignores the wide amount of discretion allowed to district court judges.
Malik Omar Vance, 23, received 13 years of probation for first-degree rape after jurors found him guilty of raping a then-18-year-old woman at an east Tulsa apartment in the fall of 2017. An affidavit states that she said she woke up after a night of drinking to find him on top of her and that she "kept telling him no and she tried to move herself away but he kept going."
A jury found Vance guilty and recommended a 13-year sentence, which District Judge Sharon Holmes opted to suspend when she sentenced him Friday.
"I don't know what reasoning the court had to put a convicted first-degree rapist who received a 13-year sentence on an 85% crime back on the streets," Kunzweiler said. "So in essence 12 jurors deliberated — in this case they deliberated for one hour based on the evidence and knew he was looking at 85% of any sentence they gave him.
"They found him guilty … but the court made the determination that probation was appropriate for a first-degree rapist. I certainly disagree with that."
But Vance's attorney, Dustin Phillips, said Monday that "Judge Holmes was well within her rights to sentence Mr. Vance to probation." Kunzweiler acknowledged that Holmes' decision is not an issue the state can appeal to a higher court.
Jail records show that Vance left the Tulsa County jail Friday night after spending almost two months in custody awaiting his sentencing.
"Mr. (Steve) Kunzweiler claims to be frustrated that Mr. Vance won't serve any time behind bars, but probation was the offer from his office all along," Phillips said. "His office even offered probation that wouldn't require Mr. Vance to register as a sex offender or be a convicted felon."
Asked about plea negotiations, Assistant District Attorney Alison Nutt said her office did not extend an official offer to Vance. But she and Kunzweiler said it is not unusual for prosecutors to offer deals in felony cases, which often saves people from having to testify about trauma.
"We didn't really have a whole lot of conversation or negotiation back and forth about getting the case worked out," Nutt said of Vance's case. "It was always my understanding that he would not plead to anything other than a misdemeanor, and that was not something I was interested in."
However, she acknowledged that her office identified the case early on as being potentially more difficult to present during a trial.
"We do have the concern at the back of our head of: 'Do we put the victim through this in hopes of getting a win? Or do we try to be a bit more conservative?'" Nutt said. "But we were always of the opinion that, if it wasn't going to get worked out, we were going to go for it (at trial) and take the community's temperature on how they feel about a case like this."
Phillips, though, said he believed that the District Attorney's Office's public expression of frustration about the resolution of the case is "political posturing — nothing more."
Kunzweiler responded Monday evening and described his reaction as "disappointment" that a person jurors found guilty of a violent crime is not in prison.
"Mr. Kunzweiler is a politician," Phillips said. "He knows how to play the game where he appears 'tough on crime' with the media but allows his office to make the same plea offers he's so upset about when the media calls."
Holmes historically has declined to elaborate on her decisions outside the courtroom but has made comments from the bench. Nutt said that did not occur Friday.
A presentence investigation report was not available for Vance by Monday evening, but its authors can make recommendations to judges for probation, split sentencing or incarceration.
"In my mind it sends the worst possible message to victims of sexual assault," Kunzweiler said. "Because of how emotional this case was for the victim, she did what she had to do at trial, but she did not want to be present for the sentencing. We had to have a post-sentencing phone call with her, and she is devastated by the court's decision."
Nutt said Monday afternoon that a juror learned of Holmes' decision on the news and called her office to express disagreement with Vance's receiving probation.
"We wanted to see what a jury thought — and they told us what they thought," she said.
"And, honestly, despite the ruling that was given on Friday, ultimately their verdict sent us a message that we can go after these cases more aggressively. And we will continue to go after them a lot more aggressively, especially based on how our social climate is changing."