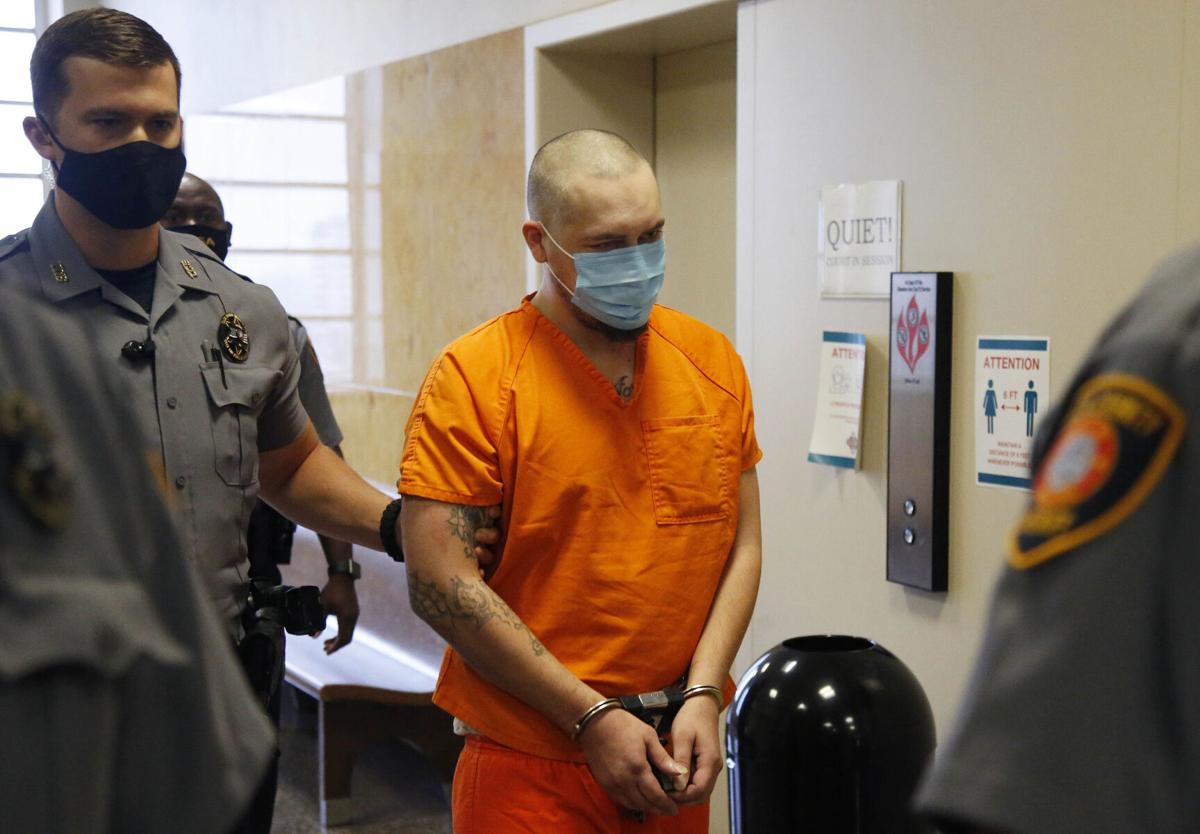 Prosecutors intend to seek the death penalty for the man accused of killing Tulsa Police Sgt. Craig Johnson.
The Tulsa County District Attorney's Office announced Wednesday the intent to pursue a capital case against David Anthony Ware, 33, who also is accused of shooting Officer Aurash Zarkeshan during a June 29 traffic stop.
Ware is charged with first-degree murder, shooting with intent to kill, possession of a controlled substance with intent to distribute and possession of a firearm after a felony conviction. He has been in custody at the Tulsa County jail without bond since June 29.
Police dash cam footage shows Ware shooting Zarkeshan and Johnson after a traffic stop that escalated with Ware's refusing dozens of commands from the officer and his supervisor.
In court papers filed Thursday morning, District Attorney Steve Kunzweiler listed several aggravating factors in support of his office's request for the death penalty.
Kunzweiler and Assistant District Attorney Kevin Gray had acknowledged beginning in mid-July an evaluation of the case for possible death-penalty consideration. The death of a police officer while on duty is among the aggravating factors in state law that prosecutors can cite to jurors, Gray noted.
Defense attorney Kevin Adams has said before that the case is "about one thing and one thing only, and that's whether the state of Oklahoma gets to execute David Ware" as an act of retribution for killing a police officer.
"Even if you hate Mr. Ware, OK, you ought to — for the rest of us and for the sake of our system — want the process by which the state of Oklahoma is asking to kill him to be completely and totally fair," Adams told the Tulsa World in July.
Johnson and Zarkeshan had been using physical force to wrestle Ware from his car after unsuccessfully commanding him dozens of times to get out of the vehicle, as well as an unsuccessful Taser deployment. Ware also was not deterred by pepper spray, fighting back as he continued to debate with the officers about their intent to have his vehicle towed for lack of a current tag and insurance.
Ware can be seen on video reaching under his seat with his right hand shortly before a gun appears in the same hand. The footage shows him firing multiple times and using two hands to stabilize his grip before firing at Johnson a final time, all within less than five seconds.
He then got a ride from his co-defendant, Matthew Hall, whom Ware had called from his car during the traffic stop and who faces accessory charges.
Hall's attorney, Brian Martin, filed a motion Tuesday seeking dismissal of the count related to Johnson based on his view that Johnson's death on June 30 took place well after Hall stopped providing aid to Ware. Both men will appear in court Oct. 5.
Adams said Thursday that the defense was not surprised by the decision to seek the death penalty, saying Kunzweiler "has a history of using the death penalty to advance his political career."
Police Chief Wendell Franklin said his agency was "compelled" to make the videos publicly accessible.
Tulsa Fraternal Order of Police Chairman Jerad Lindsey said Tuesday that he opposed the footage's being made public but believed that District Judge William Musseman had no other choice based on the text of the Oklahoma Open Records Act.
"It's wrong to use the death of a beloved husband, father and son for broadcast on the news and social media," Lindsey said in a statement posted on the FOP's Facebook calling for a change to the statute allowing such a video to be released.
Aggravating factors
Prosecutors allege in the court filing that:
"The defendant knowingly created a great risk of death to more than one person, to wit: the defendant fired multiple rounds at Officer Aurash Zarkeshan and Sgt. Craig Johnson, creating a great risk of death to them both.
"The murder of Sgt. Craig Johnson was especially heinous, atrocious, or cruel.
"The murder of Sgt. Craig Johnson was committed for the purpose of avoiding or preventing a lawful arrest or prosecution.
"The victim of the murder, Sgt. Craig Johnson, was a peace officer and was killed while in the performance of his official duty."
"There exists a probability that the defendant would commit criminal acts of violence that would constitute a continuing threat to society.
---
Sign up for our Crime & Courts newsletter
Get the latest in local public safety news with this weekly email.