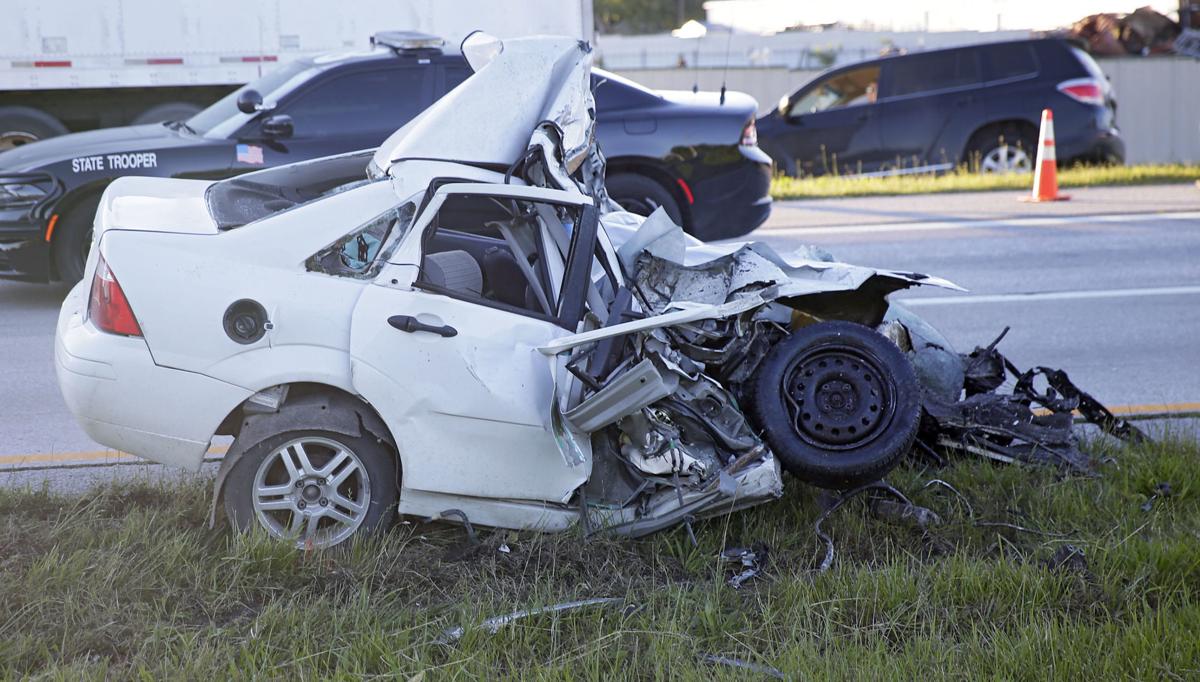 A deadly wrong-way chase by state troopers on U.S. 75 in Tulsa appears to have violated an international model for law enforcement pursuit policies recommended by the Oklahoma Highway Safety Office, a Tulsa World investigation found.
The international model policy prohibits chasing vehicles in the wrong direction on divided highways or one-way roads. That scenario played out on U.S. 75 in north Tulsa and ended with the death of William Bruckman, a 23-year-old, married father.
For more than a month, Department of Public Safety Commissioner Rusty Rhoades and spokesman Capt. Paul Timmons failed to respond to multiple requests for comment on a list of questions posed by the Tulsa World.
The queries involved the Highway Patrol's pursuit policy and its relation to the International Association of Chiefs of Police vehicular chase model policy. Questions included whether OHP follows its own state's Highway Safety Office recommendation to implement standards similar to that of the IACP.
Jerry Lee Newman, 25, is charged with felony first-degree murder and is set for trial Aug. 27. Newman is accused of stealing an Oklahoma Natural Gas truck in Sapulpa, leading law enforcement on a nearly 30-minute pursuit through Tulsa and the Tulsa International Airport prior to the fatal crash.
Rhoades said Thursday that the model policy "has been reviewed and there are similarities incorporated into the OHP policy."
But the commissioner gave no specifics on what parts or how much of the model policy is incorporated, nor did he address any other questions.
Instead, the agency offered a general statement.
"The policy of the OHP balances the need to apprehend offenders in the interests of justice with the need to protect citizens from the risks associated with police pursuits," the Highway Patrol statement reads. "Our policy cannot be compared to, or judged by, any similar policy of another agency because there are a variety of philosophies that exist among pursuit policies of law enforcement agencies. The policy of the OHP takes into consideration the unique mission, responsibilities, training and equipment of the Patrol and also incorporates the standards imposed by state and federal law.
"No state or federal court has ever held the pursuit policy of the OHP to be unconstitutional, inadequate, insufficient, ineffective, or contrary to law."
William Bruckman's widow, Melissa Bruckman, said the entire situation "surprised and horrified" her. She said the ordeal came down to a chase over the theft of a vehicle, which isn't worth endangering the lives of every motorist they encountered going in the opposite direction on U.S. 75.
"I didn't think they should have been chasing him all through Tulsa and the airport and backward on the highway," Bruckman said. "At some point they were in charge of deciding what the acceptable risk is."
Bruckman, 35, is on leave from her job at the Customer Solutions Center for BH Media, parent company of the Tulsa World.
Two of the eight deaths in 14 months were uninvolved drivers who were struck by fleeing vehicles. A third fatality was a Highway Patrol lieutenant who attempted to remove stopsticks from an interstate and was struck by a pursuing trooper's cruiser.
A U.S. Department of Justice report published in May 2017 illustrates the potential lethality of law-enforcement chases, with an average of one vehicle pursuit-related death per day in the nation from 1996 to 2015.
More than 6,000 fatal crashes in the 20-year period resulted in more than 7,000 deaths, or about 355 per year. Two-thirds (65 percent) of fatalities were occupants of the fleeing vehicle. A third of them weren't involved in the chase (29 percent were motorists and 4 percent were bystanders). Slightly more than 1 percent of fatalities were to occupants of a pursuing vehicle.
IACP bans certain chases
Since at least 2007, the Oklahoma Highway Safety Office has included a passage addressing vehicle pursuits in its yearly safety plan.
The OHSO plan has annually encouraged law-enforcement agencies to "follow the guidelines" established by or adopt policies "similar" to those recommended by the International Association of Chiefs of Police in regulating vehicle chases.
OHSO works closely with governmental organizations, including law enforcement such as the Highway Patrol, to develop the State Highway Safety Plan and programs to address highway safety issues, according to the website for the state agency that was created in 1967.
The International Association of Chiefs of Police is a worldwide organization for law enforcement that launches programs, conducts research and provides services such as model policies and best practices, according to its website.
The IACP represents 30,000 individual members in 150 countries, its website states. Members are chiefs and superintendents of police, as well as command-level officers in public law enforcement agencies.
The Department of Public Safety commissioner — who oversees the Highway Patrol — serves as the governor's representative for highway safety. The DPS commissioner is named on each year's safety plan document, which includes the annual IACP recommendation.
The IACP policy used by the Tulsa World in the newspaper's investigation took effect December 2015, which is five months before the first of the Highway Patrol's seven fatal chases in 14 months.
OHP's most apparent violation of the IACP model policy came when two troopers pursued the stolen, heavy-duty truck allegedly driven by Newman the wrong direction May 24, 2017, on northbound U.S. 75 just south of Apache Street.
Vehicle chases that go against the "lawful flow of traffic" in the lane(s) of a divided highway or on a one-way street are prohibited by the IACP model policy.
The two troopers were followed closely by two Sapulpa police officers as the four pursued the stolen truck for about 1 minute and 40 seconds, passing about 30 oncoming motorists in the glare of sunrise.
U.S. 75 is a divided highway throughout that stretch, from 36th Street North to the Apache Street exit, where the troopers and officers stopped chasing. The primary trooper was Eddie Weilert, and the secondary one was Jeremiah Hoyt.
Moments after the four cruisers exited U.S. 75, the truck plowed head-on into a Ford Focus. Bruckman was killed as he drove to his workplace near Mohawk Park.
OHP keeps its vehicle pursuit policy secret, citing a state open records law exemption specific only to its agency that allows it to withhold items of a "tactical nature."
The Sapulpa Police Department promptly released its pursuit policy, which doesn't address wrong-way chases.
Potential IACP violations
Ten other pursuits examined by the World could also be questionable compared to the model policy.
For example, the IACP model policy only authorizes vehicle chases if an officer has "a reasonable belief" the suspect would present "a danger to human life or cause serious injury" if allowed to flee.
"In general, pursuits for minor violations are discouraged," the policy states.
Four of the seven pursuits analyzed began for traffic infractions or crimes that could be reasonably considered minor: a stolen vehicle; an expired tag; speeding (81 mph in a 65-mph zone); and following too closely and no driver's license. The reason for one of the pursuits isn't listed in OHP documents received by the Tulsa World in open record requests.
Another potential violation of IACP policy is not obtaining a supervisor's permission "prior to use of intervention tactics." Four of the OHP pursuits included Tactical Vehicle Interventions or attempts to do so.
One of those happened just after midnight May 8, 2016, on Interstate 40 about 70 miles southwest of Tulsa.
A trooper's car nudged a fleeing pickup's right rear in a TVI to make it spin out. Alexander Larmon, 44, died after he was ejected during the ensuing rollover.
Trooper Jonathan Earls had clocked Larmon at 91 mph in a 70-mph zone. Larmon stopped, and Earls reported smelling alcohol and seeing an open beer can. A scuffle over the keys ensued and Larmon took off.
Two minutes into the chase, Earls radioed in that "as soon as I get a chance I'm gonna TVI." It's unclear whether that statement was to a dispatcher or a supervisor.
After the rollover, Earls can be heard on dash cam video saying, "He was swerving all over the road, and he was coming up on a car. I mean there wasn't nothing I could do. He was going to kill someone. He was drunk."
Another IACP stipulation limits pursuits to two vehicles "unless circumstances dictate otherwise." The total number may be adjusted with a supervisor's approval to fit the situation. That same section prohibits "caravanning and trailing."
The wrong-way U.S. 75 pursuit had three Highway Patrol cruisers and a Sapulpa police cruiser chasing the truck. A fifth pursuer, a Sapulpa officer, lagged farther behind the other four. At an earlier point in the chase there were two troopers and three Sapulpa officers pursuing on city streets.
Corey Jones
918-581-8359
Twitter: @JonesingToWrite